Athlete of the Week: Joey Irish
Sophomore Joey Irish has enjoyed playing a variety of sports since a young age. 
One of Irish's most memorable experiences throughout his life has been soccer. When describing his love for the game he said, "I think the reason I really like soccer is because of how the game is played… Everyone is doing their own job at the same time and working together as a team." 
Last year, Irish had the opportunity to play on the freshman team during his first year at La Salle. Irish recalls his time playing as a freshman as more of an enjoyable experience than anything. "It was just really fun in general, because [not only did] we have a really good team, [but] a lot of the other players on the team made it really fun to play with them," he said.  
In addition to high school soccer, Irish plays for the Eastside Timbers soccer club. Before this, he played for Clackamas United.
Throughout his soccer career, Irish's position on the field has switched around. When he was younger, he played center back. However, recently, he has switched to playing as a center defensive mid. "Center defensive mid is a lot better because I'm just more in the middle, and I can play a lot more angles to people and pass a lot better," he said.
Along with soccer, Irish plays basketball and baseball. Irish said that he prefers baseball the most because "it has the best community at La Salle and the other players are fun to be around." 
Irish has found time to balance all three sports he plays on top of his everyday life. When he's not playing sports, Irish enjoys playing video games, hanging out with friends, and working out. 
Due to the coronavirus pandemic, athletics at La Salle have been vastly impacted. When COVID-19 first started to flip the world upside down, Irish said that his ability to practice and participate with other athletes came to a "standstill." However, now, Irish has been able to return to all three sports and play within Covid-19 guidelines. 
Looking ahead to the rest of his sports' seasons, Irish said, "I think the sports will just be pretty normal." Despite the fact that some seasons have been shortened, he continued to emphasize that everything will work out just fine. "I think it will be all okay though," he said. "I'll be looking forward to being able to play all three of my sports."
About the Writer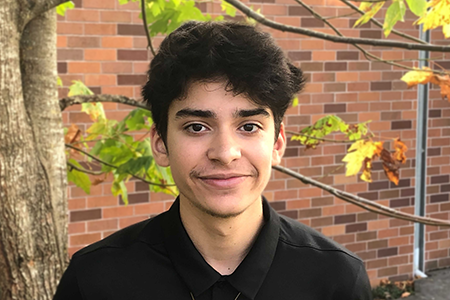 Dakota Yeager, Staff Reporter
Dakota is a senior at La Salle. In his free time, he enjoys playing basketball, getting together with friends, and listening to various genres of music.