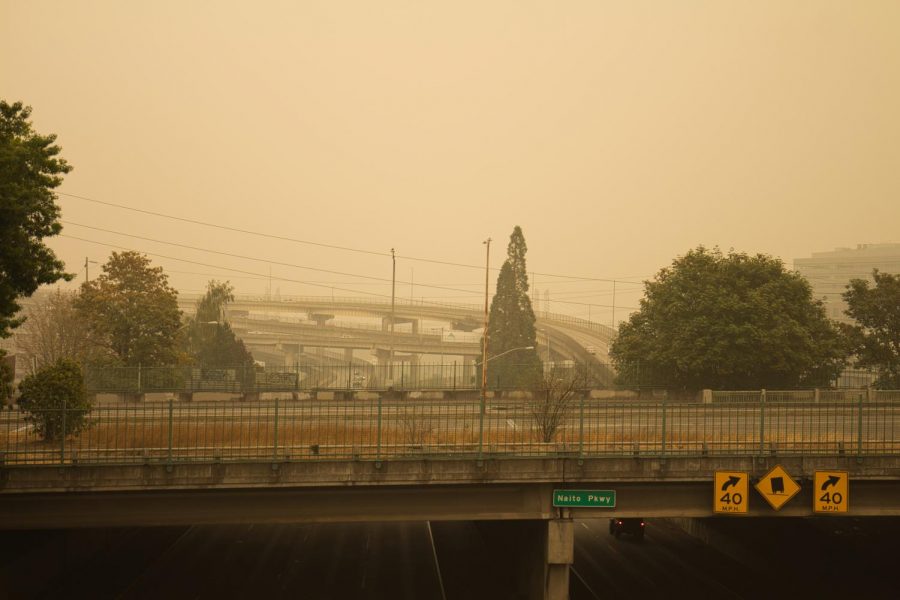 Ms. Kessler
Two hours.
That's all the time that Spanish teacher Ms. Karen Kessler had to pack up her belongings and evacuate her home. 
"We didn't get the slow, 'be prepared, get ready,'" she said. "It just went 'boom.' You need to go.'"
On the night of Sept. 15, Ms. Kessler and her husband received a message from firefighters and police that they needed to evacuate immediately around 8 p.m.
Ms. Kessler lives 10.5 miles from downtown Estacada and 9.5 miles from downtown Oregon City. There are many cedar trees in her area, which are notorious for burning, she said. With low humidity and winds, Ms. Kessler said, there was a threat of the Riverside fire and the Beachie fire merging and spreading towards her house. 
The fire jumped across the Clackamas River, "burned across Springwater… but then it jumped down the ridge, which is behind our home in our neighborhood," Ms. Kessler said. At Viewpoint Restaurant, she said you can look out over the river and see where the fire traveled. 
When firefighters arrived to fight the flames, they were unable to because the fire was traveling too fast. 
"The thing with fire that's scary is that it can be upon you so quick," she said. "Especially with the wind — you just get enveloped really, really fast." 
Ms. Kessler had to prioritize what she was going to bring with her, especially with such limited time. "[It's] preparing that you'll have nothing when you go back, so what do you really want to take?" she said. "It was a lot of chaotic packing, just throwing stuff in, zipping it up, and saying 'I hope that's good enough.'"
She said that she took lots of videos of the things in her home so that if she needed to replace any of her belongings, she would be able to do so easily. In addition to packing documents, photos, paperwork, and shoes, Ms. Kessler also had to manage her pets and their needs.
Using her husband's boat as a trailer, they gathered up their two dogs and three cats. They had to leave behind their parakeets and 16 chickens. However, after returning home, they quickly realized that none of the animals had been injured. 
Before leaving her property, it was dark outside and the smoke had become thick. By the time she left, the smoke had traveled and become so dense that "I couldn't see my neighbors house across the street," Ms. Kessler said. Abnormally large pieces of ash were falling around her property and onto her car as well. 
Ms. Kessler and her husband evacuated to her brother-in-law's home in Canby, where the air quality was not much better. "It was just horrific," she said. 
Canby itself was in a level two evacuation zone only a few days after Ms. Kessler had left her own home. Since the town was on the verge of becoming level three, Ms. Kessler had to be thinking about where to go next if her evacuation site were no longer safe. However, the situation did not reach that point. 
Back at home, Ms. Kessler's neighbors were also evacuating the area and had created a network of communication with each other to stay in touch and be updated.  
The day following Ms. Kessler's evacuation, her husband drove back to their property around 4 a.m. to better inspect the situation. The fire had made a lightning bolt shape, as Ms. Kessler described it. "The parameter of the fire zigzagged down, so then it shot diagonal and hit the backyard of our neighbor across the street by their propane tank," she said. 
Where she lives, there is no natural gas, so "people have the 1000 gallon propane tanks," she said. The fire had burned down the fence of their neighbor and up multiple 75-foot trees, which were burning from the inside. Ms. Kessler's husband sent her a text, warning her that the fire might reach the tank. 
"He sent me a text, he goes 'we need to be prepared to say goodbye,'" she said. "I didn't know how else to respond because you're teary, but yet you know that you're safe."
That same night, the fire department told the neighborhood "that they received word that they were told to let the neighborhood burn to the river and that they weren't going to save it," Ms. Kessler said. "There was a lot of emotion."
"When my husband came back and we checked on stuff, he said we need to pray," she said. "We need to pray not only for our neighborhood, we need to pray over our house, we just need to pray — God's telling me to pray. So we literally put our hands on the house and we prayed."
"Within one hour," she said, "the wind stopped."
At 8 p.m., when the wind had stopped, the firefighters came back, and although they were unsure why the wind had calmed, they were able to reengage with the fires. 
When Ms. Kessler and her husband were able to return to their house, the fire had jumped yet again. There were 22 trees ablaze within 12 feet of her garage, which then would have set the house on fire. They were able to put those fires out. 
On her property, there were many smoldering areas, which Ms. Kessler referred to as hotspots. She said that these hotspots were as close as six feet to her deck and surrounding trees, which they put out themselves. 
During this time, Ms. Kessler had no power or water. Former La Salle teacher Mr. Josh Barstow brought a 1000 gallon tank that assisted the neighborhood in putting out small fires and smoldering areas. It sat on the back of a trailer, using a generator to draw out water from the river and create water pressure in a hose. 
A friend of hers brought a skid steer machine to help clear away the underbrush around them, that way it wouldn't constantly reignite. While the fire department was still occupied by a fire on a nearby hill, Ms. Kessler said that a small "community of about 15 people" helped to put out fires.
"There were four-foot flames all along down by the river, but it drops down and the fire department couldn't see it," Ms. Kessler said. "So those men made a line and they pulled buckets, and they spent two hours, and they put out all the fires down there."
Ms. Kessler continued to take care of hotspots throughout the day, using shovels and buckets of water. Her son, Jackson, came home to help as well, and they continued to check for hotspots for about five days. 
On Sept. 18, Ms. Kessler's power came back on, and on Sept. 21 so did her water. 
The fire destroyed Ms. Kessler's water pump, but aside from that as well as smoke and ash inside her home, her house suffered no further damage.
"Slowly but surely we're getting back to normal," she said. "We were very lucky, very blessed."