Athlete of the Week: Ryan Rosumny
Mary Loeb, Assistant Editor
September 23, 2020
Senior Ryan Rosumny had a different start at La Salle than most students. Rosumny was a transfer student from Union High School in Camas and didn't attend La Salle until the fall of 2019, the start of his junior year.
For Rosumny, transferring halfway through high school meant that he missed out on two years of playing football for La Salle. However, he made up for the lost time by bonding quickly with his new teammates and almost immediately becoming a leader on the team.
"Ryan submitted his transfer paperwork to La Salle in the spring of 2019 and instantly started making connections," head varsity football coach and math and P.E. teacher Aaron Hazel said. "He used social media to reach out to every player on the team and introduce himself… Pretty soon, he was getting dozens of guys together at a park to work out and throw the ball around."
Coach Hazel said it was this work ethic and commitment, as well as Rosumny's physical abilities, that earned him a starting spot on the varsity football team in the fall of 2019.
Since joining La Salle's football team, Rosumny has accumulated numerous athletic awards for his accomplishments. Rosumny was voted First Team Quarterback in the NW Oregon conference, received Honorable Mention All-State recognition, was voted MVP by his teammates at La Salle, and received the Triple-A (Athletics, Academics, and Attitude) Award at La Salle.
As well as earning recognition on the varsity football team, Rosumny has also joined the varsity basketball team at La Salle. He has balanced these two varsity sports while maintaining a 4.0 GPA and obtaining academic accommodations in both Chemistry and Pre-Calculus.
While Rosumny has always valued academics, it was athletics that drew him to La Salle. Rosumny grew up liking football and supporting the University of Oregon's football team. In high school, Rosumny began to view his love of football as a great way to get into college.
When Rosumny wasn't happy with his athletic situation at Union High School, he decided to transfer to La Salle, where he felt he could stand out more. He also said that Coach Hazel, who Rosumny had gotten to know through summer programs before switching to La Salle, was a big factor in his decision to transfer.
Now, Rosumny said that Coach Hazel is still his favorite coach. Rosumny is appreciative of the opportunity to play football at La Salle because it has helped him become a better leader.
"When you're at a giant school you're just kind of another number on the team," said Rosumny. "Here it's like I feel like I have a much bigger role, and I'm learning how to lead people, which is important for everything you do."
Coach Hazel expressed admiration for Rosumny's leadership skills on the football team at La Salle. "What Ryan brings in leadership better than anyone I have ever coached is inclusiveness and his ability to positively encourage players to work harder than they ever have before," Coach Hazel said. "He makes everyone on the team feel like they are the key ingredient to our success."
Though Rosumny is frustrated that he won't be able to compete in football games during the fall of his senior year because of the COVID-19 pandemic, he is making the best of the situation by working out six days a week, either from home or at an A3 facility near his house.
According to Coach Hazel, Rosumny has also helped organize player-led practices during the pandemic, allowing players to continue training when coaches aren't allowed to coordinate practices.
"Ryan's leadership has provided our guys with a sense of normalcy," Coach Hazel said. "As coaches, we have not been able to work with groups of players on football-specific skills and techniques, but Ryan has organized player-led practices. It has been refreshing to see a throwback mentality where he and [junior] Quintyn Salvador have kind of gone around the neighborhood and gathered everyone up to go and play ball."
Next year, Rosumny is looking forward to playing football at Pomona College, where he is committed to playing football and going to school. In college, Rosumny is hoping to study economics and will possibly double major in either math or computer science.
"I like economics because I feel like it's the most useful thing to study," he said. "If you can become really smart in the financial world and the business world, you can set yourself up really nicely."
Reflecting back on his time at La Salle, Rosumny's advice for other students would be to consider your future during high school. "You don't want to be finishing up high school and then realize that you should have worked harder in high school because then it's too late," Rosumny said. "So, as soon as you're in high school, just work hard and be thinking about your future."
About the Writer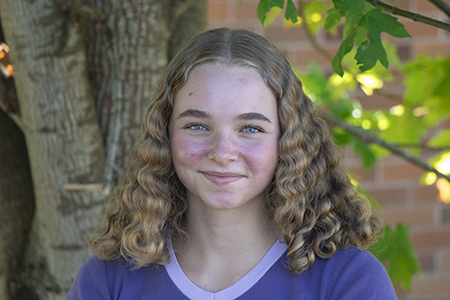 Mary Loeb, Editor
Mary is a junior at La Salle and participates in swim team and the Service Club. She enjoys volunteering and likes to bake.