Two Essential Workers Share Their Experiences Working Through a Pandemic
Not all essential workers are first responders on the front lines. Many other workers have helped to maintain normalcy during this pandemic.
Since the beginning of quarantine, essential workers across the nation have continued to work despite the potential risk of infection due to their contact with the public. 
Across the globe, people have shown their appreciation for essential workers through yard signs, volunteer work, and a multitude of other ways. In many cities, it became a routine to applaud health care workers and those on the front lines at 7 p.m. to honor the hard work of first responders during a time of vulnerability. 
First responders — such as doctors, nurses, and firefighters — are helping to protect the public and keep them safe and healthy during the coronavirus pandemic. However, there are lots of other essential workers who may seem under-recognized, yet are also working to keep a sense of normalcy in an otherwise less-than-ideal world.
Individuals who work for grocery stores, delivery services, restaurants, and many other businesses are helping to keep the public functioning while social distancing orders remain.
The Falconer spoke to two individuals who are essential workers during this unprecedented time but work outside of the front lines. 
---
Scott Day
Scott Day works as a truck driver for Market Express, and has been with the company for three years. 
As part of his job, Day picks up freight from one customer and brings it to another, often crossing state lines. Most of his work days are 14 hours long, with 11 of those hours being spent driving. The other three hours are used for "pre-trip inspection or post-trip inspection, or dealing with a customer," he said. 
For a few weeks after the coronavirus became a pressing issue in the states, Day was working 80 to 90 hours a week compared to his typical 70 hours. "Instead of driving to California and back, hauling for our customers, I was exclusively hauling loads for Fred Meyer out of Clackamas," he said. 
Day said that he hasn't necessarily become more or less busy because of the coronavirus, but there are many more precautions when dealing with customers than there were before. In certain places, such as Redmond, communication with customers has been conducted over the phone rather than inside of the facility. 
At some customer's locations, you must get your temperature checked before you can even enter the facility, or they require you to have certain protective equipment on. He said that some businesses have asked him if he has been in a certain county prior to his arrival, and if he had, "they probably would have refused me entry to the facility."
In order to protect others, Day wears a face mask outside of his truck and inside any businesses. "I'm dealing with a lot more people now, face-to-face," he said. "I may be at more risk than the people who are staying at home." Day is also diabetic, which puts him at an even greater health risk. 
Day said that he is "happy to still be working," as drivers for many other transportation companies are not working during this time due to the fact that many schools and restaurants are closed and are not in need of deliveries.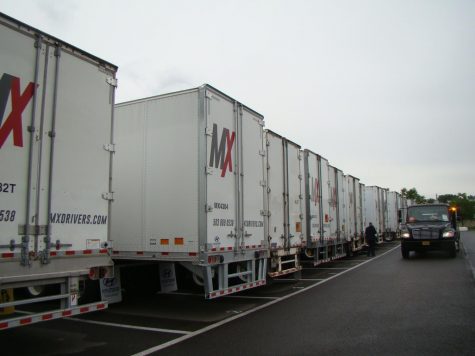 Depending on where he is traveling, Day said that he sees appreciation for truck drivers in some communities. At the Oregon Coast, for example, he said people are simply "happy that you're bringing stuff to them." He's also seen people on overpasses with signs and banners expressing their gratitude in certain areas. 
In some places that he has traveled to, other drivers have told him that there have been people tested positive for COVID-19 at the business or in the area. As he travels, the precautions that are taken to keep others safe varies from place to place, but "that's beyond my control," he said. "I don't know what they're doing to keep everybody okay."
For Day, the pandemic has not greatly changed his attitude towards his work. "I don't think there's a difference in the way I treat my job, to me it's all essential," he said. "Somebody has to move the freight to wherever it's going."
Day said that he is grateful to still be working, despite the risks of being an essential worker. "I'm just glad that I'm not stuck at home, I'm able to work, and be working for a company [that has] their foothold in the right spot," he said. Moving forward, "I just hope that we're still able to do what we do." 
---
Matthew Duncan
Matthew Duncan has worked for the post office as a letter carrier for over 20 years. 
Typically, Duncan said that a work day begins around 7:30 a.m. with a brief "safety talk" and instruction on managing routes for that day, as well as the division of first class mail and packages and other mail, such as catalogs. 
Before the outbreak of COVID-19, Duncan said that his work day was "a little more relaxed," but now there is increased stress for a lot of people.
Despite any general unease, there have been some constant aspects to his job. Duncan said that he doesn't feel like he is more or less busy than before the outbreak, there is just a difference in the typical ratio of first class mail to other packages that are delivered. "We have been fully staffed for the most part, with no known cases of COVID-19," he said. "Things have been generally the same." 
Even though his schedule has remained roughly the same, there is potential for his job, specifically his hours, to greatly change. While managers and letter carriers have been taking measures to stay healthy and safe, if another worker in his office were to contract the virus, Duncan's hours would likely increase.
"Just because there [are] a lot of sick calls doesn't mean the mail can't go out that day," he said. "There have been times we have had to work 11 or 12 hour days to get all the mail delivered."
As a letter carrier, Duncan delivers "medications, goods, gifts, and cards, as well as bills," and a variety of other items. "I always thought of this job as essential in the way we socially interact with the public," he said. Many of his customers live alone, and due to quarantine, he is often the only person they see on a given day or week. 
"Whether you are getting a package, medication, or piece of junk mail, it provides a sense of normalcy — a point of contact to the outside world," Duncan said. "Some of us letter carriers take this job very seriously, and care about our customers a great deal." If a customer's mail seems to be piling up on their doorstep, Duncan said that he and his coworkers will often knock on the person's door or talk to a neighbor in order to check in with the customer. 
In being an essential worker, there are risks, but Duncan said that this does not keep him from his work. "If I can provide a little bit of normalcy by making sure people get some of the things they need during this pandemic," he said, "then it is a risk well worth taking." 
"I understand… that no one is immune, but I try to take all the precautions I can by wearing a mask and using hand sanitizer often," he said. In comparison to first responders, he feels that "they are the real heroes in all of this… Everyone should be grateful for all they do for us." 
In order to protect their workers, Duncan said that his office has implemented some safety measures, although more could be done. Hand washing often and avoiding taking breaks together are two things that many people try to do. "A lot of us wear masks and try to keep social distancing in the office," he said.
Outside of his office, Duncan said that he also does his best to follow social distancing guidelines as much as possible, by only going out occasionally for groceries. Some of his customers have given him handmade masks, so he is able to wear a clean mask every day and reuse them after washing.
Continuing to hand wash more often and avoid touching his face are additional preventative measures that Duncan takes. "I do all this stuff not so much for me, but for my customers, coworkers, and doctors and nurses," he said. 
Duncan said that he has concerns for all the essential workers during these times, especially those who may be forced to work in conditions that are unsafe for themselves or their families. Continued testing, he said, will need to happen before people can continue their daily lives with a feeling of safety in their workplace. 
Aside from all of the risks and higher levels of stress in the world, he feels that there has been a positive shift in the attitude that people have towards essential workers. More people are expressing their appreciation, "and I think this is great," he said. "I think we need more compassion and empathy in the world for everyone."
Duncan said that he feels lucky to be in good health with a job that has customers "that I love. It is a special job. The more you put into it, the more you get out of it." 
Moving forward, Duncan hopes that togetherness will help get the world through the pandemic. He expressed his gratitude for all essential workers and all that they have done for others during the outbreak. "I know how much I care for my customers, and I know that medical personnel, like nurses, feel the same way," he said. "That gives me a sense of hope that if I do catch COVID-19… I will be taken care of in the same way."