Next Level Seniors: Valedictorian and Track Star Ashley Smith Pursues Her Dream at Cornell University
When Ashley Smith was in elementary school, she developed a passion for javelin with inspiration from her family. 
Little did Smith know, her interest in javelin would develop into a passion that she would pursue at Cornell University in Ithaca, New York.  
She is a part of a select few seniors who have signed to play sports at the collegiate level, students we are showcasing in our Next Level Seniors series.
When she was young, her brother threw javelin, shot put, and discus for La Salle, and her dad also threw javelin while a student at Jesuit High School. "So, you could kind of say it runs in the family," Smith said.
"I have memories of being really little sitting on the sidelines [and] holding on to the little shot put or javelin," she said. 
When Smith was in first grade, she played her first ever sport: basketball. Then came volleyball and track and field for Christ the King's CYO team, starting in third grade.
Throughout her first few years of playing sports, she began to also develop an interest for tennis. Her mom would encourage her to grab a racket and play at her local community college. 
As she got older, she started to take sports more seriously. 
Smith became inspired by tennis icon Serena Williams' mental toughness and representation in women's sports.
Smith started out her freshman year with volleyball and basketball, and when it came to the spring season, she then convinced the track and field and tennis coaches, Mr. Sheets and Mr. Devenney, to let her play both tennis and track in the upcoming season. 
"Luckily and thankfully, I got both of them [to] agree to letting me [play both sports at once]," said Smith. 
Ever since then, Smith has been participating in track, volleyball, and tennis throughout the rest of high school, dropping basketball after sophomore year due to the time commitment. 
Smith spent her high school career playing two years of basketball and four years of volleyball, track, and tennis all while taking rigorous courses such as AP Calculus II (BC), AP Physics, and AP Spanish 5 while maintaining a 4.31 weighted/4.0 unweighted cumulative GPA. Smith said that she is very appreciative of her teachers who were understanding of her commitment to sports and heavy course load.
Smith's hard work and dedication didn't go unnoticed. She was named one of the three valedictorians of her senior class. 
During the winter, Smith would spend countless hours training for tennis and track. 
But when it came to the 2020 spring season, about two weeks into tennis practice her season was canceled and Smith realized she wouldn't be playing high school tennis ever again.
"It was really hard to handle at first because it was hard to accept that I wouldn't be playing a high school tennis match again," she said. "That was the big one for me because with track, knowing I'm playing in college, [I know] I have a future there."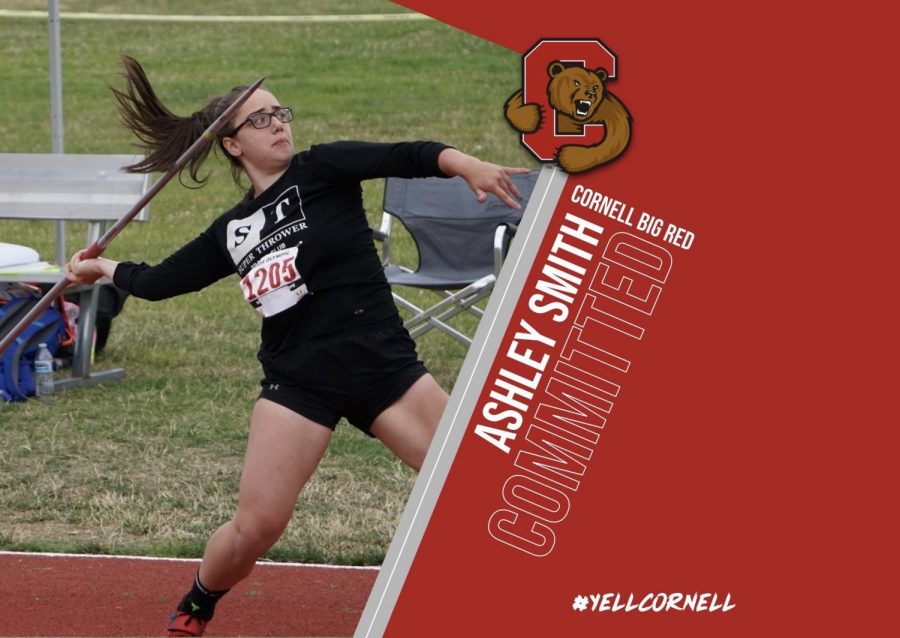 Despite the difficulties of missing out on her final season of high school sports, knowing that she still has more to look forward to has helped her get through it. 
"I keep getting memories in my phone about state track… and state districts, and it makes me think, 'what if?' But it's something that's out of my control," she said. "I've just kind of come to terms with it and try to stay busy and just remember that I still have track to look forward to."
Smith has always wanted to play college sports but she didn't know whether it would become a reality. Before any coaches reached out to her, she said "it was sort of a vague kind of dream." 
After Smith had reached the 130-foot mark for javelin and it was towards the end of her sophomore year, coaches started contacting her.
That's when her reality of playing college sports came true. Smith thought to herself that maybe she could find a place where both athletics and academics would be a fit for her.
Colleges such as OIT, Princeton, West Point, and Cornell reached out through phone calls, emails, and letters. Smith ultimately decided on attending Cornell University, where she will compete on the track team. 
Cornell invited Smith and her mom to fly out to their campus for an official visit towards the end of October. This was the only official visit Smith took to visit college campuses. 
When visiting Cornell, she got to meet the team, watch them practice, and even attend a hockey game.
"I just fell completely in love with it, the campus was so beautiful and the team was just like a family," Smith said. "I started crying. I was just so happy and loved it so much."
Smith also enjoyed the green scenery all around the campus, which reminded her of home in the Pacific Northwest. The rain and hills covered with trees especially made her feel this "geographical sense" of being home, she said. 
"Back then it was just sort of such a small thought that like maybe I'll end up doing javelin," she said. "But at the time when I was younger, it wasn't really a huge thing that I was considering, I just loved playing sports so much."
Smith is committed primarily to javelin but is also considering working on discus while also studying at the College of Engineering. 
"It's just a really great feeling, I love the team and the community," said Smith. "It's just really something that I'm holding onto right now [and] something I can look forward to as soon as we hopefully end up on campus in the fall."
Smith is looking forward to training and working out with her new teammates during her first college track season. Javelin has always been something that Smith has adored and tried to perfect over the years. 
"At first it was definitely kind of a frustrating sport in a way, but once you started to get the knack for it, it's just something you fall in love with," said Smith. "Such a technical sport and some people pick it up really fast, which is super impressive. I've been doing it for so long and there are even things that I still have to work on to fix."
If Smith could go back and give her younger self advice, she would offer some encouragement. 
"Just make sure you enjoy [high school] and really savor it," she said. "Embrace all of the memories."
As an athlete, Smith would also tend to put pressure on herself. "So I think I would [also] tell myself to just relax and enjoy it." 
About the Writer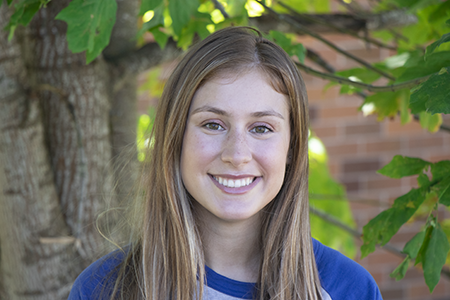 Dakota Canzano, Editor
Dakota is a senior at La Salle. She is the Executive President and is heavily involved in many aspects of student life. Outside of school, she enjoys thrifting,...