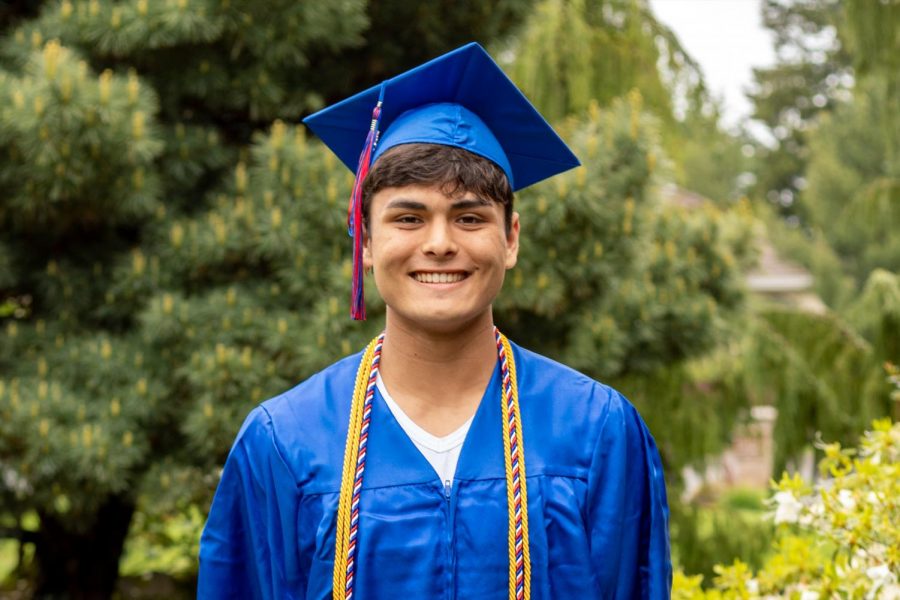 Lucas Wobig
May 20, 2020
In the first semester of his sophomore year, salutatorian Lucas Wobig received an A- in AP World History and a B+ in Honors English II.
He was "completely devastated," he said.
Up until that year, Wobig had never received anything less than an A in any of his classes, so he was very disappointed by his first semester marks. 
"I quickly got over it," he said. "Okay, 'quickly' is the wrong word. I got over it eventually."
Entering high school, it had always been Wobig's goal to maintain straight A's, as well as to take every AP class he could. Despite his disappointment that year, Wobig said that falling short of his goal for straight A's that semester has served as an important life lesson for him. 
"Before then, my grades were literally everything," he said. "And I kind of learned that it's okay to not get straight A's."
After receiving his first A- and B+, Wobig went on to receive straight A's for the rest of high school while taking advanced courses, participating in many extracurriculars, and with a reduced level of stress and less academic pressure, thanks to the lesson he learned from overcoming his disappointment during his sophomore year. 
Wobig said that he is grateful and happy to receive the honor of salutatorian, but he wishes he could share this award with many of his peers.
"My class is incredibly smart," he said. "I just feel like there's so many other smart kids in my class that should also be recognized."
In addition to being one of the top students in his class, Wobig also participated in a slew of extracurricular activities. During his time at La Salle, he was a student ambassador, a Link Crew member, a student council member, student body president, and a National Honors Society student.
He also played sports for La Salle's teams — swim for two years, soccer for three years, and track and field for all four years, where he was voted "most improved" during his sophomore season and "most inspirational" during his junior season. 
Outside of school, Wobig was a member of the Metropolitan Youth Symphony (MYS), playing saxophone in the top band as the first chair from his freshman year to the end of his junior year, when he stopped playing in the MYS because of the major time commitment it required. 
He also played in the Jazz Ensemble, a select group of jazz musicians that played gigs at locations such as the Oregon Zoo, OMSI, and downtown Portland, which Wobig described as "really fun."
The saxophone isn't Wobig's only musical forte, as he also has played piano since he was "four or five years old," he said. He participated in the Oregon Music Teachers Association (OMTA), and he said that he practiced piano for an hour most days for 13 years. He described the practice as the "most grueling" part of playing the piano. 
In the OMTA, students are tested each year on a pass/fail basis on the subjects of music theory, listening, playing, and performing. Upon passing the annual test, they move up one level each year until they've passed all 10 of the levels. Wobig graduated with distinction from the OMTA last year, and no longer takes lessons, but still enjoys playing in his free time.  
"It's definitely fun to play," he said. "I love it when I finish a song, and then I can play it through well. That's such a good feeling."
Wobig also started and led his own youth group with some of his friends and family throughout his junior year, though the group ended at the start of his senior year when one of his co-leaders left for college.
"It was really fun," he said. "It was a group of people that we just kind of found… We got together, we'd sing some songs, and then there was a video sermon we'd watch. And then after that, we'd just kind of hang out and have fun."
As for how he was able to maintain all of these extracurriculars while excelling academically, Wobig isn't entirely sure. He said that he would come home from sports practice, study, eat, and go to bed, sometimes missing out on social time because of his schoolwork. 
He made sure to always pay attention and take notes in class, do his best on assignments, and seek opportunities to take advanced courses, exemplified by his decision to take six AP classes during his senior year. 
Wobig said that he thinks the reason he was able to do all that he did is because he leaned on his faith and his relationship with God.
"I definitely prayed a lot," he said. "I definitely don't think I could have done this on my own." 
Wobig said that his relationship with God is a "point of stability" in his life and that his faith has not only helped him to perform well academically, but has also alleviated most forms of stress in his life. 
He believes that God has a plan for him, and through this faith he no longer experiences much stress about his academics or busy schedule. 
"I know that everything's going to work out because I believe in God," he said. "So I wasn't as stressed, I think. I think that really helped. I think stress gets to a lot of people, and it's really not productive to be stressed."
Wobig said that even during a notoriously intense period for high schoolers — the college admissions process — he experienced little to no stress. While applying for colleges, he did not feel worried about whether he would be admitted, because he had faith that he would end up at whatever school was in accordance with God's plan for him. 
For example, he didn't get into UCLA or Notre Dame. He said that perhaps this is because he was not meant to go to either of these schools, but that God's path for him is to go to UC Berkeley, which is the school that he has decided on. 
He also said that maybe the A- and B+ that he received in his sophomore year were part of God's plan for him, as perhaps those grades are what prevented him from getting into schools like UCLA, which he would have chosen over UC Berkeley had he been accepted. 
Wobig said that he cannot know for sure what God's plan for him is, or whether or not these events were a part of that plan. "I don't really know," he said. "And I'm okay with that."
"I got into UC Berkeley, which was amazing," he said. "I thought it was a miracle, personally… [But] even if I didn't get in there, even if I ended up going to Clackamas Community College, I knew that it was going to work out. And there's some sort of reason why I would've gone wherever I went, and that God had some sort of plan for me. So that's why I wasn't really stressed."
Reflecting on his journey, Wobig feels that his commitment to his education is fueled by an innate desire to learn, especially in his favorite subjects, science and math. 
"I love learning new things, especially new things about this world," he said. "So I think that's why I really liked chem and calculus, [and] physics."
Wobig said that his overall favorite class is calculus, although he didn't realize how much he liked it until he was no longer taking it.
"Every single day when I walked into the calc class, I was learning something new, something that just made my brain hurt," he said. "It was mind-boggling, it was like a puzzle, and I loved it."
He took AP Calculus AB his freshman year, AP Calculus BC his sophomore year, and then AP Multivariable Calculus his junior year. It wasn't until his senior year when he took AP Statistics that it occurred to him how much he missed calculus. 
"Some people are like, 'you nerd, Lucas, you're such a nerd,' and I know," he said. "I am a nerd, and I like it. I think calc is so interesting. But I don't think I realized how much I liked it until this year when I took stats."
Wobig expressed appreciation for all of his teachers at La Salle, as well as the challenges that his AP classes gave him.
"I think my high school experience was great," he said. "I loved the teachers, each one of them. I felt like they really cared for me and for all my classmates. They tried their best to help us succeed."
The biggest piece of advice he would give to other students to be successful in their classes is to pay attention and take diligent notes during class. 
"Don't play video games," he said. "It's really fun to do, but it makes everything so much harder. When the test comes around and you've been playing 'Balloon Tower Defense' all class, you have to cram everything in… at the last second on notes that were not even well taken because you were scrolling Pinterest or something in class."
At UC Berkeley next year, Wobig plans to study biology, and maybe major in business. He hopes to become a physician, but said that he would maybe want to run some sort of business as a doctor as well. 
"Berkeley's [business] school is very good, so I feel like I should capitalize on that," he said.
Wobig feels that a pre-med track will be a good fit for him because of his love for learning and since there are many different aspects of medicine to learn about. Additionally, he is a very social person, so he said that he would also enjoy the interpersonal part of working as a doctor.
"I don't really know what type of physician [I want to become], but I know that I really like learning, and if I went into medicine, there's so much about the human body I can learn about, so many procedures I could watch," he said. "That will help with my thirst for knowledge. But then also, I really like talking to people and I really like helping people, and I feel like as a doctor, I can do both of those a lot… That just sounds amazing to me."
Reflecting on his high school experience, Wobig said that "it was a good four years. It was a tough four years, but it was a good four years."