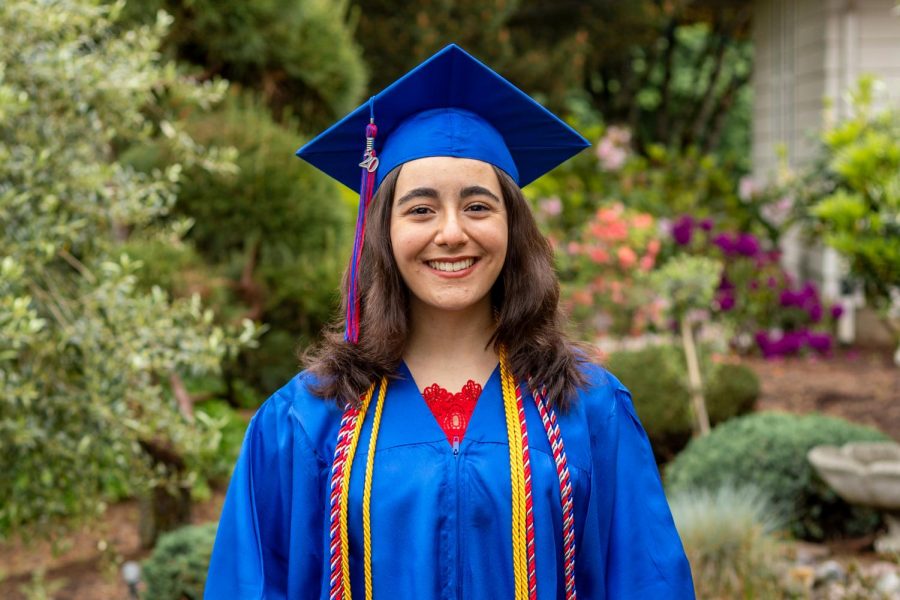 Grace Elkhal
May 20, 2020
Valedictorian Grace Elkhal had a mantra throughout the second half of her high school career: "progress, not perfection."
She gained this motto when she took AP Calculus AB with math teacher Mr. Larry Swanson during her junior year. She said that taking this calculus course was "a major learning curve because you don't see improvement overnight."
Usually in her classes, Elkhal would be able to pick up concepts and material immediately, but AB Calculus was the first time when she wasn't able to do this. "It took a few months until I had understood the concepts of AB Calculus, until I was getting the ideas down on the page and really understanding what I was doing," she said.
Throughout her high school experience, Elkhal has challenged herself to manage a difficult course load — she will be graduating with a total of 10 AP classes — even taking one or two extra courses some semesters. 
"I think that it's a blessing and a privilege to go to a high school which offers Advanced Placement, which offers honors classes that are challenging and push your limits more than regular classes," she said. "I'm a very motivated and driven person, so I wanted to jump on the opportunity."
It was through these challenging courses that she learned to seek "progress, not perfection," deciding that the most important goal to strive for was to do the best she possibly could, no matter what everyone else around her was doing. 
"You're not going to be perfect, and you're not always going to be the best, you're not always going to get the highest score," she said. "But in doing your best, you're going to be successful, no matter what." 
Elkhal said that she received "endless support" from her parents, who always told her that she was capable of achieving her goals by doing her best, and that her "best is good enough."
"I think in life, you have to push yourself and you have to know the limitations of doing your best," Elkhal said. "And my best was, I wanted to take the honors [classes], I wanted to take the AP [courses]. I was up for the challenge and I knew that I was capable of being successful within those challenges."
While Elkhal always sought to do her personal best and focus on individual improvement, she also gained motivation from her peers and classmates, and was driven by her competitive nature. She would look around at her classmates and see what courses they were taking and try to be creative with her schedule to allow herself to make room for new opportunities that she observed from her peers.
At times, Elkhal's competitiveness and her desire to not only be the best she could be, but also the best among her peers, drove her to be very academically successful. But other times, she said, her constant comparison to her classmates could become "destructive" and "unhealthy."
She went through a period of time where her competitiveness was consuming her mind, and she couldn't think about anything besides climbing the ladder of success faster and better than her peers. 
Eventually, she said, she realized that this was a detrimental mindset and that she needed to "stay the course" — meaning to still gain motivation from her peers, but to focus more on herself and less focus on how she compares to others.
"I think that once competitiveness reaches an unhealthy point, it's kind of self-destructive and you start sabotaging yourself," she said. "You become so obsessed and consumed by other people that you're no longer able to focus and prioritize yourself. And until I kind of reigned back, stayed my course, and focused on doing my best, I think either I wouldn't have been as successful, but I also think in being so hard on myself, I wouldn't be happy."
By learning to stay her course and aim for progress rather than perfection, Elkhal feels that her hard work has paid off. "I got to where I am, and I'm so happy to look back on my four years and see a happy Grace," she said.
Looking back on her experience at La Salle, Elkhal said that the most important part of high school is to envision "who you want to be in four years," and then to do whatever you can do to become that person by the time of graduation. 
"Push your limits," she said. "Go out of your comfort zone. Make an effort in your academics. Be invested in your education. You're so blessed and privileged to go to a high school that provides you with all the tools and opportunities to thrive and be the best you can be. Start taking advantage of those opportunities."
Not only did Elkhal push her limits academically, but also in other aspects of her life, such as service and extracurricular activities.
Throughout her time in high school, Elkhal participated in clubs, volunteered at Portland Adventist Medical Center, and served as the president of the youth group at her church. She was also involved in student leadership, participating as a member of student council all four years of high school, and being elected during her sophomore year as class representative and her senior year as student body vice president. 
In student leadership, she was able to put her passion for public speaking to use, speaking in front of the school on many occasions during assemblies and masses. With this passion for public speaking, it's no surprise that Elkhal was also very involved in speech and debate, which she considered to be her sport.
"I took [speech and debate] extremely seriously, and by taking it seriously and being competitive, I was really successful," she said.
Through speech and debate, Elkhal and her teammates learned how to persuade and inform an audience and practiced techniques and rhetoric every week. "In [this practice] I found myself," she said. "I found my personality, I found my passions and my gifts and talents." 
Elkhal said that through her experience at La Salle, both academically and extracurricularly, she feels that she has become a better person overall. 
"I've become a well rounded person, in academics and in extracurriculars and in character," she said. "I'm really blessed to have had so many opportunities presented to me, and I'm really accomplished [in] that I jumped on those opportunities. I really got a chance to travel, to experience the faith side [and] the community side of La Salle. I'm blessed to have formed relationships and really pushed my limits — academically, socially, really getting involved."
Elkhal has assembled an impressive list of accomplishments: she has broken records in speech and debate. She has traveled to Boston and Spain for school trips. She has received outstanding academic marks. She has taken extra classes, challenging herself in as many ways as she could. And now, she is receiving the academic honor of valedictorian.
But in describing what she has accomplished, Elkhal does not reference any of these achievements. Instead, she reflects on how she has "been touched by the teachers, by the students, by the academics, the experiences, [and] the opportunities," she said. She feels that she has been touched by those who shared her experience, and that she has touched the hearts of others in turn.
"I feel [that] I've made a mark," she said. "And to me, that's precious. That's priceless. In making that mark, I feel accomplished… I feel that in leaving, I pushed my limits, and I became a better, stronger, more confident individual."
After high school, Elkhal will move on to try to make a mark elsewhere in the world, starting at Lewis & Clark College, where she plans to major in international relations and minor in Middle Eastern studies. She wants to continue in her studies of the Arabic and Spanish languages; she is very passionate about her Syrian heritage, participating in rallies and conferences advocating for peace in the Middle East, and Spanish has been one of her favorite and strongest subjects in high school.
Elkhal said that throughout her four years of high school, she "fell in love" with the Spanish language, as she started taking classes for the first time when she entered her freshman year. 
"I think what I [love] about Spanish is that it was immediately applicable," she said. "It's used everywhere. In the United States [there are] a lot of Spanish speakers. It's crossing a barrier that's between you and another person, you and another world, another culture."
Elkhal hopes to pursue a career in law, and her dream is to work for the United Nations, "hopefully in the humanitarian sector," she said.
She chose Lewis & Clark because she wanted to stay local to remain close to her family during her undergraduate studies, and because it has the areas of study she wants to pursue, as well as an appealing law program. 
Going into college, Elkhal said that she hopes to become more outgoing socially. Though she made many connections within the walls of La Salle, she said that she does wish that she had "made more of an effort in building relationships outside of school." 
As she turns to the next chapter of her life, Elkhal wants to apply the same principles that she has been striving for throughout high school — to stay her course and do her best — and she recommends that other students also seek to do their personal best. 
"In anything you do — this goes for friendships, relationships with teachers, and academics and extracurriculars — do your best," she said. "Knowing that you've done your best, there's nothing more you can do… Your worth isn't indicated [by] your accomplishments. Your worth is not equivalent to the amount of awards you have, medals, certificates. It's simply on being yourself and doing your best."
As she reaches the end of her senior year, Elkhal reflected on some of her fondest memories, such as the Journey retreat, the connections she made with teachers and classmates, and discovering her passions for public speaking and language.
"I'm really grateful to have gone to a high school that provides me with a safe, healthy environment where I can strive not only as a student, but as a person," she said. "Graduating, I've become a far better person than I was walking into those doors, and for that I'm eternally grateful."