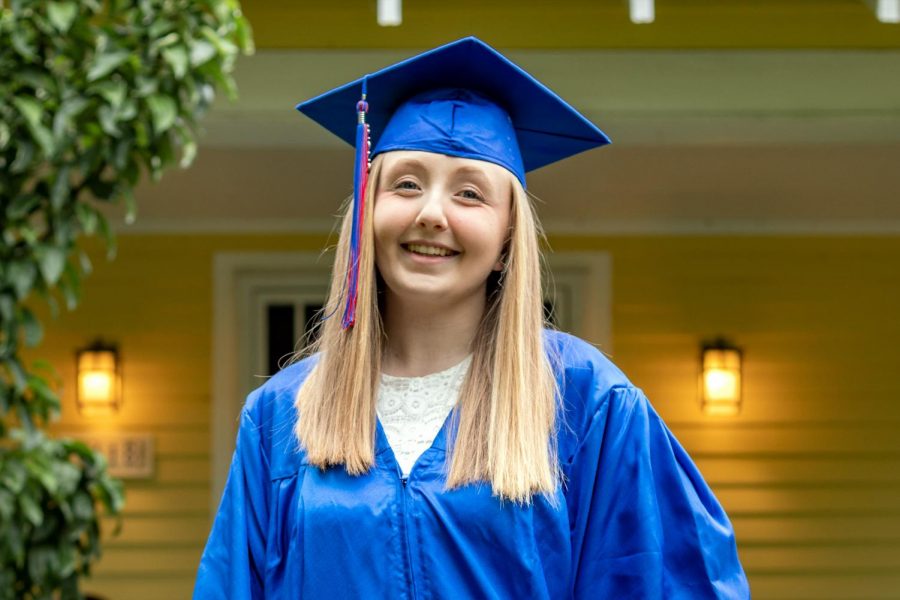 Franny Bengtson
May 20, 2020
Valedictorian Franny Bengtson has two older siblings who were valedictorians themselves, so throughout high school she tried not to think about the award, so as not to cause herself stress by comparing herself to her siblings. 
Instead of shooting for the goal of valedictorian, she aimed to always do her best, not preoccupying herself with comparisons to those around her.
"I think if [valedictorian is] your goal, you're most likely going to be disappointed because I think that's probably not what learning should be about," she said. "I think just trying to do your best and get the most out of your education that you can is a better goal."
Bengtson said that she is fairly self-motivated in terms of pushing herself to do her best, and that her "perfectionist side" has played a role in her academic success, "because I've just been very conscious of how I'm doing in school and my grades and what I need to work on," she said. 
However, she said that her perfectionism also causes her to put quite a bit of pressure on herself. Most of the pressure she feels to be academically successful comes from her own internal drive rather than external factors, as she said that her parents have emphasized that "all that matters is that you're trying your best."
"They would have been completely fine if I had gotten straight C's my entire high school career if that was the best I could do," she said. "They would've totally been supportive."
Bengtson said that her perfectionism causes her "so much stress, all the time," because she tends to get really down on herself if she doesn't perform as well on a test or assignment as she had hoped.
She wishes that she wouldn't feel as "unreasonably upset" as she sometimes does when she doesn't meet her own academic standards, as most everyone does "really poorly on a test once in a while" if they are challenging themselves in their classes, she said. 
"I hate it so much being that person who gets [an] 88 on a test and is like, 'oh no, I did bad,'" she said. "I hate being that person. But I feel I am that person sometimes because of the perfectionism, which is a little infuriating."
Up until she entered AP Calculus AB at the start of her junior year, Bengtson had a relatively easy time doing well in most of her previous classes. When she started to take harder courses like AB Calculus, she said it was a "hard transition," as it was difficult for her to accept the fact that she would no longer be able to get A's on all of her assignments and tests. 
"During AB Calculus I think was when I started actually getting bad grades on tests pretty regularly," she said. 
This difficult transition caused some distress for Bengtson, but her teacher Mr. Larry Swanson helped her better understand that sometimes failure is necessary for learning.
"[Mr. Swanson] was like, 'This is what happens. This is what calculus is. It's not easy, it's not just something that you can skate through on and expect to know without practicing a ton,'" Bengtson said. "He kind of made me realize that it's okay to do really poorly on a test or an assignment if you're trying. If you're trying your hardest, that's really all that matters."
While Bengtson strives to do the best she can in all her classes, including her many honors and AP courses, she also makes sure to maintain healthy and balanced habits.
As co-head of the set crew for theater, she often spent many evenings backstage helping to run rehearsals and performances, so sometimes she didn't get home until late into the night, sometimes even around midnight. In cases like these, when extracurriculars occupy much of a student's time after school, many students end up staying up very late, sacrificing hours of sleep in order to complete their homework, then wake up early and do it all again the next day.
However, Bengtson said that she "hate[s] staying up late," so she tries to manage her time so that she is able to get a restful night of sleep. Oftentimes, she would try to complete assignments backstage during breaks in her set crew responsibilities, but even if she got home after a long evening of theater and she still had more homework, she chose to just go to sleep. 
She said that usually, she is better off going to sleep on time instead of staying up to finish her assignments because her teachers have been understanding for the most part, as long as she keeps clear communication with them. Most teachers would let her turn in assignments the following day or whenever she could given her busy circumstances, and that way she is more well-rested and keeps a more balanced schedule.
"I've found that most teachers are willing to do that," she said. "Of course, there are going to be some who aren't, but if you figure out who the teachers are who aren't going to cut you as much of a break and you do their work [first], then there are definitely other teachers who are very understanding about it."
She expressed her appreciation for all of the teachers that she has had during her time at La Salle. "I think La Salle as a whole has been so positive," she said. "[I] love all the teachers here, even the teachers who I think are really hard on their students, I still love them… Everyone who is teaching at La Salle is here for the right reasons." 
In addition to her teachers, Bengtson said that she also receives support from her friends, who like herself, are very academically driven. On one hand, they can help each other with classes and assignments, and are also understanding of Bengtson when she chooses to sacrifice social time in order to complete her school work. 
On the other hand, though, Bengtson said that her friends help her maintain balance in her life when she is tempted to get carried away by her perfectionism.
She said that as a whole, her group of friends is good at recognizing when one person might have been working too much on their school work, and helping each other recognize when they need a break. 
"If I didn't have the friends I did, I very easily could have just been completely sucked into my school world and never had a social life," Bengtson said. "I'm very grateful for them."
Bengtson said that the most important part of high school is "finding your people" and developing positive relationships as she has with her friend group.
She emphasized "finding some people you can be with and hopefully be friends with for a long time to come," she said. "That's what I hope for me and my friends, and I think those social experiences are far more important than academics should be," although she does feel that academics are important in their own way.
For example, she said, she wouldn't have gotten into the college she will attend, Northwestern University, if she hadn't prioritized her academics in the way she did. Although she looks forward to attending Northwestern and loves the school, she said that if she had to choose between getting into the university and building the friendships that she did throughout high school, "I absolutely would choose my friends and my life experiences. It's just much more worth it."
Some of her greatest high school experiences have been in theater, though Bengtson has also participated in speech and debate and cross country. However, she quit cross country after her sophomore season, because she found that she is "not meant to do athletics," she said.
"I would be trying my hardest at cross country and just not getting any better," she said. "It was just taking up all my time and making me feel bad about myself, and so finally I decided to stop. And I suddenly had more time to do other things that actually made me happy."
At Northwestern, Bengtson will start on a pre-med track, double majoring in biology and Spanish, hoping to eventually go to medical school and become an obstetrician. 
When she visited Northwestern, she also visited other midwestern schools such as Notre Dame and the University of Chicago, but none were as appealing to her as Northwestern was. 
"I wasn't really interested in many other [Midwestern schools] except for Northwestern," she said. "I loved it so much."
Studying biology makes sense for Bengtson, as she has always enjoyed and done well in science classes. Additionally, she has had experience in medicine, as she often volunteered with Portland Street Medicine, which is her favorite extracurricular aside from theater. 
Portland Street Medicine, Bengtson said, is "an organization of local doctors, nurses, social workers, physician assistants, [and] various healthcare workers [who] go out in a van and they go to different homeless camps around the city and provide healthcare to the homeless."
Her mom had worked with the organization for a while, so Bengtson decided to start going with her. 
"I would do things like hold their backpacks, run back to the van and get them things they needed, pass out food and water and such, which was pretty rewarding," she said. "I thought I was maybe going to do it like, once or twice."
However, she ended up volunteering with the organization on regular occasions, going out with them every Friday when there wasn't school, and on Monday nights when there was school on Fridays. She said that it's interesting to see homelessness in a "different light." 
"It's really amazing to sort of see places that you've seen your whole life in a completely different view," Bengtson said.
For example, she talked about a certain intersection that she had driven past many times because it is on the way to some of her friends' houses in Happy Valley. The first time she went out with Portland Street Medicine, they went to that area to a homeless camp that she had never even known was there.
"This was their home," she said. "This street that I just sort of thought as of the gateway to Happy Valley was where they were living."
Volunteering with Portland Street Medicine has been an impactful experience for Bengtson, and she said that it has allowed her to gain more perspective on life.
"It sort of helped me realize that there are things other than academics that we need to be learning in our lives," she said. "It's one thing if you're really good at school, and I think that's what valedictorian is… But Portland Street Medicine and the other activities helped me realize that that's not all there is to life. You need to be good at collaborating with people, you need to be good at actual life skills that aren't directly tied into the American school system."
Bengtson is glad that La Salle promotes this idea that there is more to life, and more to learning, than just the curricula learned in classes. She mentioned her appreciation for the service project that students complete every year, which she said "helps you care about things other than doing well in school, which is something I think all high schoolers definitely need."
The emphasis that La Salle puts on serving others is "one thing that sort of sets La Salle apart from other schools," she said. "It's not all about just getting an education, getting your high school diploma, and then leaving and forgetting everything you learned. The Lasallian mission I think is pretty unique in that way. It sort of instills in you life values rather than just academic values, which I think is really nice."
Correction: May 21, 2020
A previous version of this article misspelled Franny Bengtson's last name.