Counselor Ms. Nancy Orr Retires After "The Best 20 Years Ever"
Two decades ago, counselor Ms. Nancy Orr accepted a position at La Salle. Now, after 36 years of being an educator, and serving the La Salle community in many different ways for 20 of those years, Ms. Orr is retiring. 
Most students know Ms. Orr as one of the five counselors at La Salle, but throughout her time at the school, she has been much more. When she first came to La Salle, she was a part-time counselor with two other counselors, and a part-time religion teacher as well. While she was a religion teacher, she created the Christian Lifestyles course, which is still taught to La Salle seniors by Mr. Edward Kendrick. 
Before coming to La Salle, Ms. Orr taught at an alternative high school, and she has done many different things as an educator. She has taught U.S. History, run a resource room, worked in Vancouver Public Schools, and went to graduate school in 1979 to become a counselor. 
Ms. Orr taught for 16 years, and then stayed home for around 11 years with her three daughters, one of whom graduated from La Salle. When Ms. Orr was introduced to the former Admissions Director of La Salle, Patty Sugar, she applied for a job and came back to education after being at home. "I considered it kind of providence that I came here," she said. "I had not really intended to go back into education… I've thanked her every time I've seen her for hiring me."
When Ms. Orr first came to the school, she said she remembers the kindness of the environment. "I couldn't believe how nice the kids were, I thought they were putting me on because they were so nice," she said. 
She also said that she attended classes about St. John Baptist de La Salle at first, something that she never experienced in her previous jobs in public schools. She remembers thinking, "'I know a lot about this St. John Baptist, but I don't know where you get pencils, I don't know where to get office supplies, I don't know who helps me with my computer.'" 
As Ms. Orr dedicated more of her time to La Salle, her job shifted in different ways. She gradually gained more students to counsel, and she also played a large role in changing the counseling model at the school. Previously, the counseling model had separate college counselors from those who did personal and academic counseling. Ms. Orr said that often, the college counselors didn't know the students as well as the other counselors, and so she started doing both college counseling and personal and academic counseling.
"It kind of evolved, so that's how this started," Ms. Orr said. "You have five counselors who do it all."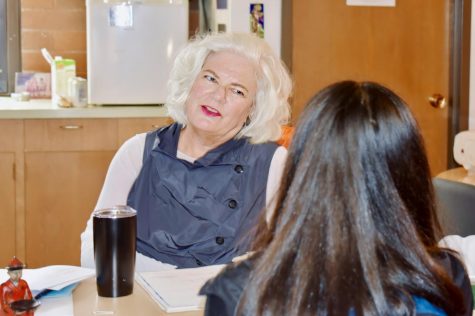 Ms. Orr said that she is proud of helping to change the counseling model. Before the changes that were implemented, she said that counselors mainly talked to students about their grades. Now, each counselor helps students with college and academic counseling as well as personal counseling. "We all know so much, and we know our kids because we have them starting their freshman year," she said. "We're really fortunate here, to be able to have a counselor who really knows you." 
Being able to talk and connect with students is Ms. Orr's favorite part of her job. She said that she loves listening to teenagers' perspectives on life, as well as their humor. "I love how they see the world, I love how they're just so bright and it's so different than my world… it's such a contrast to my lifestyle."
Ms. Orr said that she enjoys listening to students and that they make her laugh, and sometimes cry. "The hard part of the job is if someone has hurt one of my kids," she said. "I love to listen and I want to help, but I guess that's the hardest part… when there are sad things that happen." 
Despite the occasional challenges, Ms. Orr said that "99 percent of the time, I love this. I wake up really early in the morning and once my feet hit the floor I think, 'Okay, I'm going to see this kid, and that kid, [and] I've got to write this letter.'"
"It's just been such an incredible place, and I think my family would tell you that La Salle has just been great for all of us," she said.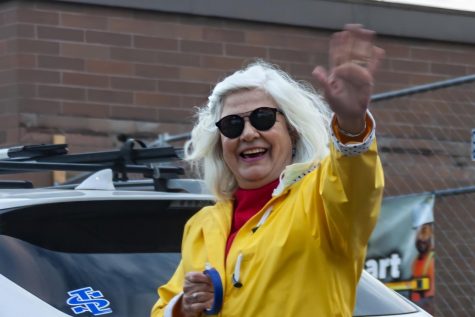 Throughout her 20 years at the school, Ms. Orr has had many highlights and accomplishments. In 2007, she was awarded Educator of the Year. Around 2012, she was the counselor for the San Miguel Scholars, which "was wonderful," she said. "I love those kids, I was so excited when we got to send them off to college. That just felt like really an accomplishment, I felt very accomplished being their counselor." 
The San Miguel Scholars program provides financial aid to students at La Salle for tuition, textbooks, school supplies, meals, transportation, and other areas of support. 
When Ms. Orr knew that she was going to retire, counselor Ms. Maritza Mendez took over the San Miguel Scholars program. "I wanted to make sure that the program stayed, and it lasted," Ms. Orr said. "She's taken it and run with it, and done a spectacular job keeping that program going… It just means a whole lot to me."
The relationships that Ms. Orr has formed are also highlights from her time at La Salle, especially with those who work in counseling. She said that the counseling department is very close with one another, and they stay in touch outside of school, from "silly stuff [to] sometimes sad stuff."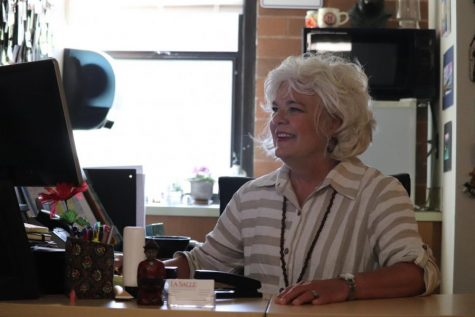 Due to COVID-19, Ms. Orr's final months as a counselor did not end the way anyone expected. She said that it has been difficult counseling every student digitally, but Zoom and phone calls have helped her stay in touch, especially with seniors. "They've worked so hard," she said. "My heart goes out to them."
Since students and staff are finishing the school year in quarantine, Ms. Orr said that it is slightly easier to end her final year, as there aren't as many second thoughts about leaving behind her relationships at La Salle. "I think this is a good thing that the year's ending this way because I think if it was a normal year, I would question my decision to retire," she said. 
Ms. Orr has made many memories in her 20 years at La Salle, from the boys soccer championship this year to the football team playing in the championship game a few years back. Many of Ms. Orr's memorable moments are shared with her students — often celebrations of their success. "When [kids] get into the schools that they really want to go to, or when we've worked really hard to make sure that we could find a program that matches… that's pretty exciting," she said. "I do get really excited when kids get to go and do what they want to… they have a journey and then they finally get there."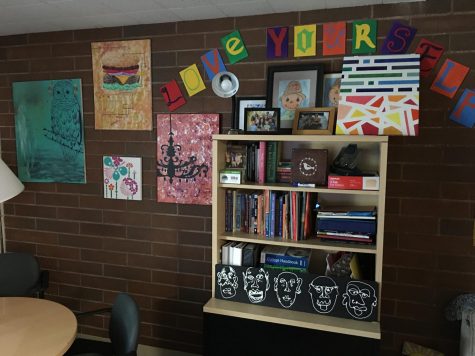 When it comes to what she will miss the most about her job, Ms. Orr said that she will miss talking to kids all day, and all of her colleagues. She said that in her 36 years of education, La Salle has the best educators that she has ever worked with. "It will be difficult for me not to see these people that I've been talking to for the last 20 years, they're amazing." 
However, Ms. Orr said that she'll still be around, just not daily. She said that she's helping to make sure that the kids she counsels have schedules for next year, and helping with the transition into next school year without her and counselor Mr. Seth Altshuler, who is also leaving his position. 
Ms. Orr plans to move to Mount Vernon, Washington with her husband to be closer to her four grandchildren once she retires, and possibly do some traveling with family and friends. She said that she might volunteer or be a parent educator, so that she can still work with kids. "They keep you young and they keep you lively," she said. "It's good for your soul."
Ms. Orr emphasized how blessed she has been to work at La Salle. "I think we're so fortunate that we have such quality professional counselors in this building," she said. "That's what I want people to know, is just how fortunate they are to be able to go to this school."
She advises students "not to take yourself too seriously," she said. "Laugh a lot, and then laugh some more… Things aren't written in stone, and there's always something better around the corner, even when things look pretty bleak."
Ms. Orr said she is grateful for her time at La Salle. "Nothing can ever touch this experience," Ms. Orr said. "I'll never be in another school like this, and I'll never be around kids like this again… I've just had the best 20 years ever."