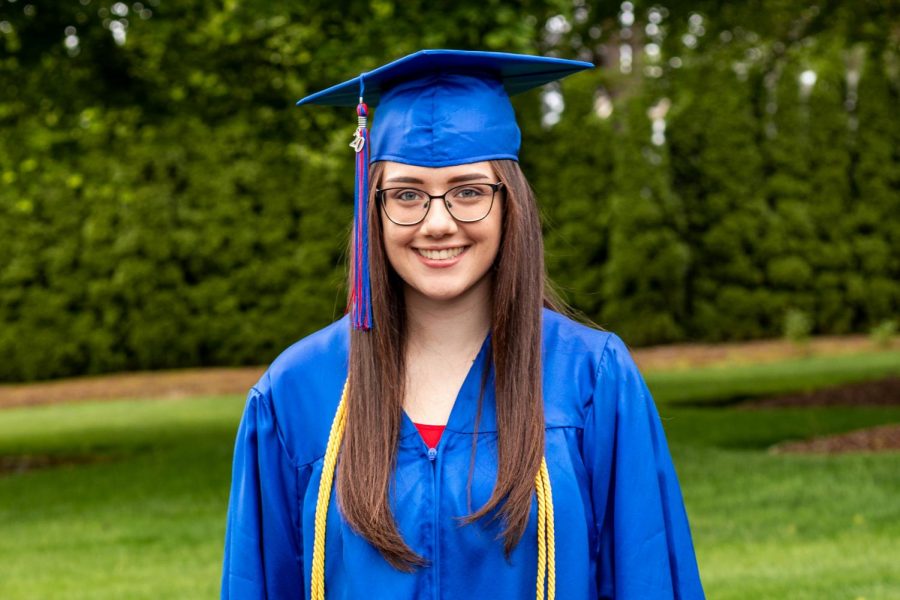 Ashley Smith
May 20, 2020
For valedictorian Ashley Smith, one of the most challenging aspects of high school was managing her busy schedule. 
One of Smith's greatest passions is sports, which consume much of her time when she isn't in class or working on homework. Throughout high school, she participated in track and field, tennis, volleyball, and basketball, though she only played basketball during her freshman and sophomore year. 
However, despite the challenges of balancing athletics with school and social life, all while earning outstanding grades, Smith said that her commitment to her sports life largely played into her academic success.
"Playing sports, even though it makes my schedule a lot busier, forces me to organize my schedule," she said. "Because of that, I've always been really able to stay on top of schoolwork… I've always tried to keep straight A's." 
As long as she stays organized, Smith said that she is able to balance her schedule and exceed academically. 
"It's also just about doing the little things, like turning every assignment in on time and really putting your best into every assignment," she said. "That kind of helps balance out your grades so that when it comes to test time, you'll do well on the test, and you already have a stable grade."
She said that the second semester of the school year has always been more "hectic" for her, because she participated in both tennis and track and field during the same season. Despite this, she is able to stay on top of her grades throughout the spring season by getting ahead of her work and communicating with her teachers.
Oftentimes, Smith would try to complete as much of her homework as she could on Monday evenings, turning in assignments that were due on Tuesdays and Wednesdays ahead of time so that she could create more time in her schedule throughout the rest of the week. On weekends, she preferred to keep Saturdays as her day off, then complete most of her homework on Sundays. 
She said that in order to prevent herself from getting too stressed about her schoolwork, it's important to have confidence in herself that she will be able to work through things. She also tries to maintain the philosophy that at the end of the day, she will do what needs to get done. 
"I kind of have to reassure myself and not let the stress get to me," Smith said. "You're just kind of saying to yourself, 'okay, I will get it done. I am fully capable of this.' And having that self assurance, that confidence, it allows you to decrease your stress, I've found. And it can be hard to let go of that stress at times, but once you do, it's a lot easier to be organized and kind of work through things in order."
Between academics and athletics, it might seem as though she is left with little time to destress on her own or socialize with friends. However, for Smith, sports are an outlet to clear her mind, as well as a way to spend time with her friends, many of whom are on the same teams as her.
"Even though it's a lot of hard work, it's also a lot of fun memories, and so that has been kind of a way to balance out the academic life when that gets hard," she said. "There's nothing better than match day or traveling on the bus with your teammates. It just makes it all feel worth it at the end of the day."
Smith also cited her friends as some of her biggest supporters in the classroom. Many of her friends are in the same classes as her, so they are able to lean on each other and help each other out academically. 
"All of us have similar goals, too," she said of her friends. "We all want to get the best grades we can, and so it's nice to have an environment where you have friends who have similar goals to you."
Along with her friends, Smith said that her parents have been "the best supporters" because they don't hold her to exceedingly high academic expectations, but simply believe in her and are happy that she has pursued academic success for herself. 
Reflecting on her time at La Salle, Smith said that her experience and the people around her have allowed her to "come out of [her] shell," and that not only has she learned about academics, but also about communication and opening up to others. 
Going into her freshman year, she was more hesitant to open up to others than she is now. "I was very introverted and it was kind of more difficult for me to make friends, and [throughout high school], I just found myself," she said. "I ended up with people who are so close to me, and I'm super happy to have them as friends." 
Smith said that her fondest memories of high school haven't necessarily been specific momentous events, but rather an accumulation of good times she has spent living out her passion for sports and sharing her time with friends. 
"A lot of my sports memories have been some of the best — whether it just be a super fun bus ride or winning and going to state, those are some really good memories," she said. "It's the small moments, in a way. It's not necessarily like, there's this one big memory, but it's like, you look back and you think of all the fun times you've had with your friends, and those are where the good memories are."
Some of Smith's favorite memories have come about during her months of practicing and competing in sports with her teammates, but this year, she was unable to partake in her final spring season of high school tennis and track and field, which are her favorite sports, due to the coronavirus outbreak.
She said that the hardest part of the pandemic for her has been losing her senior spring sports season, and also that she isn't able to see her teachers and friends in quite the same way. 
Nonetheless, she said that she has enjoyed spending time with her family and her dog in quarantine, and has been adjusting to the change of pace from her previous schedule, which was constantly filled with practices, games, and homework. 
"It was really hard for me to deal with at first because obviously I was really looking forward to my senior year spring season," Smith said. But now, she said, she is "accepting that it's time to move on."
"I'm trying to find the value in [this time at home] since I know I wouldn't have [had] it if I would have been busy in school," she said.
Although she is missing out on her final season of high school spring sports, her athletics journey is not over yet, as she is committed to Cornell University for track and field. 
Early in her high school years, Smith had always admired the idea of playing college sports at a Division I level. Then, after her sophomore season of track and field when she set an impressive personal record, some coaches began reaching out to her and she realized that playing collegiate sports was a real possibility for her.
Out of the schools that contacted her, Cornell stood out in particular, so she said she went on an official visit, which "just kind of sealed the deal." 
"I just loved it so much and I was super happy with that decision," she said. "Once I made that call to the coach and told him I was committing, I was just like, 'okay, this is for sure the right choice,' and I was super thrilled about it."
At Cornell, Smith plans to study engineering, as she has always enjoyed math and science because she likes the "logic" and "order of things," she said. "There's so many different fields of engineering and within that there's so many jobs, so I just feel like it'll be a really great opportunity to figure out where I want to branch out and then go for it from there."
With new experiences on the horizon, Smith looks forward to the continuation of her sports journey, which she describes as not only a physical journey, but a mental and emotional one as well. 
"I think my sports have all kind of taught me their own different lessons about teamwork, but also individuality and personal goals," she said. "Every aspect of sports has just been amazing and really made me mentally stronger… I've loved that the hard work I've put in has paid off over the years as I've gotten better and better."