Despite the Quarantine, La Salle Counselors Continue to Connect With Students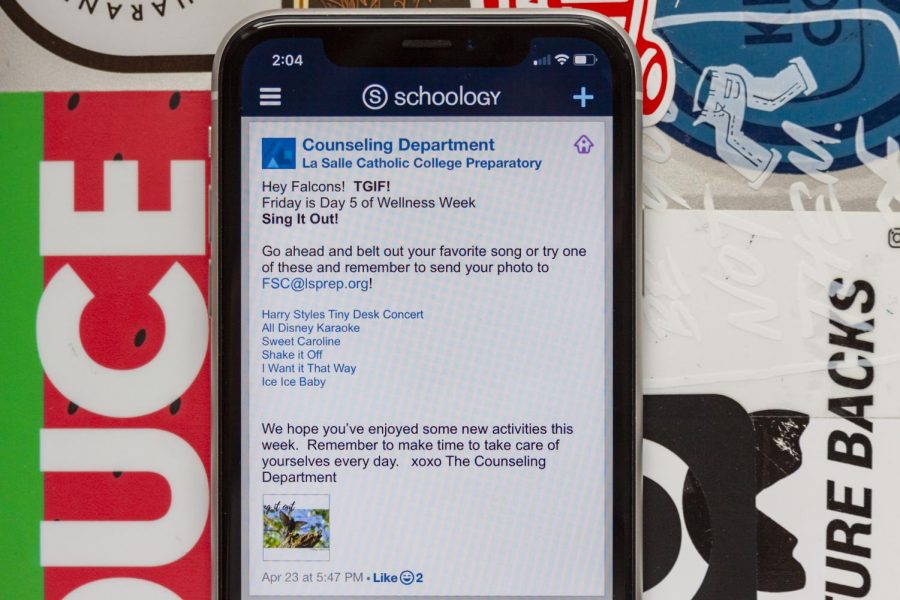 The La Salle community has been away from school for more than six weeks while completing all communications and schoolwork online. This has created a learning environment where it can be difficult for some students to reach out and connect with their peers, leaving many feeling lonely and anxious while cooped up in their homes. 
But despite the isolating circumstances, La Salle's counselors said that they are still working from home to support the community around them. 
"It has been tough not being able to see my students and my coworkers on a daily basis," counselor Mr. Seth Altshuler said. 
The rest of the counseling team expressed similar sentiments. 
"Our counseling team is a pretty close group, so it is hard not to be able to just pop into each other's offices to ask a question or check in," counselor Ms. Maritza Mendez said. 
Counselor Ms. Nancy Orr said that she had mixed feelings about the digital learning days because she plans to retire in June. "Ending my 20 year career at La Salle communicating with my students via Schoology or email feels very strange… The favorite part of my job was talking to the students all day," she said.
Ms. Orr also said that many students have reached out to her with their struggles in digital learning. In order to help those who are struggling, the counseling team has been communicating with students and parents through Schoology, email, phone calls, and Zoom meetings. "I have observed that the best way to manage digital learning is to be organized, have a daily routine, and communicate with teachers," Ms. Orr said. 
Despite the isolation being difficult, counselor Ms. Kerri Kelvin said that the school community is lucky to have the ability to connect using technology from their homes. "We are all doing the best we can with this crazy new world," she said.
Ms. Kelvin said she has noticed that while some students work well with the new online learning platform, others have found it difficult to stay focused with all of the change that is going on in their lives.
"The pandemic and resulting quarantining [has] been hard on all of us," Ms. Kelvin said. "[And] the students who were struggling emotionally before COVID-19 are struggling even more now… It is like putting them in a pressure cooker along with their sadness, worry, and difficult family issues," she said. 
Ms. Giesemann recommends a resource from the American Foundation for Suicide Prevention that provides support for navigating mental health during difficult times like these. "Turn to the people in your life who are supportive and can listen," it reads. 
Each member of the counseling team encourages all students and staff to connect with one another, even if it is digitally, to make this time feel less lonely.
"We have to make room for each others' hardship in this and make room for our own as well," Mr. Altshuler said. "The more one is willing to share those feelings and the more they have someone to listen, the more space is made for feeling connected when we are all feeling so distant… Since we are all going through a collective trauma, it means we all are able to have a common ground and therefore, a collective sympathy." 
Mr. Altshuler said he has been connecting with at least one person that he cares about every day to help build this connection. "Beyond my work with the La Salle community, I have also been a resource for family and friends struggling during this time… [and I] also make the phone calls to my support system when I need it for me." 
Despite the physical separation from our community, Ms. Giesemann said that she realizes "it will be temporary and that we are safer as a result."
Alongside this, in order to manage the workload that comes with doing everything online, Ms. Giesemann has found it helpful to create a space that is designated as a work area in her home in order to provide a boundary between her home life and her work. "It can be challenging to create a balance [between work and life] since we are all working at home," she said. 
Yet despite the different strategies that the counseling team has been using to connect with students, they are still concerned for the students of La Salle, and especially the senior class. "My biggest fear with regards to COVID-19 and the DLDs is that I won't get to see some of my seniors graduate in the way they deserve," Mr. Altshuler said. "My fingers are crossed [that] we all get to see them walk [across the stage]." 
Ms. Orr echoed this thought. "My heart goes out to them," she said. "They are a very special class – brilliant, diverse, incredibly funny, kind, energetic, talented, and because of COVID-19 they are learning the fine art of resilience."
Nonetheless, the counseling team reiterated that they want to help the entire student body. "We are here to help students get a plan together to stay caught up on work and to get help when they need it," Ms. Mendez said. "My advice for them is to communicate with their teachers and with us."
Mr. Altshuler elaborated on the importance of communication and balance, and he specifically works on routine and communication when it comes to helping students with their digital learning habits. "It's about adjustment and how to add structure to something that feels abnormal," he said. 
As for resources, Mr. Altshuler said that the best approaches are surrounded by positive mental health. "Right now I am recommending ongoing use [of] the American Psychological Association's website for the most updated info and techniques," he said. 
Ms. Giesemann also recommends the La Salle Prep Student Guide for Digital Learning, which leads students through different frequently asked questions and suggestions to keep themselves organized. Included in the guide is a link to a digital planner.
Alongside these resources, Ms. Giesemann also recommends that students read this article from the Harvard Business Review about how the discomfort people are feeling can actually be described as grief from all of the change in our lives during this time. 
To help with this sense of grief, Ms. Giesemann said that counselors have been helping to provide a "bridge" between students and teachers when students are struggling to communicate. "We are all on the same team," she said. "[But] while many students have expressed that digital learning has been going well for them, I worry about those who may be struggling and who haven't reached out to ask for help." 
Ms. Kelvin said that many times, students do not need more resources, as most have sufficient material for learning given by their teachers. More often, she said, students "just need to vent and feel heard."
One recent program that the counseling team helped bring to La Salle was the Virtual Wellness Week, which Ms. Giesemann said originally came from a counselor at Jesuit High School. "I am hopeful that students have tried one or more of the activities suggested this week or practiced something they enjoy," she said. "Self-care is so important during this time."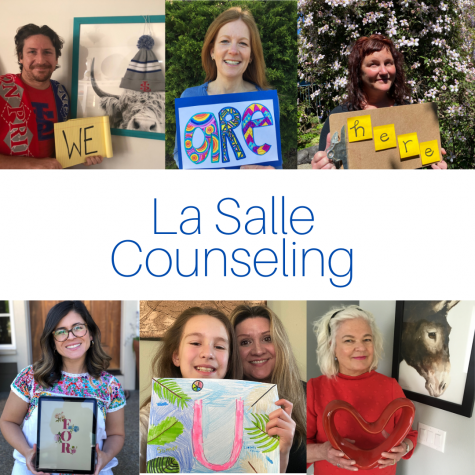 The purpose of the Virtual Wellness Week was to remind Lasallians to take a break from their work and focus on other things. 
"I hope Virtual Wellness Week was an opportunity for students to participate in something as a larger Catholic school community," Ms. Mendez said. "I also hope it offered some ideas for things that could be helpful to practice during these challenging times." 
Ms. Mendez said that along with working with students on their mental health, she has also been talking with seniors in particular about plans going forward, especially helping them understand financial aid packages for college. "This is always an important factor as they are choosing a college, but perhaps even more so this year as so many families have been impacted financially by the pandemic," she said. 
While most colleges will require a definite decision from seniors by May 1 this year, some have extended the date until June 1 or later in order to provide more time, or have agreed to be flexible about decisions as long as students continue to communicate their needs. 
"We have had students decide to apply to additional colleges and universities in the past month with the goal of receiving more financial aid," Ms. Giesemann said. "Other students have been considering the possibility of staying closer to home than originally planned." 
Ms. Giesemann recommends that students watch their email inboxes for updates from the colleges they plan on attending in order to stay informed, especially with changes in deadlines.
However, the college admissions process is also being affected for juniors during this time, and counselors are looking to help them as well. 
"We have sent juniors information about virtual tours and workshops because they were not able to visit colleges they thought they might go to over spring break," Ms. Orr said. 
The counselors said that they are also looking to help the incoming class of freshmen who will be attending La Salle next fall. "We look forward to [welcoming] the class of 2024 to the La Salle family, and will be working with faculty and staff on specific plans," Ms. Giesemann said. "In the meantime, counselors are available to incoming freshmen and have been responding to their questions about forecasting, and La Salle in general." 
As everything continues to be sorted out, Mr. Altshuler suggests cooking, working out, and making music and art as "silent care" that you can give to yourself during this unprecedented time. "While the big details are beyond us all [as] we wait for answers," he said, "we take care of the human details and the things we need in our hearts as much as our minds or bodies."
About the Writer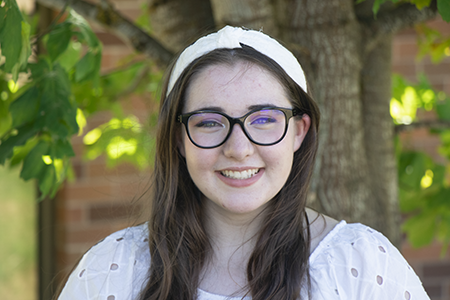 Brooklyn Chillemi, Editor
Brooklyn is a junior at La Salle. She is also invested in the arts. In her free time, she loves to bake, especially for her friends in theater and choir.