Are You Bored Out of Your Mind? These Netflix Shows Will Save You
Disclaimer: The following article discusses television shows that contain explicit language and graphic content.
With all of us quarantined for the foreseeable future, you might be finding yourself bored and uncertain of how to fill the time.
The clock is ticking, time is passing by, and you are searching for something to do. 
Some people have enjoyed painting, a simple walk around the block, or baking during quarantine. 
Others might favor the idea of relaxing and binge-watching a television show while being snuggled up in a warm blanket.
Luckily, Netflix has tons of new shows and movies that are constantly being added every week. However, it can often be difficult to choose a specific show or movie to watch amidst the vast selection. 
I picked a selection of eight shows that I highly recommend to binge watch during quarantine.
---
"YOU" TV-MA
This Lifetime series arrived on Netflix in late December, easily making the top of the charts for one of the most watched shows. "YOU" is a crime drama and thriller featuring Penn Badgely, who plays the role of Joe Goldberg, a book shop owner who tries to win the heart of Guinevere Beck, who is played by Elizabeth Lail. Quite frankly, Goldberg will do anything for love in the most obsessive and compelling ways, using technology to his advantage. "YOU" will not let you down and will definitely grab your attention as you can never expect what is coming next.  
90% on Rotten Tomatoes
"The Society" TV-MA
"The Society" is an American mystery teen-drama where a town of teenagers must forge their own society to survive. The variety of characters keeps the show engaging and spontaneous as the plot moves forward and continues to develop. This teen-drama includes one season with a second season coming in 2020.
86% on Rotten Tomatoes
"The Good Place" TV-14
"The Good Place," which originally premiered on NBC, has made its way to Netflix with four seasons. Kristen Bell stars as Eleanor Shellstrop in this clever comedy where she enters the afterlife. Luckily, she's in the "good place," but she finds out that a mistake had been made and she is not supposed to be placed there. Shellstrop is determined to earn her spot in the "good place" by leaving her old ways of living behind.
97% on Rotten Tomatoes
"On My Block" TV-14
This coming-of-age comedy will leave you wanting more. After the first season of "On My Block" spurred requests from fans for more seasons, the second season was released in March of 2019. This show features a group of high schoolers in a rough inner-city Los Angeles neighborhood trying to survive and figure out the mysteries of their town. "On My Block" is a clever comedy that will have you falling in love with the characters as they explore who they are, where they come from, and who they want to become.
95% on Rotten Tomatoes
"The End of the F****** World"  TV-MA
This dark comedy features two teenagers with Alex Lawther playing James and Jessica Barden playing Alyssa. Viewers follow James and Alyssa on a road trip that will ultimately come to alter their lives. "The End of the F****** World" is unlike any other show you have seen before — it's suspenseful and romantic, yet dark and comedic. 
93% on Rotten Tomatoes
"Ozark" TV-MA
"Ozark" is about a family who moves into a resort community faced with the pressure of laundering money for a drug cartel. Actors Jason Bateman and Laura Linney come together to protect their family in an enticing show seen as engaging and entertaining.
80% on Rotten Tomatoes 
"The Office" TV-14
"The Office" is an absolute classic and is a must-watch. This show is based off the award-winning British comedy of the same name and will not fail to make you laugh, smile, or even cry.
81% on Rotten Tomatoes 
---
So, grab a blanket, get all snuggled up, and get ready to indulge yourself in Netflix.
About the Writer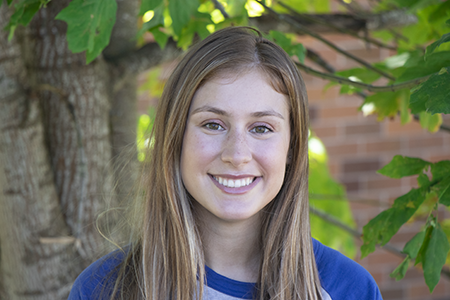 Dakota Canzano, Editor
Dakota is a senior at La Salle. She is the Executive President and is heavily involved in many aspects of student life. Outside of school, she enjoys thrifting,...