"Welcome to Portland": A Look Into the Lives of Three of Portland's Homeless
This article includes explicit language and content that might be upsetting to some readers.
We've all seen it — tents lining the sidewalks, garbage bags and shopping carts on street corners, and cardboard signs as you're exiting the highway. 
Sometimes we avoid eye contact. Other times we're able to spare a dollar, or at least a smile. 
Homelessness has become an epidemic, and it's not getting better. 
In 2018, nearly 553,000 Americans experienced homelessness for at least one night throughout the year.
An estimated 15,876 individuals were without a home on any given night during January of 2019 in Oregon alone.
And just in Multnomah County, 4,015 people were reported homeless.
Even within the blocks near La Salle, the homeless struggle to get by every day. As we go about our days, our experiences differ greatly from the homeless community. 
What is life like for people without homes? And more specifically, for those not far from our school? 
The Falconer went looking. Homelessness wasn't hard to find.  
---
Douglass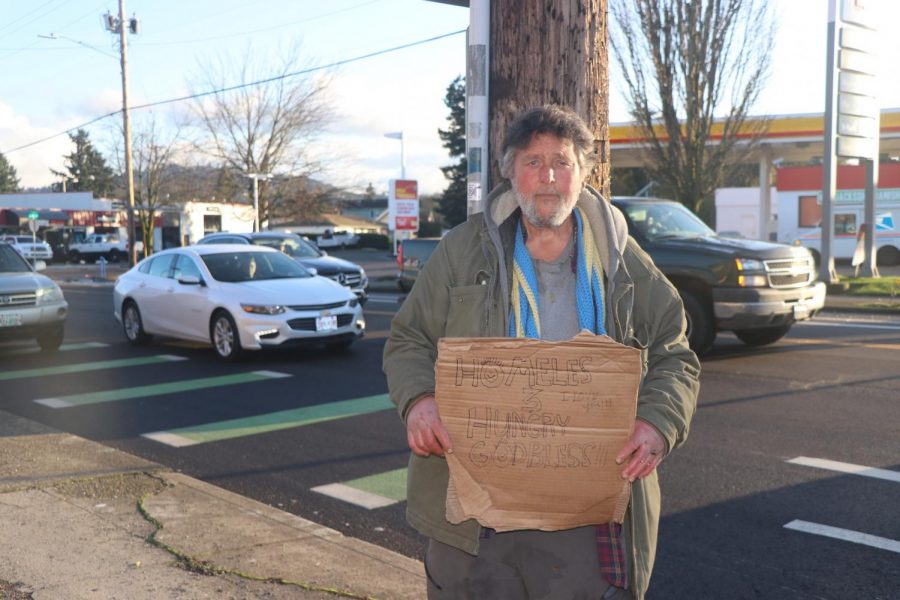 On the corner of a busy intersection, just a short drive from La Salle, stood 59-year-old Douglass, holding a sign that read "homeless and hungry."
He was dressed in clothes from a thrift store, which were covered in stains. Wrapped around his neck was a blue and yellow scarf to keep him warm during the colder months of winter. 
Several cars drove by and many people stared, but only a few stopped to hand him a dollar. 
"I've been living outside for four and a half years, waiting for housing, trying to survive," Douglass said. "I'm dying slowly out here."
While living on the streets, Douglass has struggled immensely with his health. 
Nearly five years ago, at age 54, Douglass was diagnosed with cirrhosis, causing his liver to function improperly. He was in and out of the hospital for weeks at a time, experiencing painful urination, sometimes in the shade of black, but was still declined government disability benefits.
"I just got sicker and sicker," he said. "I've been sick for a while… You can't see my knuckles because they're swelled up with [high] blood pressure and from my liver being bad."
A little while later, after resting at a local homeless shelter, Douglass' physical condition got even worse.
Douglass recounted how, at 28 miles an hour, a TriMet bus hit him on the side of his head, leaving him unconscious. The accident dislocated his back, fractured three of the bones in his neck, and broke one of them.
He woke up in an intensive care unit two and a half weeks later, where he was finally granted disability benefits from the government, which would provide him with nearly $750 a month. 
All the money Douglass receives typically goes towards his medical bills, as he's trying to get healthy. 
Aside from the bus accident and cirrhosis, Douglass has also had a broken foot, which he didn't receive proper care for. The boot that doctors gave him chewed into his leg, causing him a lot of pain for more than 18 weeks, when they realized that the boot had been for the wrong foot. 
"[I'm] living outside… on [my] feet, and trying to use crutches," Douglass said. "I'm screwed up. My liver's screwed up, [and so are] my neck and back. My leg is getting worse."
Most days, Douglass sits near the corner with a sign, from 10:30 a.m. to 12:30 p.m. asking for whatever money he can get. He will then find a way to get lunch, and purchase any new clothing he might need from the thrift store. At the thrift store he often takes a spit bath in the restroom, puts on his new clothes, and throws away the other ones that he can't carry around with him. 
"I don't even bother to let [my stuff] build up," Douglass said. "The second these homeless people know that you've got something nice, it's gone. They'll come and take it while you sleep."
Douglass only carries around a blanket, a bag of clothing, "which is mostly dirty," a sleeping bag, and his walker. 
When it gets late, Douglass sleeps on the sidewalk underneath the overhang of Big 5 Sporting Goods, where the entrance is lit up and lined with cameras. 
"Unless you sleep… somewhere where there's a camera and you're lit up, people will come by… and they'll shoot you with a pellet gun, they'll walk over and taser you, and take your wallet," Douglass said. "I let everybody know… this is a safe place."
While many homeless people give in to the temptation of drugs and alcohol, Douglass avoids these things and strives to live an upstanding life. He said that he stopped drinking in 1986, watches over his friend's belongings, and refuses to steal, as he was raised in a Christian household. 
And although he tries to do the right thing, it's not always easy. 
"A lot of homeless people go and collect cans," he said. "I can't do that. I can't climb in and out of garbage cans and dumpsters, and that's what you've got to do, or [the homeless] steal, [but] I don't steal."
Douglass also has noticed flaws within the systems of many homeless shelters, as he thinks it's unfair that the homeless can't stay throughout the day.
"They're in from ten o'clock at night till six o'clock in the morning," he said. "At six o'clock in the morning, they're given a cup of coffee and sent out the door. Now they've got nowhere to go, and [sometimes] it's icy and snowy."
Reflecting on his life, Douglass said he dropped out of high school as a teenager, but went back in 1986 to get his GED. He said that he passed with a 94 and was told he can go to any college he would like.
"My goal would be to go to school again — go to college," he said, speaking to the La Salle students who were there to interview him. "Make sure you graduate. You will regret [it if you don't]."
---
River 
River is 50 years old and loves to travel and surf. Born just outside of Washington, D.C., he used to frequently surf on the coast of North Carolina when he was younger.
He then lived in a range of different places including California, Australia, and South Africa, surfing and traveling around before returning to California.
There, he worked for 10 years in the black market marijuana industry until one of his close friends asked River to move in with him in Oregon.
So in the later months of 2019, River packed up and moved to Oregon.
And he wasn't the only one — a report by OPB said that "more people are moving to Oregon than leaving," with most of the influx of new residents coming from California. In 2019, Oregon's population increased by more than 41,000, with an average net gain of 19,797 new residents from our southern neighbor state each year. 
With lots of 21st century jobs, a sustainable city lifestyle, and a beautiful natural landscape, it makes sense why Oregon, and especially Portland, would be appealing for many to move to. 
But River was more than disappointed with what he found upon his arrival.
"I can honestly say [Portland is] kind of dysfunctional," he said. "I've seen some really messed up [stuff] out here on the streets."
After moving in with his friend, things went downhill quickly. The friend turned out to be a heavy drug user, and River didn't want to live in such an environment. "I don't want to be around meth," he said. "It's just disgusting… I'd rather live on the [expletive] street."
And so, without any other options, that's what he had to do.
Within his first day on the streets, River said he saw a man in the parking lot of a 7/11 using a needle to shoot up a woman in her neck with some kind of drug, and also came across a "red-haired chick" who offered him sexual services in return for payment, which he declined. 
On that same day, he said that he saw a man "take his frickin' drawers down to his ankles and start pooping in the middle of the street," stopping traffic. 
"Welcome to fucking Portland," he said. 
River wasn't used to being homeless, and witnessing these instances came as a shock to him. 
"I've never been on the [expletive] streets," he said. "I had a BMW in California, and a Ford Explorer."
Every day, River stands on and around 82nd Ave with his cardboard sign, which reads, "anything helps," "all love," and "it's been a bad day." 
In his first six weeks of homelessness, he had only two days of work, helping a man with landscaping. Though it didn't pay much, he was glad to get some work for a little bit, and continues to seek out jobs. 
On one of his first nights on the streets, River was trying to sleep on the Springwater Corridor. "I was laying down on the pavement in the pouring down rain," he said. "In a sleeping bag, just soaking wet. It became frosty and icy."
Around 2 a.m. that night, he said, four "Christian boys" set up a tent on the side of the pavement and gave him a brand new sleeping bag, a pack of cigarettes, and some granola bars, then prayed with him. 
"I crawled in [the tent]," he said. "And I was so soaking wet. But I was so goddamn thankful."
Sleeping alone on the pavement in the rain and cold is not an uncommon arrangement for homeless people like River. One time, a homeless stranger laid next to him through the night to keep one another warm. 
He said that he has had "a lot of snuggle time" like this, where he simply tries to "hold on" and "stay warm" through the cold night. 
However, River said that he doesn't partake in any other types of physical interaction with homeless people, despite receiving several offers of prostitution like the one on his first day being homeless. 
"I have morals," he said. "I don't mean to be stuck up, but I'm just not going to get dirty. You know what I mean? I want to be in love."
"I'm not like that," he said. "I'm 50 [years old] now. I can't be messing around… I got standards."
Being newly homeless, it has been difficult for River to adjust to life on the streets. Only a few years back, he had been making money and living out his passions of traveling and surfing. But now, he regarded his situation as "severe harshness" and said that "it's only getting worse."
"I'm poor, I'm broke, I'm not used to this," he said. "It's really tough. Your world can change so quick… You're at the top of the mountain, you know? And then you're [at the] bottom of the river." 
---
Todd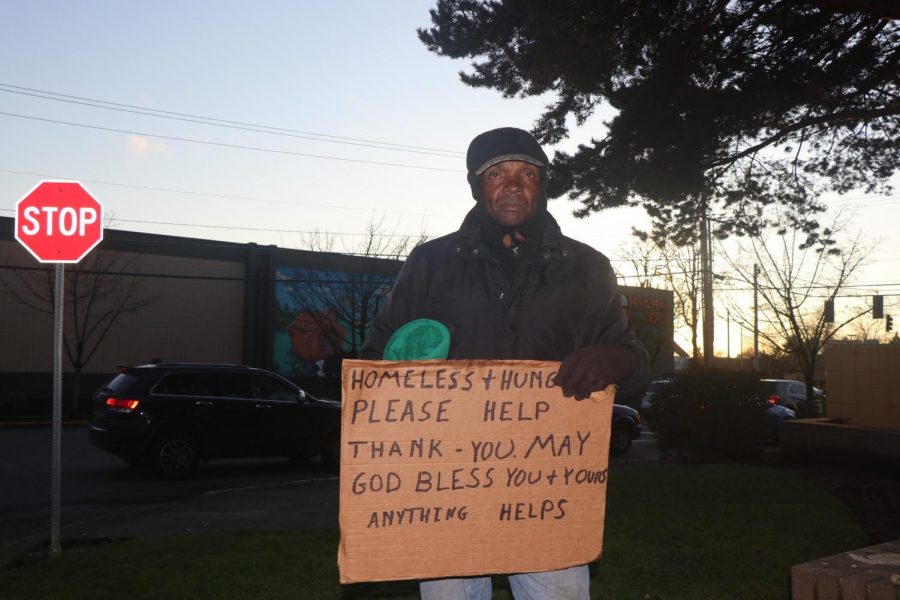 Todd came to Oregon from Idaho two years ago to work in horse training. That job, he said, "didn't quite work out," but at least he had a car and a living space — until his car got stolen and he found out that the people he was renting from didn't actually own the place.
After getting kicked out of his place, he moved back to Idaho for a while to "regroup" before coming back to Portland, where he found somewhere else to stay. But it was only 45 days before he was without a home again, when the owner of the house passed away and his family decided to sell it.
Though he does have a job with a tree trimming company, he said that "it's been really hard to find a place to live. It's very expensive for me."
He said that out on the streets, displaying his cardboard sign, he's not begging but "just asking for a hand up."
"I don't go into stores and steal and take clothes. I'd rather do this than do that," he said, speaking of how he stands on street corners holding up a sign asking for help.
Sometimes, Todd can spend the night on someone's couch, or he can make enough money to rent a room for a couple nights. Otherwise, he sleeps and lives on the streets. 
He doesn't tell his mom that he's homeless because he doesn't want her to stress out or worry about him, and he said that lying to his mom is the "hardest part" about being homeless. 
"I went and visited her yesterday, just spent the whole day with her, and she goes, 'the mother knows,'" he said. "But I still said no… I said [that] I'm staying at a friend's [place], I'm alright. And she just looks at me, like 'I know.'"
Todd has been drug free for 45 days, after relapsing following a six month period of sobriety. 
"There's a lot of drugs out there, and a lot of people that are messed up because they don't want to deal with reality," he said. "And the reality is you just have to face it."
Todd said he knows that there are bad people in the homeless community, but also that there are a lot of good people. He said that he can't build real friendships, as it's difficult to trust people, and he mostly just keeps to himself. 
"The biggest part of being homeless, and the scariest part, is you don't know who you're going to know sometimes out there," he said. 
Todd has had two bikes stolen from him, and sees other homeless people stealing and littering frequently. 
But even on his worst day, he said, "I don't wish people to have any bad… I don't judge them. I just say a prayer for them, and I say a prayer for myself and my family as well."
He tries to clean up trash that other homeless people have left around, especially around the 7/11 where he spends much of his time. "I can't fix everybody and I can't clean up after everybody, but I always try to — anywhere that I go, I clean up after anyone," he said. 
Aside from helping clean up other people's trash, Todd also tries his best to help others who are struggling, along with trying to better himself. 
"Sometimes it's sad," he said. "Sometimes I see people that are struggling worse than I am, but I always try to help with those people. I'm not a savior, I need to save myself, but I can offer people advice about how I feel. I try to just not stay down."
View Comments (4)
About the Writers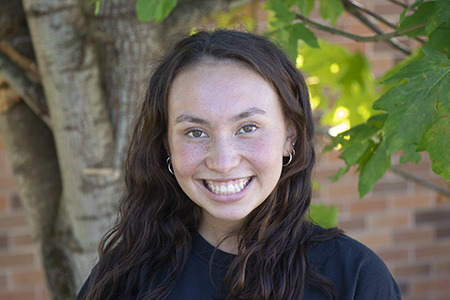 Maddie Khaw, Editor in Chief
Maddie is a senior at La Salle. She plays on the varsity soccer team and loves to read and write. She also likes to travel, hang out with friends and family,...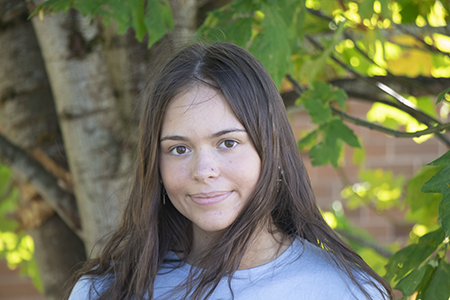 Carlie Weigel, Editor in Chief
Carlie is a senior at La Salle. She is the Vice President on Executive Council and a member of the National Honor Society. Outside of school, she loves...