15 La Salle Students Win Gold Key Awards, Advance to National Competition
La Salle offers a variety of different levels of art classes, all taught by Ms. Cha Asokan. Recently, 15 of her students received Gold Key awards from the Scholastic Art & Writing Awards. 
Each piece that received this award will be entered into the national jury pool, and given the opportunity to be selected for a show in May at Carnegie Hall in New York City.
Along with the 23 total Gold Keys awarded, 35 Silver Keys and 45 Honorable Mentions were given to our Lasallian artists in a diverse assortment of styles including drawing and illustration, photography, digital art, ceramics, painting, design, and sculpture. 
The artwork showcased here is made up of the individual pieces that students chose for the Scholastic fair. 
Many Lasallian artists received Gold keys on their social justice oriented pieces, a topic Ms. Cha is deeply passionate about. She has her students create works of art centered on the topic every year.
The following La Salle students received Gold Keys:
Helena Brinker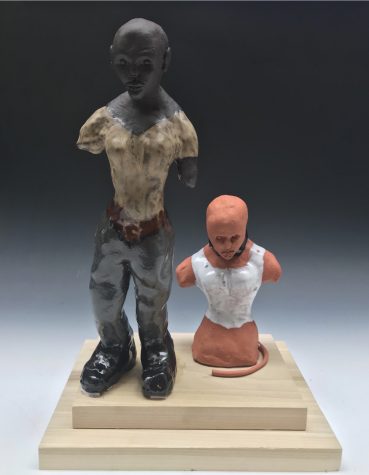 Helena Brinker is a junior taking Advanced 2D Art. Her piece, "Call to Freedom," is a mixture of ceramics and glass. The piece was inspired by human trafficking, and created for the social justice unit Ms. Cha has her students do every year. Brinker's favorite medium to work with is clay, because she can mold it into anything she desires. 
Brinker said that the most difficult thing about her piece was "creating the face, just gaining the emotions and then trying to shape it — it was so tiny."
Brinker found her passion and love to create art when she was in 8th grade. Every day she continues to use her sketchbook, filling it with ideas and developing her art skills.
Maggie Crimmins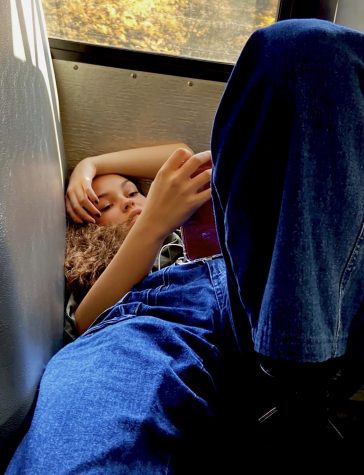 Maggie Crimmins is a freshman taking Art Foundations. Photography has been an art form she has pursued for fun since she was young. Crimmins received her second Gold key for her photograph, "Girl on Bus," as she won her first Gold Key in the seventh grade. Her favorite art forms are printmaking and photography. 
Margaret Dougherty
Margaret Dougherty is a junior taking AP Art. Two of her digital drawings won Gold Keys this year: "Envy's Gaze" and "We're Not Your Toys. "We're Not Your Toys" is a social justice piece tackling the topic of manipulation and harm towards girls.
One of the largest challenges Dougherty faced was figuring out the direction she wanted to take the art piece with the topic she chose. "I knew the topic I wanted because it's something that affects me personally, and so it was [a matter of] portraying that and making it something that really resonates with people," she said. 
Martinique Greer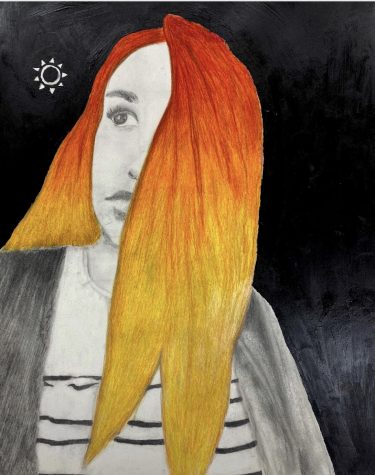 Martinique Greer is a freshman taking Art Foundations. She earned her first Gold Key this year with her art piece using graphite, colored pencil, and acrylic paint. She worked on the piece for around 2 months, and named it "Black Sunshine." The main idea behind her piece was to look at the bright side of things, even when it all feels like it's "going down the drain." 
Greer hopes to continue art for the rest of her life and complete an AP art portfolio at La Salle. She is also considering branching out to graphic design and digital art.
Annie Hoang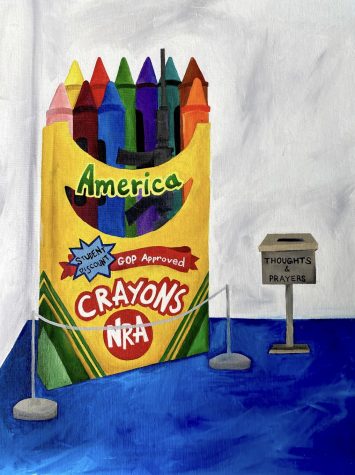 Annie Hoang is a senior taking AP 2D Art. Hoang won a Gold Key for her art piece "School Supplies," which took her a year to complete. Hoang said the piece is a social justice painting surrounding the fear that invades students around our country daily due to gun violence. 
"I did mine around school shootings, more specifically how I feel the government ignores how much of an impact school shootings have on kids in schools, and how much it shaped our worldview… growing up," she said. "It's common to hear about school shootings every month and it's not a surprising thing."
According to Hoang, the piece is not an attack on people who like guns, but is meant to focus on how the government is ignoring the negative impact gun violence has on kids."I've just had a lot of friends who've [had nightmares, and] I've had nightmares about it and it's terrifying," she said.
Along with "School Supplies," Hoang won another Gold Key for her print piece, "Mary the Bright."
James Kelly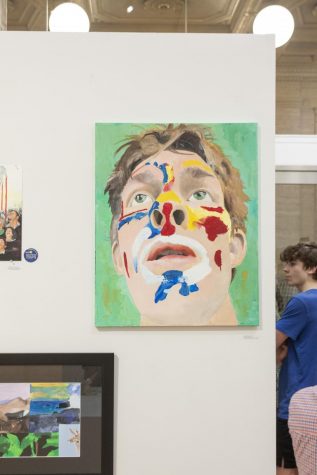 James Kelly is a senior taking AP Studio Art. His painting "Self Portrait" that took him about a month to complete and his drawing "Kitchen II" that took him an hour, were both pieces that he won Gold Keys for this year.
"We had an assignment to create a self portrait and there were a few classes where I was searching for a direction to go," Kelly said. "Finally, I was looking at the paint tupperwares in class and thought, 'what do this tupperware and I have in common?' Then I painted on my face, took a photo, and painted that."
The hardest obstacle Kelly faced in creating his pieces was being meticulous. "Knowing that everything will be thoroughly scrutinized in the next few months… It's a bit scary," he said.
Morgan Nebels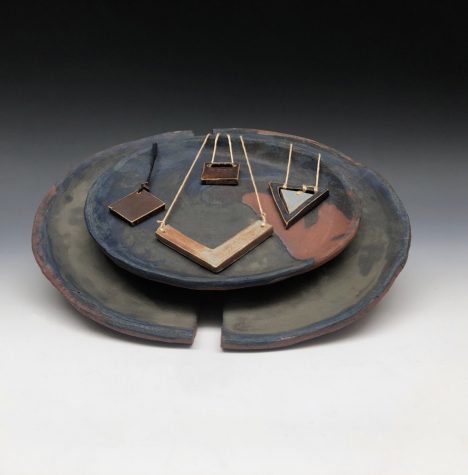 Morgan Nebels is a senior taking AP Studio Art. This year, she won two Gold Keys for "Life Within Death", a ceramic and glass piece, and "Ceramic Jewelry", a sculpture.
Nebels was given an assignment from Ms. Cha to create a jewelry piece using repetition. "I personally chose more geometric shapes and used embroidery thread to turn them into necklaces but still keeping up an organic look," she said. 
Nebels is fascinated by the anatomical structures of humans and animals. "Life Within Death" is a piece displaying plants coming out of the top of a skull. "I believe beauty can be found within things you may not expect," Nebels said.
Alyna Nguyen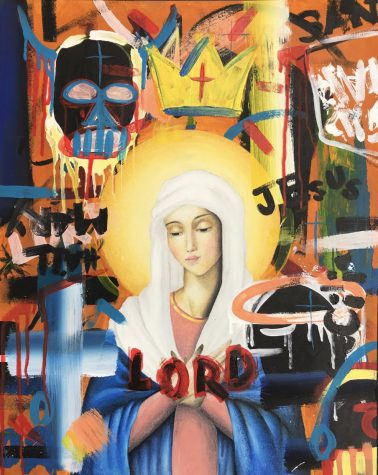 Junior Alyna Nguyen is taking AP Studio Art. This year, Nguyen won a Gold Key for "Soul", but due to the piece being on display in downtown Portland at the Pacific Northwest College of Art, we currently do not have a picture of the drawing. Last year, Nguyen won a Gold Key for her piece, "Santa Maria," pictured above, which was inspired by the diversity of people of faith.
"Faith is something that I believe varies from person to person and everyone has their own views on their own beliefs which is a big part of what makes their faith their own," Nguyen said. 
Will Prentice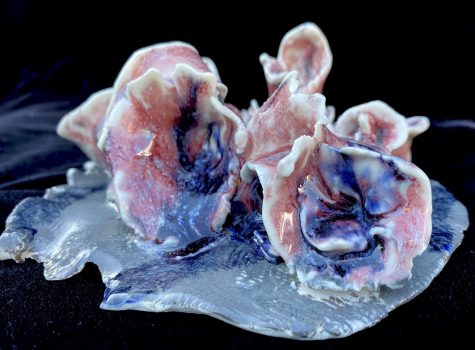 Will Prentice is a senior taking Advanced 3D Art. Prentice won a Gold Key for his clay sculpture, "Forgotten Flowers."
Natalie Rask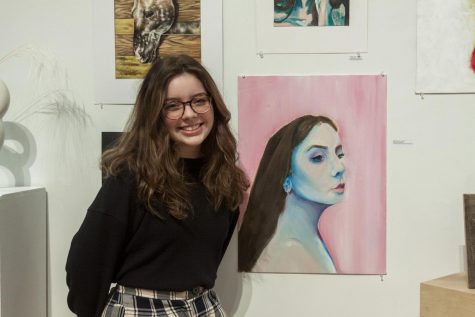 Sophomore Natalie Rask is taking Advanced 2D Art. Her oil "Pink Room" self portrait painting won a Gold key. 
Rask plans on continuing to create art by going into the AP Art class next year. After winning awards from Scholastic this year, many opportunities have opened up for her. 
"I've been getting a lot of emails from Scholastic, and winning these awards has allowed me to apply for scholarships for art camps in New York this summer, which I plan on applying to… [and in] Chicago, and I'm hopefully going to get to go to those," Rask said. 
Stella Sablan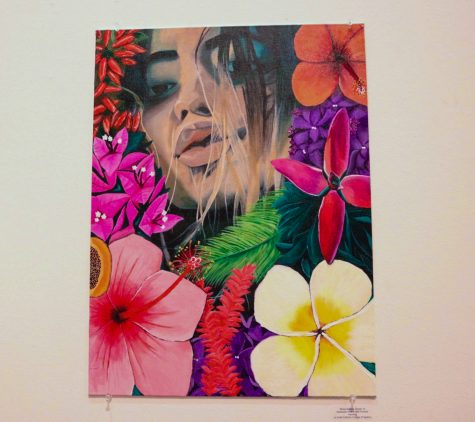 Stella Sablan is a senior taking AP Studio Art. Sablan's self portrait painting, "Vegetation Within a Self Portrait," won a Gold Key.
"The inspiration came from an agricultural aspect of my heritage, being a Pacific Islander," she said. "When I traveled often to visit family in Guam and Hawaii, I was always [around] tropical fruits and plants growing up. This is just a representation of my island background."

Katie Shannon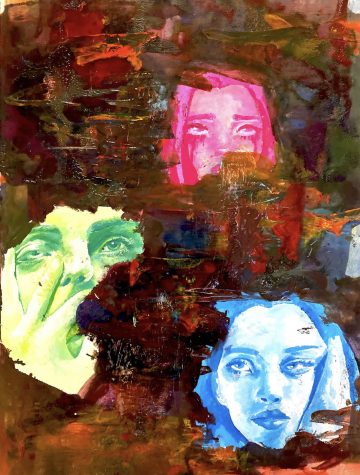 Senior Katie Shannon is taking AP Studio Art. Shannon won a total of three Gold Keys for her pieces: "The Loss of Relatability," "Sincerity is Scary," and "Self Portrait."

"'The Loss of Relatability' is about how social media implants the idea that everyone's lives are perfect, causing a feeling that some can't relate to anyone because their life is not perfect at all," Shannon said. "'Sincerity is Scary' is about how vulnerability is an intimidating thing for our culture. It's easy to dismiss things such as depression and substance abuse because it is so normalized in today's society."
Each piece usually takes Shannon two to three weeks to complete, but "Sincerity is Scary" only took her a few hours because it was originally a doodle. 
Amira Tripp-Folsom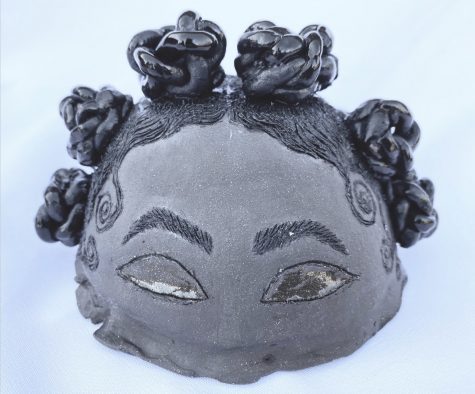 Amira Tripp-Folsom is a senior taking AP Studio Art. "Bantu Knots" is a ceramics piece that is part of Tripp-Folsom's AP Portfolio, with the main idea to highlight the beauty of different hairstyles among Black Women. 
Tripp-Folsom has always been interested in art, but didn't feel she had the technical skills to actualize her ideas. "Ms. Cha has helped me build confidence in my capabilities as an artist to the point where I'm now," she said. 
Tripp-Folsom has only taken one semester of Art Foundations prior to this year, where she's striving to complete a 3D portfolio. "It was not until September of this year that I really found my passion for 3D art because it's about how I can bring a concept to life," Tripp-Folsom said. 
Ryan Cechini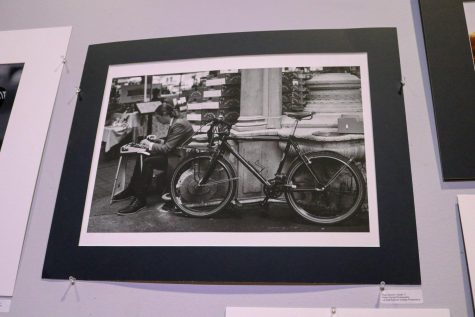 Junior Ryan Cechini is taking Art Foundations. He won two Gold Key awards for his pieces, "Poetic Cyclist" and "Tedium." Cechini took both of the photos in the same week during a photography class he was taking last summer. 
Cechini tries to do as little editing as possible, "so [he] really [tries] to get everything right in the original shot." 
The obstacle Cechini had to overcome was accessibility to editing software. "I only worked on editing the pieces for a little… [but] I only [had] access to the editing software at school, so I could only do it there," he said.

Brook Wycoff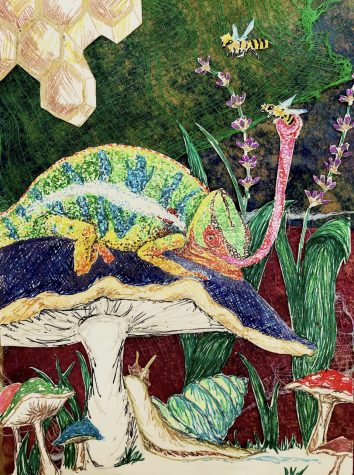 Senior Brook Wycoff is taking AP Studio Art. Her piece "Chameleon," a colorful drawing, won a Gold Key this year. 
---
Although earning a Gold Key is an amazing accomplishment, Ms. Cha wants students to thrive for more than just awards. 
"As far as the awards, I wouldn't put that as your litmus test. Like, yeah you know it's great to be recognized…I was so proud of so many of the works that didn't even get recognized, and so I don't necessarily say, like, 'Oh, like strive for the award.' Strive for communication. Strive for putting yourself out there and getting your ideas across," said Ms. Cha.
"It's a process. It's personal. You feel like you're putting yourself out [in the] world and that's scary. I think as far as overcoming things, though, I think one of the hardest things for my students to do is to really trust themselves to be original," said Ms. Cha.
View Comments (3)
About the Writers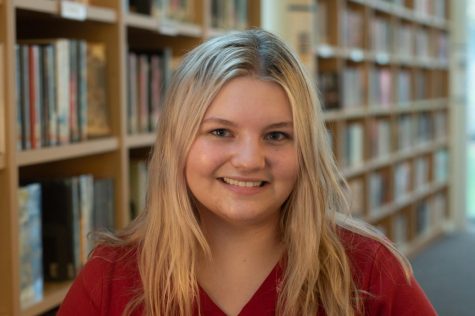 Avery Eldon, Staff Reporter
Avery is a senior at La Salle. In addition to serving as the club moderator for the Menstrual Advocacy Club, she is a part of the Service, Mental Health...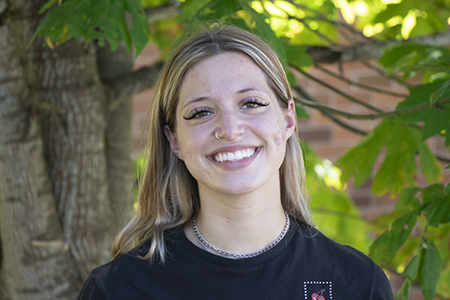 Maya Smith, Editor
Maya is a senior at La Salle. She is on the varsity tennis team. Outside of school, she loves listening to music, hanging out with friends and family,...