Varsity Athletes Have Proven Themselves Enough
It's Time to Excuse Them From P.E.
Extreme fatigue. Overuse injuries. Constant soreness. Feeling overwhelmed.
Playing a sport in high school while trying to balance school work and a social life is incredibly challenging.
For varsity athletes, they are asked to dedicate six days per week and the majority of their free time in order to represent La Salle in their sport, not even counting the work that they put in during the offseason.
Currently, the requirement to graduate includes two semester long classes worth of P.E. No matter how many varsity sports a student athlete participates in, there are no options for them to be excused from P.E. classes.
Speaking for the rest of the student athletes at La Salle, this system cannot continue as is.
Behind the glamour of being on the court or field, athletes are suffering greatly from constant soreness, which could potentially lead to overuse injuries, and cause them to have to miss out on some of their season. Not only that, but playing a varsity sport often leads to more anxiety in an athlete, and consequently less sleep.
Because the current requirement for a P.E. credit requires an in-class completion, often times student athletes will have to take a P.E. class on top of their current sports season.
Freshman Nick Robertson is on the varsity boys basketball season, and is currently balancing an unforgiving basketball schedule on top of taking a weight training class during the school day.
On top of the day-to-day struggles that varsity basketball brings, "occasionally, [my] weight training class will make me a little [more] sore during practice," said Robertson.
However, soreness in an athlete is not always a bad thing. How this sensation is felt in one's muscles is the difference between the pain subsiding over time or becoming an injury that can cause them to sit out on their season.
When an athlete successfully overcomes soreness in their muscles, they usually grow in mental strength because they successfully conquer the obstacle in front of them.
So, no pain, no gain… right?
Wrong.
Having a physically demanding schedule every week can lead to more than just soreness. Overuse injuries are a real thing that people new to sports often ignore. It can lead to torn muscles in the knees, sprained ankles, shin splints, and the list goes on.
If an athlete acquires an injury like this, it negatively affects the entire team, and could possibly damage that player's high school career entirely.
Like Robertson, I also play basketball during the winter season. Our schedules are very similar, including four or five days per week of at least two-hour long practices, as well as at least one game as well. Similarly, this is the rigorous schedule that all varsity athletes are asked to handle during their respective season.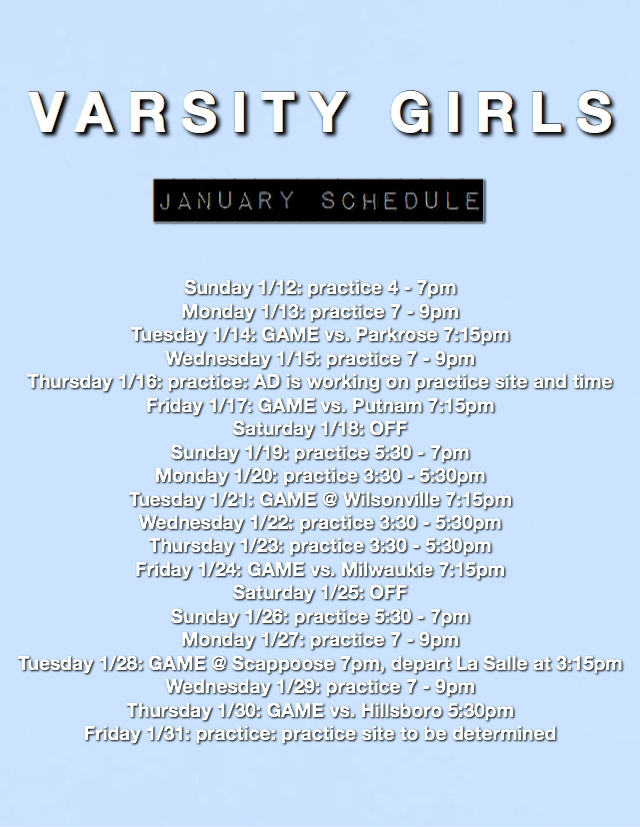 Asking varsity athletes with schedules like these to also put in almost four extra hours per week of physical education during the school day is too much.
They exercise for longer periods of time in their sports than a standard P.E. class does, yet as of right now, still have to prove during the school day that they exercise in high school.
If a varsity student athlete did not have to worry about receiving their P.E. credit, they could instead take a study hall or more easy-going class that would allow a student to be able to find a better balance in between sleep, school, sports, and a social life.
"I could get some of my credits quicker," said Robertson. "It would be nice to take health or [another class that] I need to take next semester [instead.]"
A simple solution to this could be a signature each grading period made by the varsity head coach. Not only would it prove that the athlete is actively participating in the sport, but that it's to the level that could satisfy their physical education credit. The students would be held accountable for their efforts and participation in their varsity sport.
Recently on the Oregonian, an article was published about a student in Virginia that acquired her credits by tracking it on a Fitbit.
As we are already an iPad school, athletes that wish to receive their P.E. credits this way could be asked to purchase a fitness tracker to wear during practices (Fitbit, Apple Watch, etc.), as it would not be allowed to be worn during games. This way, there could be concrete evidence of exercise happening outside of the school day. Especially to La Salle students that play multiple sports, this could be the much more ideal way to fulfil their credits.
Athletes that play only a single sport through the school often compete with a club team that is non-affiliated with the school. For students like these who also play club sports outside of their high school season, this system could also give them credit for their sport like a high school season would. Since it's outside of school, there would need to be more regulations in order to keep honesty and integrity by the student athlete.
In the future, varsity athletes should be recognized and rewarded for the intense amount of exercise they accomplish. Because of how much student athletes already do, they should not have to worry about having to fulfill their physical education credits during the school day.