Mr. Roth
When Mr. Eric Roth, science teacher, was in high school, sneakers were a huge trend, similar to today. He frequently wore Adidas Sambas, and Pumas. 
"If you knew the right sneakers, you were like [a] dork," he said fondly. "So I had to have the right sneakers."
Mr. Roth hopes that parachute pants and the Mullet will, one day, come back in style, as they used to be very popular. It was also common to wear Levi jeans and a "cool concert t-shirt."
He remembers one of his friends being the first "dude" to get an earring in 1982. "He was a really big athletic guy and all the girls thought he was really cute," Mr. Roth said. "It was [also] hard because people would consider that effeminate…, [but] that whole thing wasn't really [fair and] I think kids are more hip now."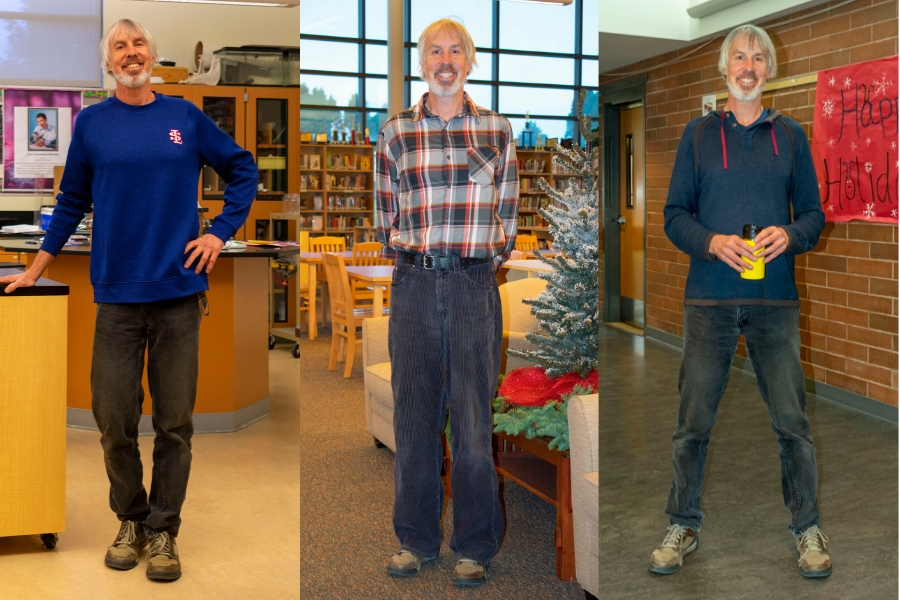 Since high school, Mr. Roth's style has become a little more "preppy," and a lot less "ragged." Now, he dresses for the outdoors, wears casual clothing, and tries to keep his style low maintenance. "If I could wear anything to work… it would definitely be shorts, and Chacos," Mr. Roth said. 
His favorite color to wear is red, and his favorite clothing item is his pair of black corduroys. "They're getting a little bit worn, but I love those black corduroys," he said. 
Mr. Roth only goes shopping when it's a necessity, but when he needs something, he likes to shop at REI, Next Adventure, and Goodwill. "I go to Goodwill [with] my wife because… she's got a really good eye for cool stuff that I don't have an eye [for]."