La Salle's Makerspace Encourages Students to Design, Create, and Make Mistakes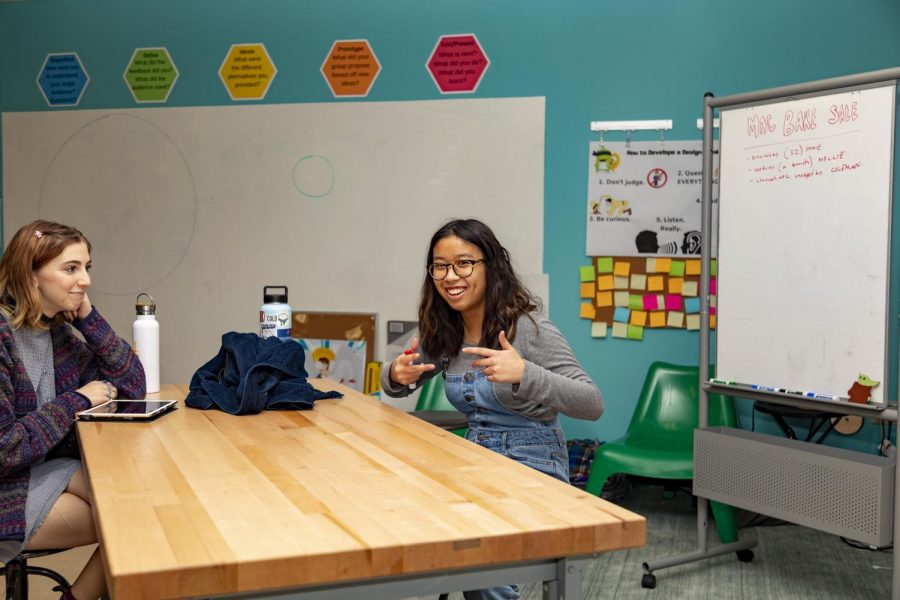 Every day before and after school, groups of La Salle students gather in one corner of the school to tinker with 3-D printed robotics parts, create designs for stickers, and laser engrave items.
The Innovation and Design Center, also called the makerspace, is a room next to the library that houses an array of different machines including several 3-D printers, a laser engraver, vinyl cutters, sewing machines, and a button maker, among other useful tools.
Since opening at the beginning of the 2017-2018 school year, the Innovation and Design Center has attracted students from all grade levels to explore their interests with the tools it offers. 
While the center had no designated operator when it first opened, science teacher Ms. Carie Coleman has since taken on the role of managing the space. She helps students in the Innovation and Design Center before and after school, and she also teaches two periods of Intro to Design and Thinking Tools, which takes place in the makerspace. 
According to Ms. Coleman, one of the purposes of the space is to help students explore their creativity and learn new skills in a judgment-free zone.
Ms. Coleman's class teaches students the basics of the design thinking process using the tools in the Innovation and Design Center. The class also focuses on how students can use the design thinking process to help others.
"What I like about design thinking [is that] it's about serving others," she said. "It's not about serving yourself, which I think is 100% Lasallian."
Next semester, Ms. Coleman is excited to introduce new lessons in creating to her class. "I'm going to be really focusing on weekly kind of fun classes, like what we want [to learn to] do — like how to roll sushi," she said.
One student taking the class this semester emphasized the creative freedom the class allows students. "There's just so much in [the makerspace] to do — almost endless possibilities of what you can do," said junior Emily Murdock, who is in the makerspace almost every day before school.
With a leadership role in the makerspace, Ms. Coleman hopes to provide students with a place to explore their creativity and make mistakes safely. 
"I think especially in my experience teaching honors classes and AP classes, students just want to find the right answer to [get] the A, but they're not all curious about learning and discovery, or making mistakes," she said. "In life, we make lots of mistakes, and it's okay. The makerspace is a place where you can make mistakes, and it's encouraged."
Research about makerspaces in education shows that they help develop students into more flexible thinkers who are less afraid of failure. Makerspaces are also shown to promote collaborative group work, increase critical and creative thinking, and foster a sense of empowerment and resilience within students.
Maximiliam Ramirez Hernandez, a freshman at La Salle, recognizes how the makerspace has contributed to his learning. He uses the center almost every day.
"I feel like it makes me a better problem solver because just the concept of trying to make something can be hard," Ramirez Hernandez said. "And when you make it, you have to think about all the details and [it helps] with your creativity and how to solve a problem."
Ramirez Hernandez is one of many students who have spent time in the makerspace. Some of the most popular uses of the makerspace are engraving Hydro Flask water bottles, making jewelry, and sewing things like scrunchies.
While some creations are more common, students are encouraged to come up with their own designs. Vihnson Nguyen, a sophomore at La Salle, spent three months of last school year creating a realistic Iron Man helmet using the 3D printers, spray paint, and a lot of glue. Now, he visits the makerspace about once every two weeks.
Nguyen said that his experience creating the Iron Man Helmet made him grateful for an area of La Salle that he feels is underappreciated.
"We congratulate sports a lot," Nguyen said. "But there's this whole other side with programming, designing, [and] original 3D models that no one really knows about and I think we should look at it more."
Ms. Coleman encourages all students to check out the Innovation and Design Center. "Anyone and everyone is invited," she said.
About the Writer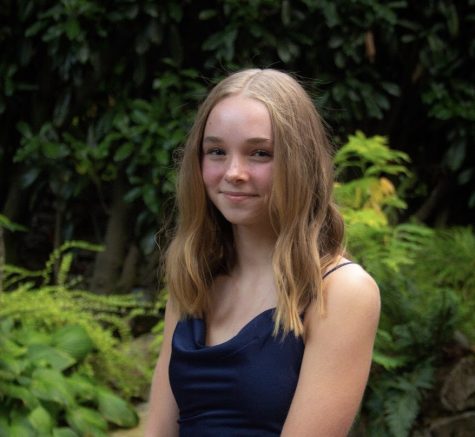 Mary Loeb, Staff Reporter
Mary is a sophomore at La Salle and is part of the volleyball program, the Service Club, and is an Ambassador at La Salle. In her free time, Mary enjoys...