La Salle Partners With Sparrow Project to Support Eight Year Old Through Medical Challenges
With a radiant smile that is on his face more often than not, Taran Dodge battles not only one life hindering condition, but four: quadripalegic cerebral palsy, short bowel syndrome, auditory neuropathy, and cortical vision impairment. 
"His body doesn't work, but he's got the spirit of a warrior," his mother Kelsey Smith said. "He is the sweetest, [and] happiest boy."
This year, La Salle is partnering with the Sparrow Project in order to support Taran and his family with their medical fees. On Friday Jan. 24, he will be on campus for a school assembly, but the fundraiser will officially begin on Feb. 3, as service vouchers will be available to students. 
For every hour a student dedicates to doing service for the community, sponsors of the Sparrow Project, which include the Steel Group and Black Rock Coffee, will donate $10 until their allocation of $2,560 is reached. 
The purpose is to allow students to "experience compassion and empathy in a way that changes them forever," said program manager Laura Queen. "[When] you know [you're] doing that same hour [of community service] for your sparrow, and helping the community, all of a sudden that means something more because it's personal."
Smith plans to apply the accumulated funds toward two of Taran's direct needs, one of them being a Bluetooth communication device, valued at $2,000, which can be attached to his wheelchair. The other is a shower trolley that will allow for easier bathing of Taran; however, it's on the market for almost $7,800.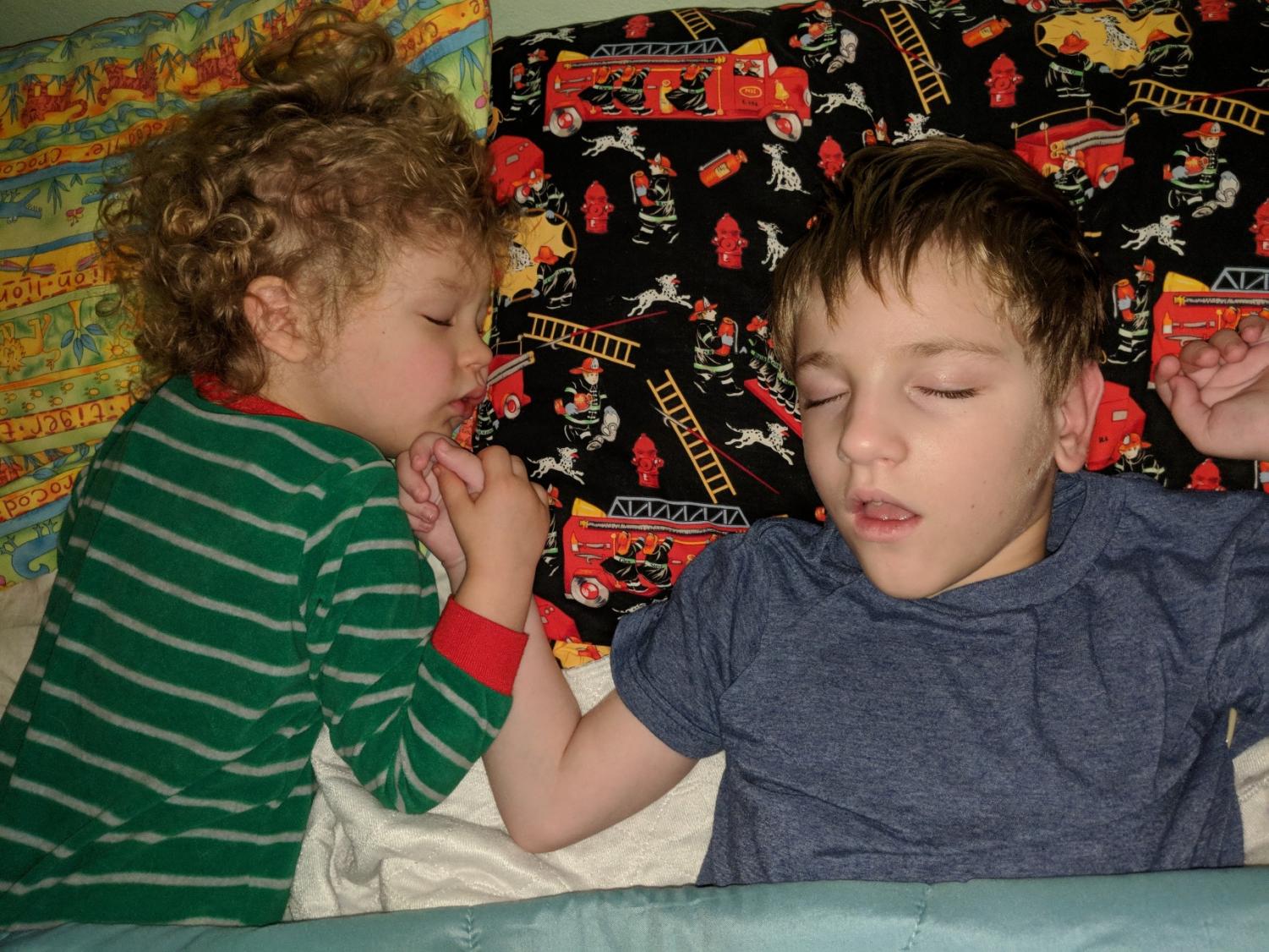 While Smith's husband Justin works as a computer programmer, she stays at home caring for Taran.
Smith said that both she and her husband have poured thousands of their own dollars into Taran's medical care. For instance, in order to pay for Taran's stem cell treatment Smith cashed in her entire retirement fund. She also created a GoFundMe for his $25,000 bilateral hip surgery, as insurance would not cover it. Smith said that she is constantly writing grants and dealing with insurance hurdles to minimize the cost of Taran's medical fees.
"Programs like Sparrow allow us to breath small sighs of relief, and pause from the constant battles with insurance and durable medical companies to acquire the equipment and supplies needed to help Taran live a full and happy life," she said.
Taran has been a Sparrow once before, for Corbett High School, where he ran a football down the field for a touchdown, served as a team captain during volleyball and basketball games, and attended the school's dances. The school was able to entirely fund one of his wheelchairs.
In working with La Salle, Smith looks forward to sharing more about his condition. "Kids ask the best questions [because] they don't have filters, which is great," Smith said. "Before I had Taran I didn't know what cerebral palsy was… so I think [Taran's] a great ambassador."
Before Taran was even born, and only 10 weeks into Smith's pregnancy, she received news from her doctors that Taran had gastroschisis — meaning his intestines were located on the outside of his body. Despite the distressing message, doctors claimed that without any further complications, everything would be okay. 
Smith's last seven weeks of pregnancy were spent under close observation in the hospital, until Taran was born at 33 weeks by way of a cesarean section. "It was really pretty interesting because it was like [a] baby in one hand, [and a] pile of guts in the other," Smith said.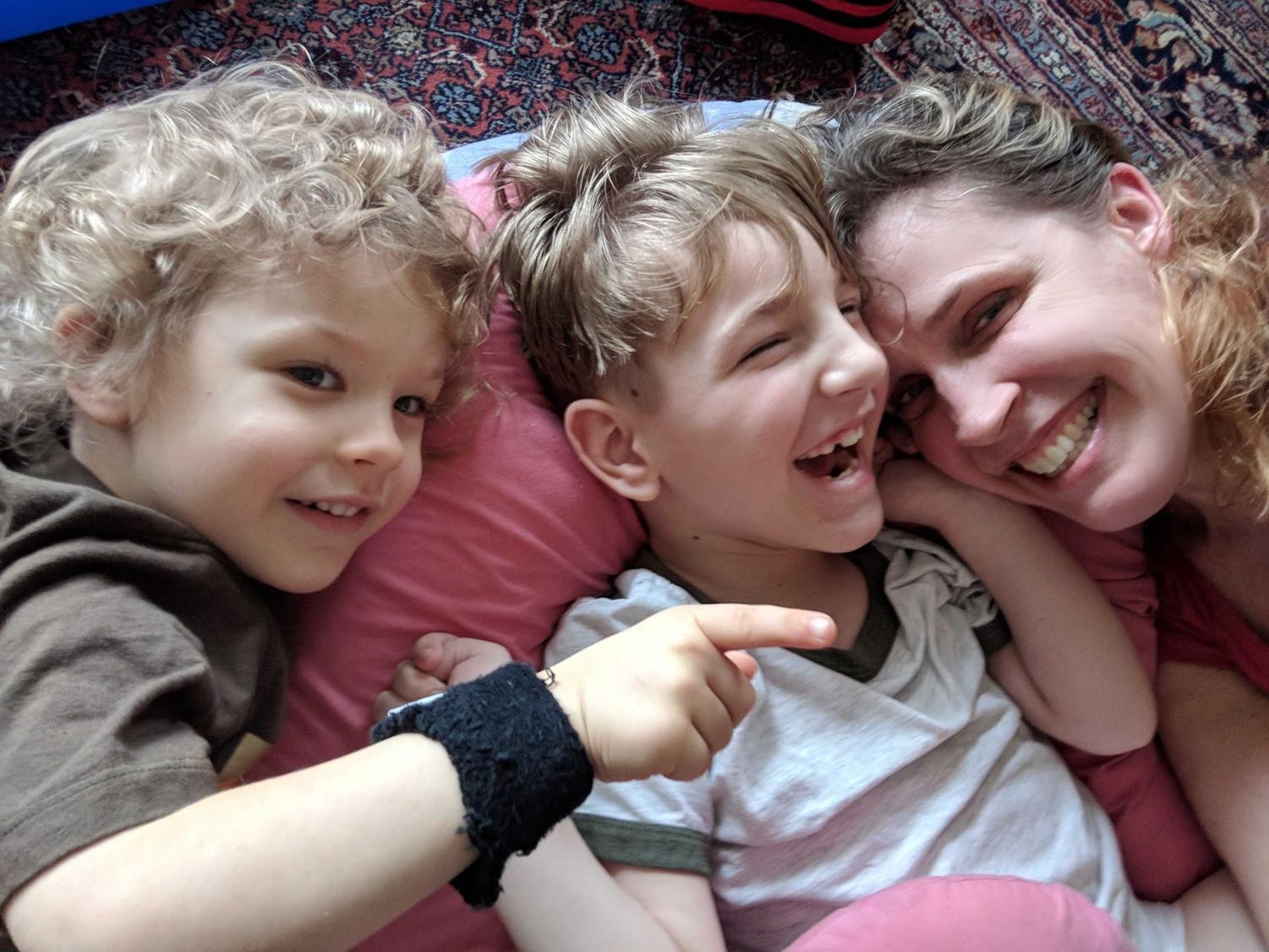 Unfortunately, there was immediate concern regarding Taran's condition, and doctors explained to Smith that his intestines were dead. After undergoing five surgeries in his first week of life, what remained was only 30% of his intestines. 
And it didn't end there. 
Taran spent 156 days in the Newborn Intensive Care Unit (NICU), and during his stay, he became septic in response to an infection that advanced throughout his body. Smith believes this led to the brain injury that created his qudrapalegic cerebral palsy as well as his several other diagnoses. "[He] was super, super, super sick, [and] almost died several times," she said. 
Eight years later, Taran continues to face many remarkably challenging obstacles.
Every morning, he wakes up between 3 a.m. and 6 a.m., usually before anyone else in his household. He's transferred from his bedroom to the living room either by one of his three caretakers, Manny, Scott, and his older brother, Asa, or his mother and his father. "Imagine carrying around, [and] I don't think you could [even] if you tried, a 50 pound bag of jello," Smith said. "He oozes right out, so transferring him is really hard."
After making it to the living room, Taran uses a percussion vest for roughly twenty minutes, which helps to unstick mucus from his lungs. He also gets dressed, takes his medication, and is fastened into his wheelchair. During the day, he's fed by syringe as needed. 
One of the many challenges Taran faces throughout the day is his inability to speak. Rather than using words, he uses expressions. He often makes noises when he's sad, happy, or concentrating. 
Five out of the seven days of the week, from 8 a.m. to 2:30 p.m., Dodge's day proceeds at Harold Oliver Elementary School where he attends the second grade. His school is equipped with swings, walkers, and various types of seating. In addition, teachers work with him on his communication skills, as they are in the process of finding a method that allows him to differentiate between yes and no. One of Taran's teachers, who is in a band, even has a guitar, drums, and a harmonica that he allows him to play with.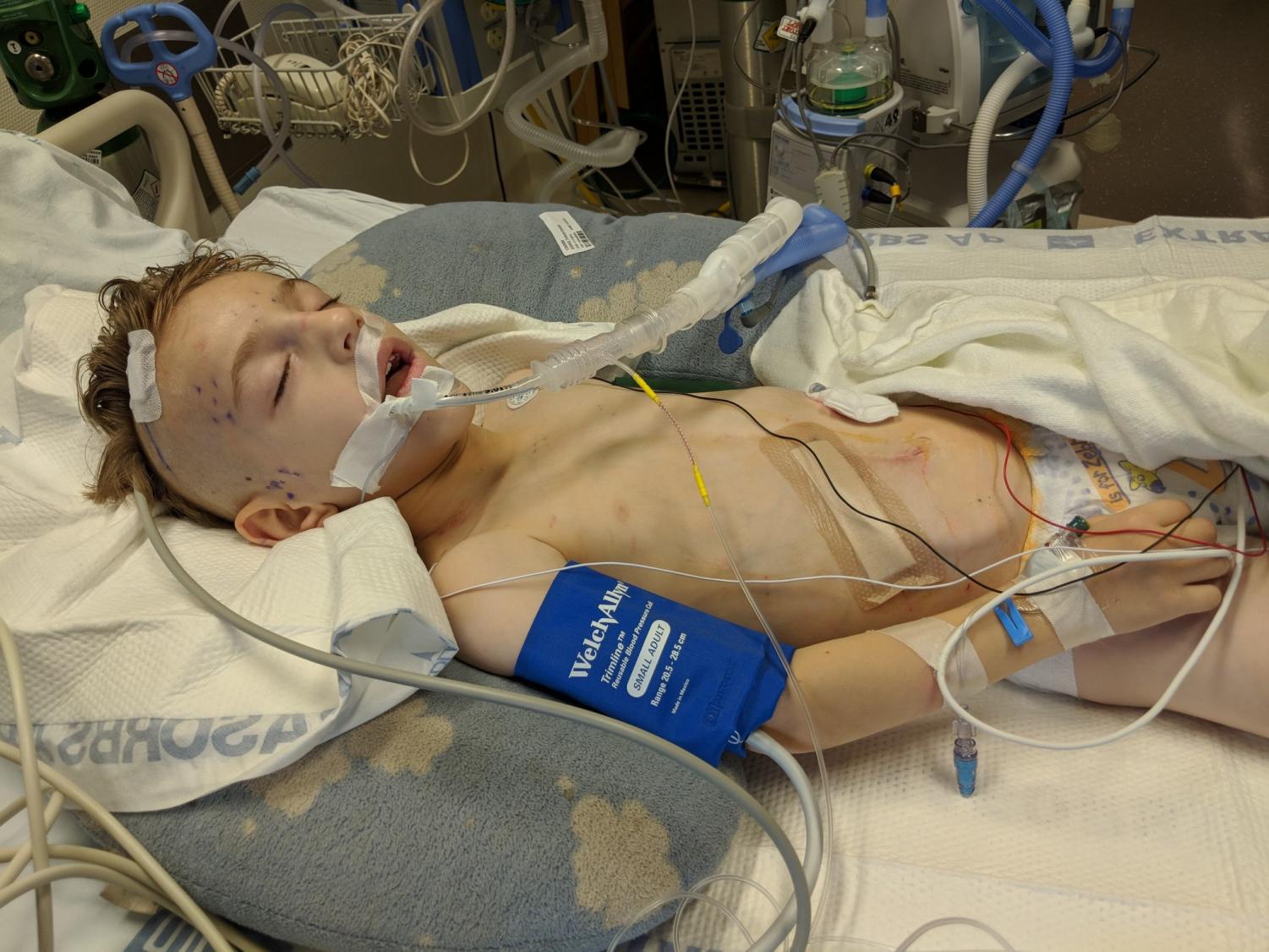 "It's definitely not your standard education…, but that doesn't necessarily mean that being in a typical classroom is right for every kid, and it turns out for Taran it is not," Smith said. 
Four or five times a week Taran attends Randall Children's Hospital for occupational, physical, speech, and feeding therapies, or for a refill on his baclofen pump, which helps guide medicine to his spinal cord in order to minimize his spasticity. On occasion, he visits Oregon Health and Science University (OHSU) for endocrinology— a type of medicine concerning endocrine glands and hormones. He's even been to Seattle Children's Hospital for some of his care, and flown out to Texas twice. 
When Taran isn't occupied by school or hospital visits he goes everywhere his mother does, whether it's at home assembling his Mr. Potato Head with the help of his younger brother Elias, cheering on the Blazers as he's never missed a single game, or watching Star Wars at the local movie theater. "He's been to every movie you can imagine because he doesn't really discern, he thinks they're all awesome," Smith said. 
According to Taran's mother, he loves to be moving, specifically "going really fast" in his wheelchair since he's "kind of a daredevil," and one of his favorite foods from feeding therapy is barbecue sauce as he's a "savory guy." But most of all, Taran's favorite thing is contact with others. 
An example of this is when a chihuahua named Fanny Pack was handed to Smith in the parking lot of a Dollar Tree by a stranger, whose dog had puppies she could no longer care for. Smith took Fanny Pack home, and she said that as soon as Fanny Pack was placed with Taran his life dramatically changed for the better. "He doesn't like to be alone, and now he just always has this moving, furry, warm, soft, [puppy] that is with him all the time," Smith said. "When she's with him… [or] when she's in his lap, she's perfect."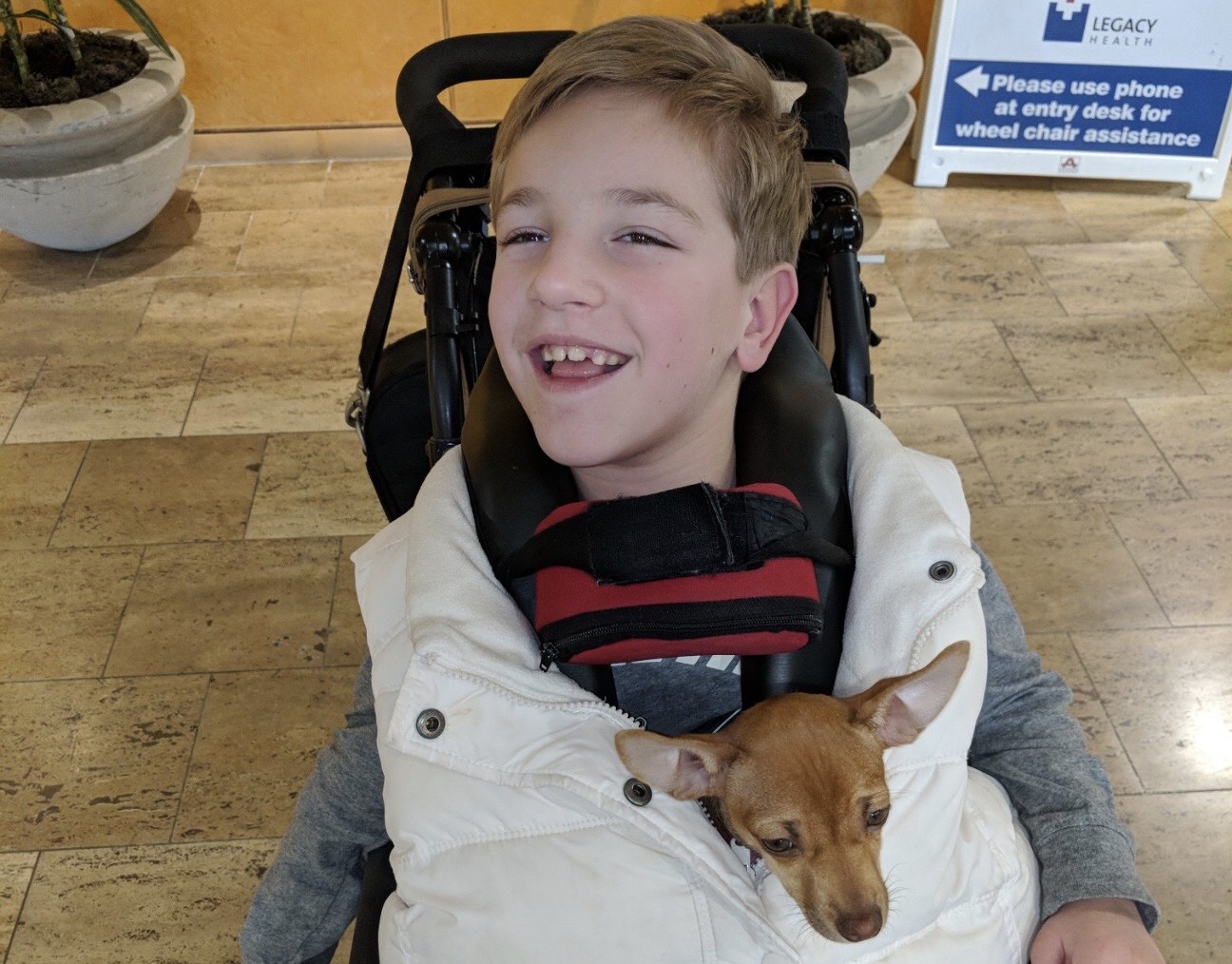 Another one of Taran's companions is his four year old brother, Elias. Each night they cuddle up in the same bed, and when Taran is unable to fall asleep, Elias will lay on top of his brother's arm to keep it from swinging around. He also knows how to cheer Taran up. Elias once created a song on the spot and crooned to his brother, "'you're not scared, you're not being mean, [and] you're not afraid,'" said his mother, Smith. "[Elias is] completely loving and compassionate [towards Taran]. He has never known any other life." 
Whenever Taran's caretaker Manny is around, Elias jumps in to help. He knows where everything is located around the house, and when it's time to change a diaper he'll say "'doctor [Elias], we have to do surgery,'" Smith said. 
Aside from Elias and Fanny Pack, Taran has great affection for his caretaker, Manny. Just recently they went to Comic-Con together, which is a comic book convention that takes place at the Oregon Convention Center. "[Manny's] his favorite person on the planet," Smith said. "[Taran] can hear the difference in Manny's footsteps when he walks."
As Taran gets older, his future probably won't look very different than his life does right now, as he will need somebody with him at all times. Smith said that she and her family try not to worry about what his life has to come. 
"Life with a special needs child is… very, very hard in a lot of ways," Smith said. "It's also very, very worth it. [Taran] has so much to teach all of us about empathy, resilience, unbridled joy, [and] strength in the face of adversity."
Correction: Jan. 23, 2020
An earlier version of this story made an incorrect reference to the band that Taran's teacher is in.