Athlete of the Week: David Jensen
Junior David Jensen manages a packed schedule filled with his school responsibilities and three sports: soccer, swimming, and baseball. 
During Jensen's time at La Salle so far, he's played JV and JV2 soccer, varsity baseball, and varsity swimming. Even though Jensen plays a lot of sports, he said that he "prioritize[s] baseball over everything else [because] as Coach Beach says, 'it's the greatest game invented.'"
Jensen has been playing soccer since the age of five, and baseball ever since he was seven. He started swimming four years ago, but has continued just for fun. 
Currently, swimming is in season, but because Jensen concentrates on baseball, he takes a couple days off from swimming each week in order to "do baseball workouts, [such as] throwing in the weight room," he said.
For the most part, he swims to become a stronger baseball player. "[It's] a workout for my shoulder [and] back, [which is] helping me as pitcher with arm strength and injury prevention," he said.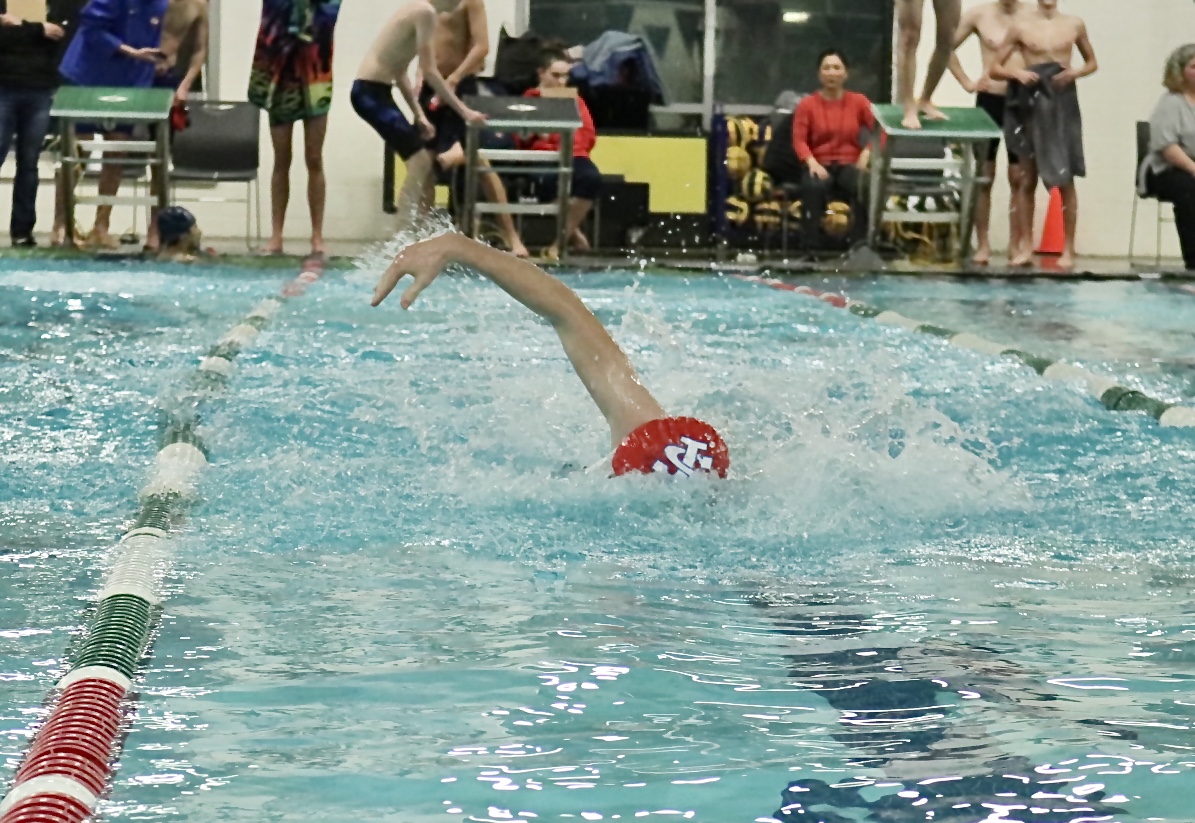 When Jensen focuses on swimming, he competes in the 50 and 100 freestyle. His goals for this season are to break 24 seconds in the 50 freestyle, and 56 seconds in the 100 freestyle.
Jensen said the hardest part of swimming is the "long sets in practice, where it becomes a mental effort, almost more than physical, to finish." Even though it can be hard every once and a while, he enjoys messing around with his teammates during their meets.
When baseball is in season, Jensen pitches and plays as an infielder. His goal for this year is to repeat what the team accomplished last year, and finish first in their league. Last year, he also received an honorable mention, and was a team captain. He's looking forward to another season, as he feels "we've got a solid team this year."
One of Jensen's biggest achievements was defeating Ashland High School during the team's first round of playoffs, "which we [hadn't] done as a team in like 30 years," he said.
While many wish they could eliminate something from their schedules, Jensen prefers being busy, especially with different practices. "Having something to do after school is nice," he said. "It's a break, so you kind of come back [to your school work] with a fresh perspective." In order to stay on top of it all, he plans out what he needs to get done before the week begins.  
"You have to kind of spend a lot of time working towards something," Jensen said. "It doesn't just happen."