"Jesus Is King" — The Latest Era in Kanye's Career
Hang on for a minute...we're trying to find some more stories you might like.
On Oct. 25, 2019 Kanye West released his 9th studio album, "Jesus is King," along with an accompanying IMAX film to theaters across the nation. After over a year of waiting for a new album, "Jesus is King" was finally released and many, including me, found that the gospel-focused album is simply okay — not bad, not good, but just okay.
Along with the long awaited album, Kanye surprised many fans by releasing an IMAX film, which is a beautiful work of art with vibrant sound and stunning visuals. Despite its many impressive aspects, the movie simply isn't worth the money, as it is too short and feels incomplete.
As Kanye's career has progressed, we have seen wave after wave of new music from the hip hop pioneer. In 2008 he released his fourth studio album, "808s & Heartbreak", forever changing the sound of music, with most modern day pop and hip hop artists drawing from the distinct sound of songs like Paranoid and Bad News. Throughout the years Kanye has released more projects, all starting and ending different eras in his career with his last album, "ye", ending his beloved Dark Fantasy era that so many fans loved, and now, with the release of "Jesus is King" we see a new era start, The Awakening.
The album has a more natural and acoustic sound, which gives the listener a feeling of connection with those singing and rapping on the album. Tracks like "Follow God" go straight into Kanye's rapping style, with Kanye rapping about how God has helped him, and how God can help everybody: "I was looking at the 'gram and I don't even like likes I was screaming at my Dad, he told me, 'It ain't Christ-like.'"
Meanwhile, tracks like "Water" and "Everything We Need" give us a more joyful and vibrant sound to relax to and sing along with, which are similar to "Yeezus" and its more electronic dance style, and which gives more of a proclaiming sound that makes you want to sing the songs to everybody you know.
Despite the lackluster feel of the album as a whole, the tracks "God is" and "Selah" are a new and incredible sound from Kanye. Unlike most of the tracks on "Jesus is King", these songs have a more traditional gospel feel, as well as some percussion like the tambourine. While these tracks are great, they are only a small part of the album.
Ultimately, the album just feels too short. Every song is different and no two feel similar enough to play off each other, which is good if you want variety, but it gives this feeling as if every song is an intro into a song that just simply doesn't exist. This effect creates an extreme lack of depth and with a playtime of 27 minutes, the album feels far from complete. This is especially true when compared to Kanye's previous Grammy winning project "My Beautiful Dark Twisted Fantasy," with a playtime of 68 minutes, which feels complete and fulfilling as the songs feed off each other, creating a storyline with plenty of depth.
Along with the album, Kanye has also released an IMAX movie that can be seen in theaters. It is a compilation of songs and hymns performed by Kanye West, Ant Clemens, Kid Cudi, his choir The Samples, and many others.
The movie wasn't anything super extraordinary but was still a very cool thing to see. The film has a large focus on the earth, with many shots of mountains and trees and even a few shots of wildlife, but the most distinct natural feature of the movie is the Roden Crater, an artistic creation outside of Flagstaff, Arizona created by James Turrel, which focuses on the earth and the natural wonders that are our sun, moon, and stars.
The film is a very cool piece of work, and is a new and different form of expression from someone like Kanye, but at only 38 minutes long and a cost of $12, it isn't worth seeing. Kanye is a very creative person, as evidenced by his fashion career, previous art installations, and very extravagant tours. Simply put, the film doesn't meet the level of something I'd expect from Kanye.
The album deserves a 7/10 due to its far from perfect mixing, lack of depth, short length, and overall lousy composition. It is definitely no "My Beautiful Dark Twisted Fantasy" and is far from the level at which Kanye has previously performed at. As for the IMAX film, it is undeserving of the hype it has received, and I rate it at only a 6/10, due to its short length and high cost.
About the Writer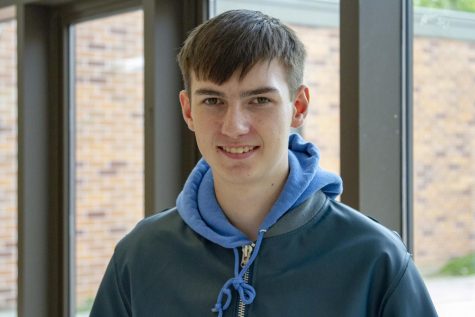 Isaac Brown, Staff Reporter
Isaac is a sophomore at La Salle. Outside of school he plays recreational soccer and enjoys cars, fashion, and music. His favorite show is "The OA" and...