Three La Salle Students Share Their Passion for Music
With strong art programs including state qualifying choir and an Advanced Guitar class, it's not hard to find passionate, young musicians within the walls of La Salle. From performing on stage in musical productions to late night songwriting, there is no doubt La Salle's student body has some very talented individuals.
The Falconer asked several of these students to share what music means to them, and how it plays a part in their busy lifestyles. 
Alison Paguio:
Senior Alison Paguio is an active part of La Salle's choir. You can find her before school three times a week taking part in the morning choir class that takes place during zero period. She is a self-proclaimed singer and songwriter.
"I am very hard on myself," said Paguio, speaking about her songwriting process. "I feel like I have to be very specific with [what I say] because I look up to so many songwriters." The art of wordplay and the passion that goes into songwriting is very important to her.
Paguio said that music is an art that runs deep in her family, and is very close to her Filipino heritage. "Filipino culture is a very [song-oriented] culture," she said. To her, it's normal to have family sing-alongs, and considering a career in the arts is not as taboo as in some other cultures. "Now that I'm here, it seems even more taboo here than it would be in the Philippines, which is the opposite of what people would think… that's really cool," Paguio said.
Paguio hopes to keep music in her life and future forever. She once again attributes this to her family, saying that "hopefully it [will] stay a part of my life, like it is in my whole family." Her heritage is important to her, and serves as inspiration when writing and performing. 
"Music is literally everything [to me]," said Paguio. She talked about how music is incorporated into even the small aspects of her life. "When the [school] bell rings, I'm going to harmonize to it in my head… I listen to music in the car, walking the halls. [Music is] how I connect with people."
Noah Poteet:
At six years old, sophomore Noah Poteet started taking group violin lessons and it has grown to be a part of his everyday life. 
As Poteet continued to learn and pursue classical music, he eventually joined the Metropolitan Youth Symphony, an organization that has served as a major learning opportunity and inspiration for him. "You get to hear how [all the different instruments] play… and [see] how they're learned," he said.
Poteet has been the first in his family to pursue music. "I started music and it has allowed me to try new things and start doing stuff that I probably wouldn't have [done otherwise]," Poteet said.
The Oregon Suzuki Institute summer camp, which Poteet has attended for the past four years, has surrounded him with other young aspiring musicians.
"Some of my friends from camp are super experienced and have been playing a while," Poteet said. "It's really cool that they're so experienced and not too far from [my] age."
"It's very hard to start up a career in music," Poteet said. "But I think it'd be really cool if I did." 
Poteet hopes to pursue music as a potential career. He has plans to pursue opportunities such as performing in orchestras and symphonies on a larger scale, such as statewide orchestras, as well as joining the La Salle string ensemble.
Paige Baines:
Junior Paige Baines began playing piano in third grade and guitar in fifth. She's been hooked on music ever since.
Baines plays a key role in her musical household. "I feel like I'm kind of the reason why a lot of my family is so into music… my sister plays the drums, so we're like a little family band," she said. 
When asked about why she enjoys performing other artists' work, she said that to her, performance is all about making the music her own. Baines said that she achieves this by changing "certain ways that I sing the song, or different pitches or drum patterns, just to tweak it a little bit… and twist it into my own little Paige [way]."
As far as musical inspiration goes, Queen is the first to come to mind for Baines. "They threw themselves out on the stage and really gave 100% into what they're creating," she said. "That's something I really admire… the things they make are just soul grabbing."
Dedicating time to create and perform music during her already busy schedule, which is full of theater activities and school work, is important to Baines and she hopes to keep that with her forever.
"[Music is] like a lifestyle, where it's also an emotion," she said. "It is its own culture… music is alive. It breathes its life back into us."
About the Writer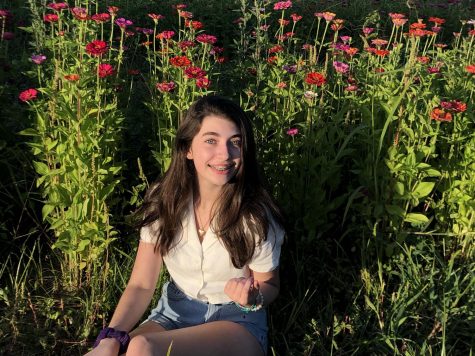 Ava Whalon, Staff Reporter
Ava is a sophomore at La Salle. She is heavily involved in the theatre and music departments and is a student ambassador. In her free time she enjoys listening...