Robby Collman, Aspiring Entrepreneur, Discovers a Passion and Finds Profits
When it comes to making money in high school, there are a few generic teenage jobs that come to mind. Some teenagers work at children's camps, officiate youth athletic events, or are employed at restaurants or stores. Others have babysat the kids next door or mowed a neighbor's lawn at one point or another in order to earn some of their own money.
But junior Robby Collman, a devoted baseball player and aspiring entrepreneur, finds profit in a unique business that is less typical among high schoolers: reselling.
Collman buys shoes and vintage clothing items from local thrift stores and online sellers, then markets his items to try to make as much profit as possible from each sale. 
It's not uncommon for teenagers to buy and sell clothing online or interpersonally, but Collman has shaped this trade to be more than just a hobby or a way to make a few extra dollars — rather, he considers it a "small business" and a "passion". 
His small business first got its start when he was in seventh grade and started selling shoes online because "I wanted a way to buy more kicks without having to have my parents buy all my shoes," he said. He also said it was an easy way to make extra spending money for himself.
"It started out as a hobby just because I liked collecting shoes, and then I got into vintage streetwear," he said. "I remember when I first started it was pretty hard to resell the items because I didn't know where to sell them and I didn't know how to set the price, but now that I do know, it's… a lot easier."
Ever since selling his first pair of shoes, Collman has continued to sell online and locally, not only marketing shoes, but also adding vintage clothes. He sells online using sites such as eBay, Depop, and Etsy, as well as locally via Facebook groups and OfferUp, an app whose slogan is "the simpler way to buy and sell locally." He also uses direct messaging on his Instagram account for reselling, which he hopes to continue to develop.
The majority of his products are shoes, his favorite type to buy and sell being Jordans because he likes wearing them. "If I buy a pair that I like, I can wear them once and then sell them the next day," he said.
As for his clothing selection, Collman said he enjoys buying vintage windbreakers and T-shirts, and that most of his items are 80s and 90s-style clothing. 
"It really doesn't matter what brand it is, as long as it's stylish and fresh," he said.
In addition to online selling, Collman is a vendor at Cultural Blends, a clothing store located at Lloyd Center Mall, where he consigns his items.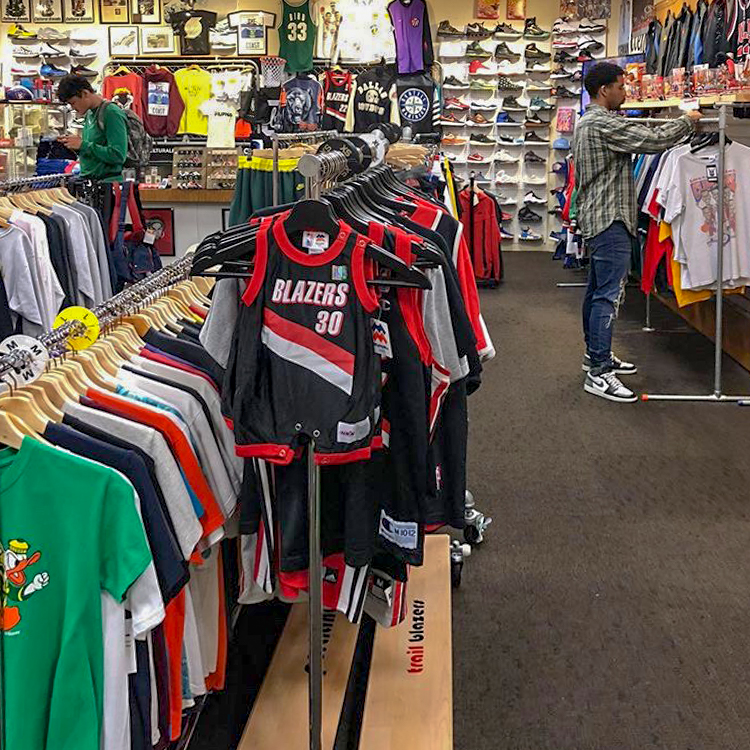 He said that he enjoys selling at Cultural Blends because "it's a lot less stressful on me because I don't have to worry about messaging people about what I'm selling." Cultural Blends posts on their Instagram, @culturalblends_store, when Collman brings new items into the shop.
Collman got started with Cultural Blends this past summer through his mom, who worked at Lloyd Center for many years. She knew the owner, Troy Douglass, and reached out to him to tell him about Collman's reselling. She then introduced the two, and Douglass explained to Collman how it would work for him to consign there. 
Collman said his parents are supportive of his business because "I'm passionate about it and I want to grow in what I do." 
He said that he prioritizes schoolwork during the weekdays, so he is less active in reselling during most Mondays through Thursdays. Meanwhile, on the weekends, he spends much of his time shopping online and in stores for more items to sell, then dropping his items off at Cultural Blends. 
One of his favorite places to shop is the Goodwill Bins, where he digs through buckets of used clothes and pays for his findings by the pound. Collman tries to get to the bins once a week, often arriving when the doors open at 7 a.m. and staying for up to five hours. He also goes there before school for an hour and a half every late start day.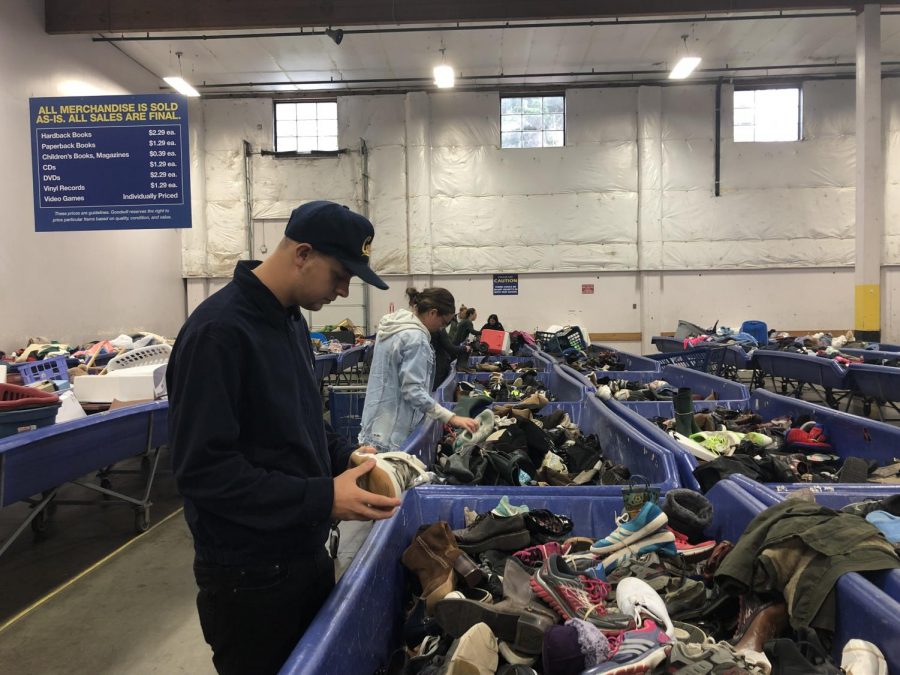 Aside from the bins, Collman also shops at thrift stores such as Salvation Army, Red White and Blue, House of Vintage, Buffalo Exchange, Crossroads Trading Co., and Focus Group Shop. He frequently makes trips to the Hawthorne district, where many of his favorite shops are located.
Sometimes it can be difficult for Collman to find time to shop and sell because of his busy schedule. He said he has learned to develop time management skills through reselling, because he has to balance his personal business with schoolwork, baseball, and his other job, which is at The Forum at Town Center retirement home, where he works as a waiter, server, and dishwasher. He said that he makes more money from reselling than he does from his job at the retirement home. 
Collman said that he knows that as a high school student, he has to prioritize school work for now. While he wants to pursue reselling and dedicate as much time as he can to his business, he understands the importance of school. 
"I want to keep pursuing my dreams," he said. "But I might have to wait a little bit, just because school is more important, and sports are pretty important to me as well."
Collman values his experience with reselling because it has taught him to be his own manager, whereas with most job experiences for other teenagers, they work under a manager or employer. He has learned to practice holding himself accountable and working hard when there is no one else there to tell him what to do.
"Having my own business where I'm the owner is important to me, because [I'm] not in charge of anyone else, other than [myself]," he said.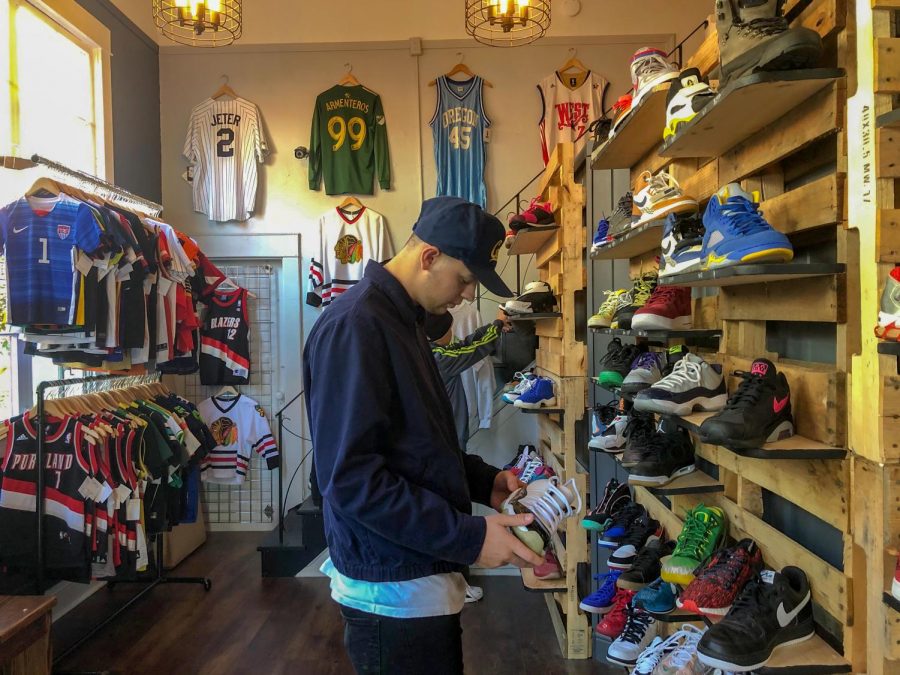 He also has developed patience, learning that sometimes he has to wait for things to go his way. He said that sometimes he will be holding on to an item for as long as a week up to two months without anyone buying it.
"If things aren't going well for selling at one time, [I] don't give up, [I] keep working on it," he said. "They'll sell eventually." 
Collman also values reselling because he has met many people through his business. He has a few close friends who don't go to La Salle who got into reselling around the same time as him, and he said the passion he shares with these friends often "keeps [him] going." 
"If I didn't start [reselling], I wouldn't have known half as many people as I do," he said. "We all have that same connection and feeling about shoes. It's kind of like a friendship even though you don't know them super well."
Looking toward the future, Collman wants to go to college to study business and/or communications, and continue to explore and learn about entrepreneurship. His goal is to open a shoes and clothing shop of his own by the time he is 25 years old.
"If I don't open a sneaker shop or a clothing shop, I [want to do] some[thing] in the business aspect, because I've had a decent amount of experience in that," he said. "It doesn't really have to be shoes, just something [similar that] I'm passionate about."
Based on his own experience pursuing his passion, Collman said he would advise his peers to chase their dreams, even if it may seem unattainable and difficult at times. Back when he first started reselling shoes in seventh grade, he had no idea that he would launch his own form of business, selling vintage clothes and consigning items at local corporations. He didn't know that he would become knowledgeable about marketing his products or passionate about self-management and sales. "Even if you don't think you can do it, it's worth trying," he said.