Bedroom Pop and Breakups: Katie Shannon Explores Her Passion for Songwriting
The following article includes music containing explicit content.
The sunlight is glimmering through the colored window panels and the warm scent of coffee is in the air as Katie Shannon approaches the microphone with a smile.
This scene took place on July 24 at Just Bob cafe, a coffee shop on Alberta Street in Portland, during an open-mic performance.
"I started writing [music] in seventh grade," Shannon said. "I was obsessed with One Direction so I just started making my own music."
Shannon has now carried her songwriting passion into her senior year at La Salle. During her junior year, Shannon experienced a breakup that she used as inspiration to express herself.
"It was good, because I found my love for writing music and making music through that breakup," she said.
Shannon wants to share her story through her lyrics and speak to others who may be going through similar situations. She wants others to know "they're not alone."
As a singer and songwriter, Shannon feels that honesty is crucial when creating music and trying to connect with others. She is inspired by artists who are "honest about their life, talking about real situations through their music."
She has released two songs, including one she wrote while going through a rough day.
"I went home and I wrote that song in 10 minutes," she said.
That song, "i promise i deleted your playlist," now has more than 3,300 plays on SoundCloud.
Shannon said that when she is having a bad day or otherwise has strong emotions present, writing songs is easier.
"I never try and force anything out of myself," she said. "If the emotion is there, then I just take it all out and put it physically in front of me. It kind of helps my thinking process."
Although she would love to write songs in other places, she said that she feels most connected with herself when she's in her bedroom.
"I don't have to worry about what other people are thinking of me and I'm not [as] distracted," she said.
The music group BROCKHAMPTON, especially the lead singer, Kevin Abstract, has been a particular inspiration to Shannon and her music.
"He has an album he wrote, which is kind of about his love life and his high school life called 'American Boyfriend.' I feel like that inspired me," she said.
Shannon also feels a personal connection to Clairo's new album 'Immunity' because of how a lot of the songs on this album were sparked by a breakup. "Clairo's most recent album was really good," Shannon said. "I think it's cool to talk about a breakup because it's very honest… breakups can feel pretty isolating, it's a good way to connect with your inner self."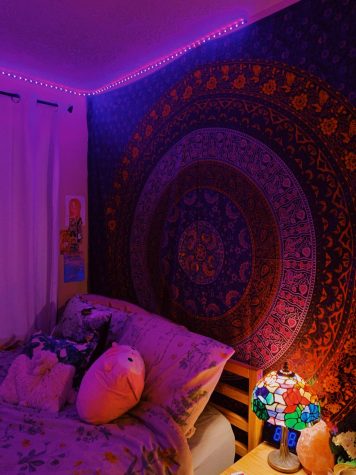 Shannon likes to surround herself with elements that motivate her.
"Most of my new songs include topics like saturation and bright colors because the story of the album touches on how you can bring someone into your life and they can change how you see things," she said, "such as noticing the minor beautiful details of something you might have ignored before."
Shannon has been playing guitar since seventh grade and enjoys integrating multiple chords into her songs.
"I have this one song, it's called 'Indecisive' and it's about going through a situation with this person where you don't know what to do with them," she said.
She compared the feeling to being stuck in limbo.
"You don't know whether to stay with them or whether to leave them," she said. "You don't know what's going to be best for you and I feel like that's a very real situation. You have to make that decision for yourself taking a step back, and think about what's going to benefit me and my future."
Zach Tuskey, the boyfriend of Shannon's older sister, is a producer who has been extremely helpful for her songwriting journey. "He's so good at making beats and instrumentals," she said.
He has encouraged Shannon to get her work out to the public, and together they have produced songs using Logic Pro X, a Mac-based digital audio program that many professional artists use.
"He's been such a big help for me because he has pushed me to take this more seriously," she said.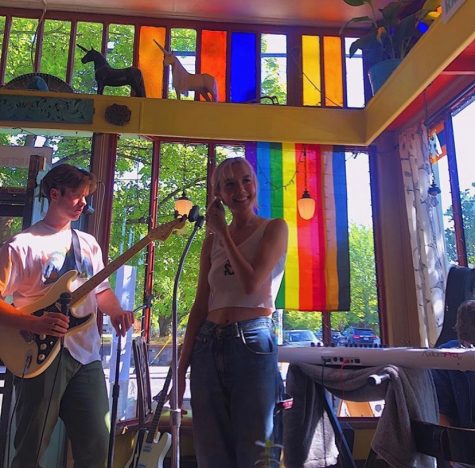 Shannon hopes to work with other artists someday. "I think it would cool relocating to another part of the country and getting to work with other producers," she said. "I want to be able to play my own show and be able to perform my own music, which would be super fun."
In middle school, Shannon had doubts about her ability. She remembers daydreaming about becoming a musician. She gravitated from singing punk music as a kid in her living-room to signing indie, alternative music.
"It really took an experience, a bad situation for me to go through in order for me to produce something I felt proud of," Shannon said.
She often thinks about the advice she'd give her younger self.
"I think it's important to be yourself and put your art out there," she said.