New Technology Policies Spark Conversations and Mixed Feelings
With the start of a new school year, La Salle's administration has made the decision to stringently enforce a pre-existing cell phone use policy, which in recent years has been applied leniently throughout much of the school. Accompanying this implementation is the addition of a new policy regarding the use of listening devices such as earbuds or AirPods in academic settings.
Although this shift in policy was requested by many faculty members, it arrived unexpectedly for many students, leading to a variety of mixed reactions and opinions throughout the school community.
Last week during all-school assemblies, the Vice Principal of Student Life, Mr. Brian Devine, explained the details of the new electronic use policies to the student body: Cell phone use is prohibited in academic hallways and classrooms during the school day, but students may use cell phones in the building before or after school. During the school day, cell phone use is permitted in the cafeteria, the main hallway, and the courtyards.
Earbuds, AirPods, and other listening devices may not be worn in any classroom, academic hallway, or other academic space unless permission is provided from a teacher; in the main hallway, courtyards, cafeteria, and counseling center, the use of listening devices is allowed.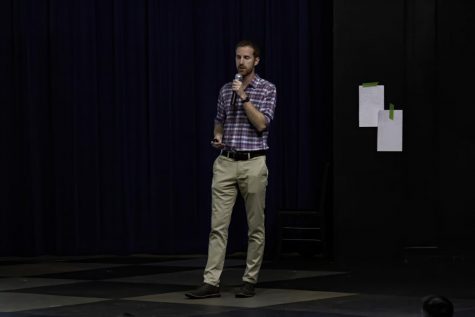 For some students, these new rules present a major shift in their day-to-day life at La Salle. In past years, students were free to roam the halls while listening to their favorite songs, and in some classes, were even able to use their cell phones to text, access social media, and play games during class.
Some students are opposed to the implementation of these new rules, others are in support of them, and still others are quite indifferent. Teachers, on the other hand, are largely in favor of the shift.
"The majority of teachers really felt like it was increasingly becoming a problem, that it's hard to get kids to detach," said Vice Principal of Curriculum and Professional Development Ms. Alanna O'Brien. "They were just exhausted from having to tell kids to put things away all the time."
The Falconer spoke at length with three of the school's administrators, and many teachers and students, to gain an understanding of the variety of perspectives surrounding the change.
"We don't make policies just for the heck of it," said Vice Principal of Academics Mr. Mario De Ieso. "We don't change policies just for the heck of it. Nor do we change it just because we want to show everybody that we can do it or [that] we're powerful… We hope that it has a positive effect."
Mr. Devine says that in addressing the issue, the administrative team wanted to focus on three major concerns: mental health, student education, and human connection.
"We know that there's been a pretty major increase in anxiety and major increase in mental health issues," Mr. Devine said. "From the research that we've done, and from some of the feedback we've heard, a piece of that can be connected to social media."
La Salle's staff and administration hope that with the distraction of cell phones and earbuds eliminated, students will be able to participate more and be more engaged in class. Many teachers are now using phone caddies in their classrooms, which are small cubby spaces for phones to be deposited in when students enter the classroom. The idea behind the phone caddies is that students will no longer have the added temptation of the constant buzzing of notifications coming from their pocket or backpack, urging a glance at a social media post or an instant reply to a text message.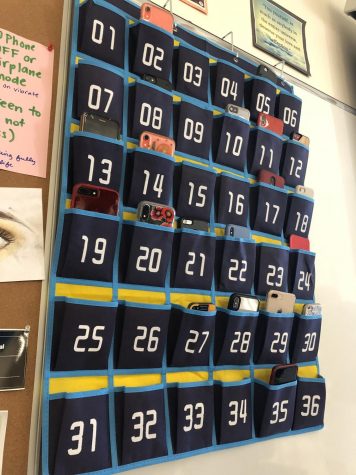 "In our student support team, we look at kids that are struggling or have challenges in the classroom," Mr. De Ieso said. "What is almost always a factor? Engagement. What gets in the way of engagement? Electronic use [and] devices."
As for the human connection aspect of the new policies, the school leadership team and staff is aiming to create an atmosphere throughout the school where people are interacting with each other and being wholly present with each other.
"What we want is students engaging with each other and talking to each other and being present of their surroundings," social studies teacher Mr. Alex Lanaghan said. "And being able to take a break from everything else that's going on outside and just focus on what we're doing here — whether that's academic or whether that's social, or whether it's spiritual or what have you, it's nice that you don't always have to be so preoccupied with the other."
Some students feel that they should have more autonomy in regards to personal phone and earbud use. Some feel that the restrictions are unrealistic, especially since some people may need to use their phones during passing periods in order to check their schedule. Some students understand the administration's intentions, however feel there are better ways to go about fulfilling those intentions than placing further restrictions than existed in the past.
"I don't think just telling people to put their phones away and putting it in a [phone caddy] is going to be effective at fostering the more connected environment, which I think is the faculty's goal," junior Alex Fiedler said. "I feel like starting [to educate] the students [more] about screen usage or something like that would be a bit more effective than just 'you can use your phone here, but not here.'"
The largest frustration among students appears to be with the earbud policy. Many students like to listen to music throughout their day, with several saying that it can help them focus and destress.
"It's kind of frustrating, just because I personally love music," junior Sawyer Paugh said. "And I know a lot of other kids do, and [for] some people, when they can't listen to music they can't really enjoy themselves. I think school shouldn't only be about school, but should also be about enjoying school. Music and being able to have earbuds and headphones should be a part of that."
Some students expressed dissatisfaction at the restrictions that come with the new rules.
"A big part of us being teenagers, if you want us to get used to being an adult and having responsibility, then you should leave it on us to decide when it probably isn't the best time to be pulling out [our] phone[s] and be scrolling through [our] feed[s] walking to class," junior Anneliese Stahly-Dronkowski said.
Student agency is important to the administrative team. They want students to grow to be individual thinkers, independent decision-makers, and as prepared as possible for life after high school.
"We want a 21st century learning environment," Ms. O'Brien said. "We want kids to have agency in their learning. We want kids to feel like they're in the driver's seat of their own education. I think what we realized is that that takes some coaching on how to do that."
Another factor that prompted the decision to enforce these new policies is the feedback the administration recently received. Last year's graduating class was the first to have a portfolio presentation as part of their graduation requirement, where each graduating senior presented to a group of three to five staff members or community members and talked about the highlights of their high school career. They also provided feedback, based on their experience, as to what works well within the school and what could be better.
When the administration met after senior presentations, they found that the feedback seniors provided consistently involved the use of electronics, specifically iPads and cell phones. The seniors talked about the impact of social media on their learning and how it was a challenge for students to balance their devices while managing to stay on top of class and be engaged in class.
"That feedback — we had felt that, we had heard that from teachers and some parents and visitors," Mr. De Ieso said. "But when we heard it from the students, particularly the seniors who had the iPad all four years, we really took that to heart."
A week into the school year, some students are still getting accustomed to the shift, while others said that they hardly notice a difference. Students have commented on how the biggest difference seems to be at the start and end of classes, where in previous years students would often be sitting, sequestered with their phones, socializing digitally rather than interpersonally with those around them. With the new rule in place, several students said that they noticed their peers are more inclined to reach out to others, interact with new people, and take a break from technology.
Students who are opposed to aspects of the electronic use policy maintain varying reasons for their position. Some people simply want the option to individually choose when they will and won't use their devices; others find comfort in the familiarity of technology in the midst of the stressful chaos that school can sometimes impose.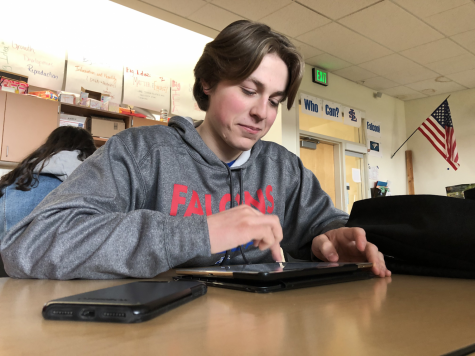 "There's that period where it's kind of nice to zone out," Stahly-Dronkowski said. "Not during class when the teacher is talking, but during those five minute breaks… I think though conversation is good, I think learning [can be] so draining that you just need that moment to yourself to look at something funny or take a Buzzfeed quiz or scroll through your feed because it's relaxing, honestly."
"I think that we should be on our own and on our own time to interact with our friends," junior Gabriel Keirouz said. "If you're really friends with someone, then you shouldn't need to be told to get off your phone and talk to them."
"In the halls, you're walking from one place to another, and you're not necessarily stopping to have a face-to-face conversation anyways," junior Isa Sale said. "And I think it's hard to enforce there."
"It's a big school and teachers aren't going to be able to see everyone and what everyone is doing at all times," Fiedler said. "And if they try harder to do that, then people are just going to pull back and resist more."
Regardless of whether or not students are in favor of the new policies, the regulation of electronic device use is something that will continue to be implemented into student life at La Salle. Aiming to engage students in their learning and with each other more, the administration hopes a consistent standard throughout the school will make a positive impact this year.
"We all as human beings sometimes need a little structure to help us make good decisions," Mr. De Ieso said. "I think we all do well with gentle reminders. All of us struggle more when people are harsh. So I think it's engaging people in a positive way, with that we're all human beings and we all have our devices. It's a challenge for all of us. So when you ask what can we do, we can have compassion and empathy."
Leave a Comment
About the Writers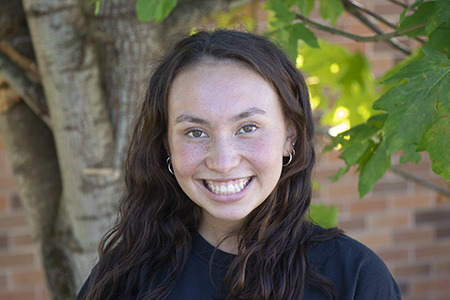 Maddie Khaw, Editor in Chief
Maddie is a senior at La Salle. She plays on the varsity soccer team and loves to read and write. She also likes to travel, hang out with friends and family,...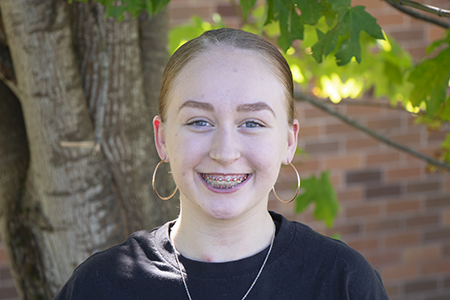 Kendall Whiteside, Assistant Editor
Kendall is a junior at La Salle. She plays soccer on the girls varsity team and for the Eastside soccer club. She is also a manager for the football team....