Athlete of the Week: Riley Peterson
Hang on for a minute...we're trying to find some more stories you might like.
Since he was in second grade, sophomore Riley Peterson has been passionate about playing football. Now, he is a starter for the La Salle varsity team. 
Peterson began his career when he was seven years old playing flag football. "After that, I just started playing a bunch," he said.
During the off-season, Peterson does a wide range of workouts to train and prepare for upcoming seasons. Some of his workouts are more cardio based, which include sprints and focusing on the fundamentals of football. 
Peterson also works to build his strength in the weight room. "Every day I work on something different," he said. "Sometimes it's legs or chest or back, [but it's] something different each day."
Once the season begins, Peterson continues to work hard outside of the daily varsity practices. "Usually [the team] practice[s] and then I come home [to] lift weights for a little bit," Peterson said. "[I] do my cardio and then rest after that."
His goals for this year are to make a first team roster for either offense or defense, which is uncommon for sophomores to achieve because they are still underclassmen. "I would definitely be proud of myself," Peterson said. "I could do it."
"Size and strength are definitely [the] challenge[s] I face," Peterson said. However, he feels that his best assets are his "speed and technical skills." 
Though Peterson is a tough competitor on the field, he sees himself as a quiet student in the hallways of La Salle.  He said that the biggest change from the classroom to the field is the confidence that he carries with him during a game.
"I'm a totally different person [while playing football],"  he said. "When I'm doing well [on the field], everything just falls into place." 
Peterson said that he is influenced by Ray Lewis, a former linebacker for the Baltimore Ravens, because of the love for the game they share. "He plays with so much passion," Peterson said. "Just watching [him] is so entertaining."
Off the field, Peterson's dad is his biggest motivation.  He played football when he was young, and continued his career into college.
"He [has] always pushed me to do my best," Peterson said of his dad, "and he always talks really highly of me." His father told him once that if he had the speed that Peterson has now back when he played football, that he could have had a chance to play in the NFL. "[That] drives me," Peterson said.
After high school, Peterson wants to further his career and play college football like his father. He hopes to receive a scholarship and to play at the Division 1 level. Peterson's dream school is the University of Oregon, his mother's alma mater.  
Outside of football, Peterson also plays basketball and lacrosse for La Salle. The first sport that he ever played was basketball, and he started as only a kindergartener. Lacrosse came later in life for Peterson, and he started playing about three years ago.
As a three sport athlete, Peterson faces the challenge of balancing sports and school while maintaining a social life. He manages his busy schedule by "being on top of everything" and "staying disciplined."
The football team faces off against Rex Putnam in their next home game this Friday, Sept. 27.
About the Writer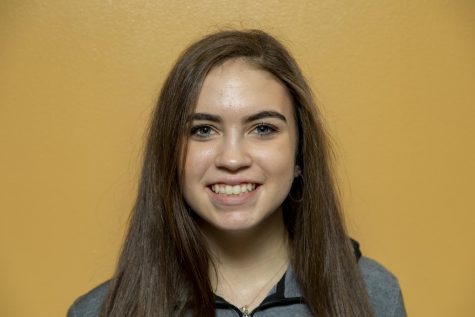 Mandy Sisul, Assistant Editor
Mandy Sisul is a junior at La Salle. She plays on the varsity basketball team and she is involved in the outdoor and spirit club. Outside of school, Mandy...