After Losing Eight Seniors and Hiring New Coaching Staff, Varsity Volleyball Begins the Season With Two Wins
Despite the absence of eight seniors who graduated last year, as well as the loss of much of last year's coaching staff, the varsity volleyball team is starting the season on a strong note, winning their first two games. This has earned them a #5 ranking in all of 5A.
On Thursday, September 5, the team defeated St. Helens 3-0 in their first game of the season. Due to miscommunication, it was a close game that the team had to work hard for. Head coach Anna Dillard said, "it's good for us because we had to develop that competitive greatness where we enjoy the struggle." 
Just last night, they took another 3-0 win against Hillsboro. Junior Sarah Wease said that it was an easier game than the first. "What made it easy was our adrenaline and the power that we had to keep moving forward," she said. 
With the team consisting of one freshman, three sophomores, six juniors and four seniors, returning players Mary Gach, a senior, as well as Maggie Rasch, a junior, have stepped up as team captains.
"Because we're all at different grade levels, it brings a whole bunch of new perspectives," Gach said.
Last season, the team went 12-2 in league, and finished with a #9 rank in 5A. Now with their new head coach, they are striving for an even bigger achievement: a league title.  
Dillard had a successful volleyball career back in high school, while playing for Gresham high school, which at the time won four consecutive state championships. Her success continued into college where she competed for the University of Oregon. After playing for two years at UO, she transferred to Concordia University and became an NAIA All-American.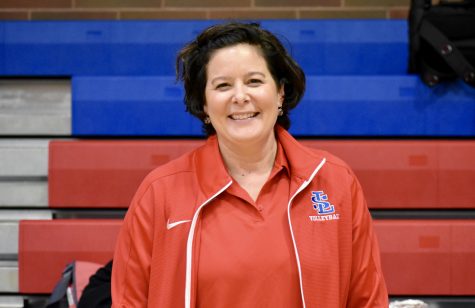 In the past, Dillard has coached for Centennial and Westfield High School. Just last year, she was the JV2 coach here at La Salle.
With the goal of the league title in mind, Gach said that "we want to embody these three values as a team [which are to] work hard, be a great teammate and be competitive. If we have those three goals then everything will flow into place."
After losing eight of last year's seniors, only five players return to the team from last year's squad. Although this might seem to be a big obstacle for the team's success, Dillard believes that having a new team is helpful, especially while in the process of learning from new coaching staff. 
The team's philosophy is that "when it's a struggle, embrace it, because that's how we'll get to our goals," Dillard said.
The team is enduring two hour practices, three times a week with games on Tuesdays and Thursdays. Dillard describes that during practice the team is undertaking individual skill work in order to benefit each player's position. Hitters are being taught to play with aggressiveness and defenders are learning to never let the ball drop on their side of the court. 
"I think our practices are pretty hard," said sophomore Amanda Rivera. "It's a lot in a two hour [time] span." 
Several members of the team expressed a desire to improve their mental state. Gach expressed that they can't walk into anything with the idea that they're going to win or lose. "We need to be mentally ready for anything," she said. 
A sentiment Rivera highlighted was the team's intention to not only focus on the game, but to also develop well-rounded athletes.
"Our goal is to form great people along with great volleyball players," she said.
Tomorrow, Thursday, Sept. 12, at 6:45, the team takes on their biggest competition, Willsonville. 
Dillard indicated a desire to have as many fans as possible at all of the team's games.
"We don't just need you for Wilsonville," she said. "We need you for Putnam and we need you for Scappoose. Every game that we play we want people to be here to support us."
About the Writer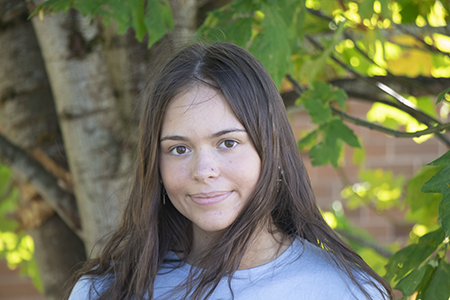 Carlie Weigel, Editor in Chief
Carlie is a senior at La Salle. She is the Vice President on Executive Council and a member of the National Honor Society. Outside of school, she loves...