Three Falconer Staff Members Attend the Spring National High School Journalism Convention in Anaheim
Last week, from Wednesday, April 24 to Saturday, April 27, three staff members of The Falconer traveled to Anaheim, CA to attend the spring National High School Journalism Convention.
The semiannual convention hosted by the Journalism Education Association (JEA) and National Scholastic Press Association (NSPA) is the "largest gathering of student journalists in the country." At this year's spring convention there were 3,542 attendees from 444 schools.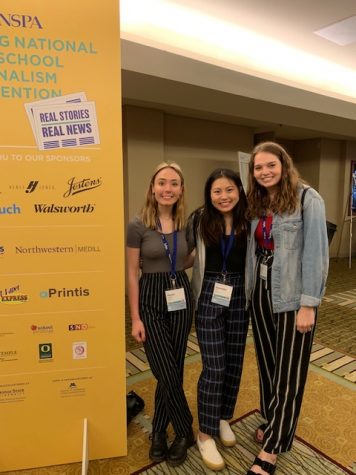 Award-winning journalist and two-time Pulitzer Prize winner Sonia Nazario was the keynote speaker at the convention, speaking on Thursday night at the opening ceremony. Nazario shared about her experiences in reporting stories that have primarily focused on immigration.
Editor in Chief Samantha Kar was particularly interested in what Nazario had to say about immigration. "No matter your political stance, Nazario really highlighted the importance of the people fleeing and their stories," Kar said. "They're all humans with dignity and just want a shot at a better life."
Students also attended break-out sessions during the convention where they heard presentations from various speakers on specific topics related to journalism.
Editor Emily Hawkins said one of her favorite sessions was "Break with a Pro" where she and about seven other high school students at the convention learned about the field of advertising from a professional. "It was so interesting to learn about all of the components behind advertising, especially because this is in relation to what I will be studying next year," Hawkins said. "She talked about how to strategically manage social media and how to effectively reach out to your intended audience."
Kar attended a session, called "Networking and Landing Your First Job (Or Internship)" presented by Luz Villarreal, who is a producer of CBS Evening News. "I learned a lot from her tips on how to navigate your way in the media field, such as establishing contacts and being persistent," Kar said.
The Falconer staff members also participated in write-off contests on Friday afternoon, where they were given about seventy minutes to produce a story based off of thirty minutes of information they had just been presented with. About 1,200 students from across the country participated in these contests, with fewer than half winning an award.

All three staff members were given an award, with Hawkins winning Honorable Mention for her story in the sports writing contest, Editor in Chief Peyton Hedges winning Honorable Mention for her story in the feature writing contest, and Kar winning an Excellent award for her story in the newswriting contest.
Along with the various events and activities the students attended at the convention, the staff members also spent Thursday at the Disney California Adventure Park. 
This fall's National High School Journalism Convention is set to take place in Washington, D.C. from Thursday, Nov. 21 to Sunday, Nov. 24.