Sophomore Izzy Sprando Combines Art With Entrepreneurship Through Painting Old Shoes
Throughout her life, sophomore Izzy Sprando has always been very artistic. A little less than a year ago, she put her talents to the test and started a small business in which she paints intricate designs on people's shoes for a low cost.
Inspiration for this idea came about when Sprando took an art class with a professional watercolor painter. "My favorite form of art is painting… especially with watercolors because I am really comfortable with them," she said.
Then Sprando "had some trashy Vans" that she didn't want to throw out, so she browsed through Pinterest and came upon the idea. "I looked at Pinterest and found people who were painting shoes," she said. "I thought to myself, 'hmm I want to do that.'"
She found the perfect design for the old Vans and just started to paint. When she finished, Sprando thought this was "the perfect opportunity to continue my passion and make some extra money."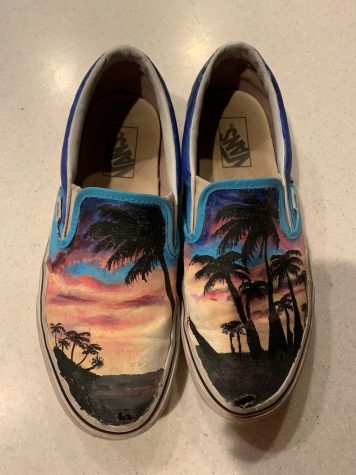 After painting her own pair of Vans, Sprando decided to start the small business, and since last September, she has had four customers but has around eleven on a waiting list. Here is Sprando's Instagram for her shoe painting business.
Finding the right design for her customers' shoes is crucial. Sprando researches different ideas and decides what the person would love most. "I want them to love the shoes and wear them anywhere," she said. "So I would think of what best fits their personality and style."
So far Sprando's favorite work has been the Starry Night design on an old pair of her own Vans, which was based off of Vincent van Gogh's original painting, The Starry Night. "I have always loved that painting, so I was excited to do it," Sprando said.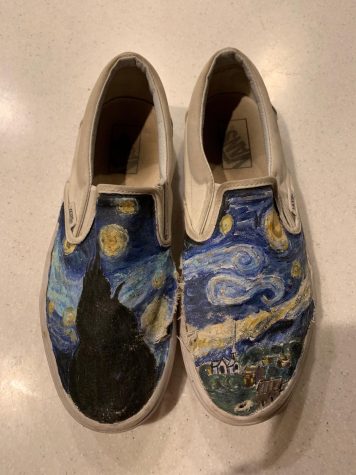 The process of painting the shoes is not as easy as it seems. Sprando spends many days painting and perfecting the shoes. "The entire process of actually painting the design takes about one week to finish, if I am not working on it during all of my free time," she said.
The cost for a painted pair of shoes varies depending on the design and how long it takes Sprando to finish, but she tries to not make it too expensive. "I also understand that kids our age do not have a lot of money so I try to be considerate about it," she said. On average, she charges around $20. If the shoes have any holes, Sprando sews them up for no extra cost.
On average, Sprando does not spend much money on the materials to paint the shoes, using acrylic paints that she finds on sale. "The product I use to seal the shoe and make it waterproof is the most expensive," Sprando said.
Sprando is currently balancing schoolwork, club volleyball, and a shoe business. "I have clients on hold right now because of club volleyball and school is picking up," Sprando said. "Sometimes I need to take a break from the painting and focus on my studies."
Though the future is still unknown, Sprando sees herself continuing on with this business for the rest of high school. She is currently enrolled in Ms. Cha's Art Foundations class and plans to continue being involved in the art department for the rest of high school.
Looking ahead, Sprando wants to continue painting as a pastime in college because she loves it so much and "[I] always want art to be in my life," she said. However, Sprando does not want to pursue a career in art. "I do not see myself going to any art schools or majoring in it," she said. "I do not think that I could make a full career out of it."
Art is a large part of Sprando's life and she wants to share it with everyone as much as possible, by taking her creative ideas and painting them on others' shoes. "I had never seen anyone with Vans with these fun designs so I am excited that I get to do this," she said.