Next Level Seniors: Alyson Miura Chooses USC, Continuing Her 13 Year Long Basketball Career
Playing basketball has been an important part of Alyson Miura's life for a long time, beginning when she was five years old, and now she will be moving on to compete at the collegiate level.
Miura signed a National Letter of Intent to play basketball for the University of Southern California (USC) on Wednesday, Nov. 14.
She is a part of a group of seniors who have signed to continue their athletic career at the collegiate level, students we are profiling in our Next Level Seniors series.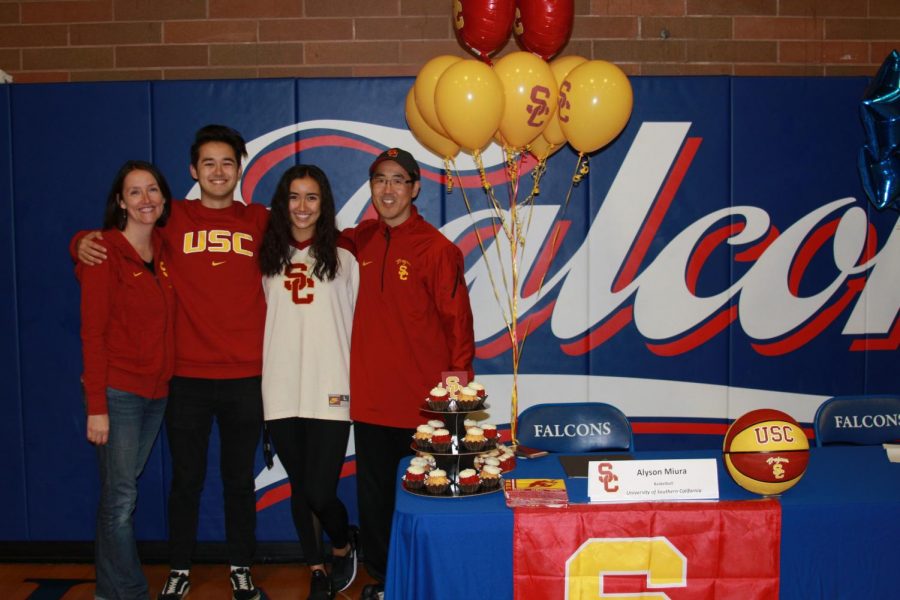 Her recruiting process began in eighth grade. She said that colleges would send letters, but it was nothing "serious." She began speaking with coaches her sophomore year as well.
Miura said that kindergarten through fourth grade children play at the "rec" level and fifth grade through eighth grade children play at the "classic" level. She started playing at the "classic" level as a third grader and played with older girls for most of her childhood. She began playing club basketball in fourth grade.
"I think my parents and other people who saw me [play] at a young age would say I always had talent, but talent only takes you so far," Miura said. "I definitely had to work to be where I am today."
Playing for Cal Stars, which is in the Nike Elite Youth Basketball League (EYBL), the summer going into senior year, was a pivotal part of Miura's basketball career.
"When you're being recruited in basketball, it's all about being seen and having the exposure," Miura said. "I had so many great players on my [Cal Stars] team that had committed or were getting looked at from big colleges… so that's when it really took off and that's how I got the PAC-12 schools interested in me."
She played for Northwest Stars for two years in high school as well.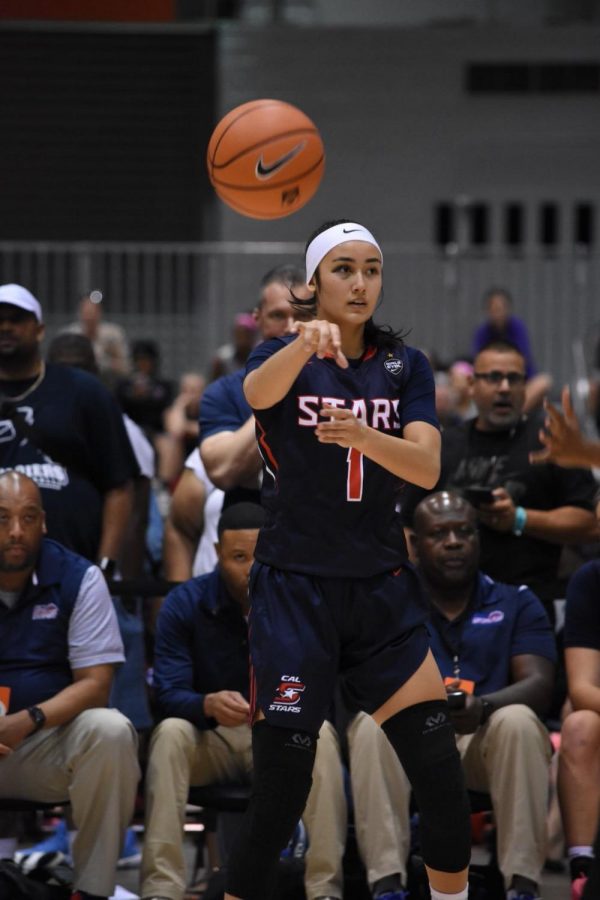 Miura is determined to win and accomplish big things when she is playing on the court. "When I'm in the moment, I'm just so focused on winning," Miura said. "I feel really competitive, but while still having fun… obviously there's ups and downs and some days are a lot tougher than others, so it's a constant physical and mental challenge."
Miura had 16 Division I offers to play basketball from schools including the University of Oregon, University of California Davis, University of San Diego, Santa Clara University, Weber State University, and University of Washington.
"It got hard to narrow it down, but when I visited USC, it was pretty clear just because they had everything that I wanted," Miura said.
A week after her official visit at USC, the coach came to her house to talk with her and her family more, leading to her verbal commitment on Wednesday, Sept. 26. Miura said that after her coach left, "I was assured that this is where I wanted to go."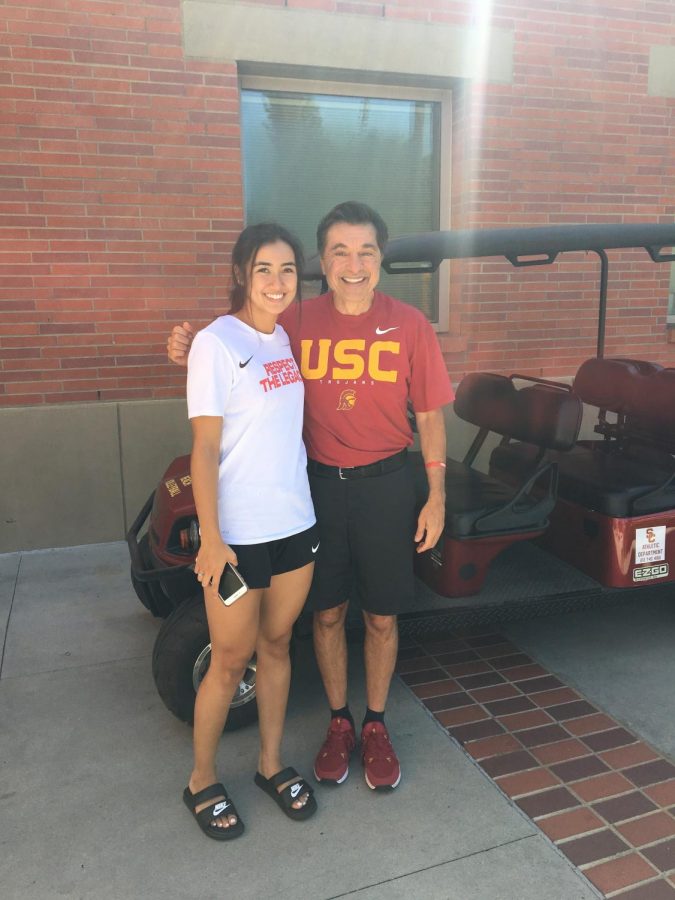 Miura was looking for a school that offered great academics along with a strong basketball program. She also said that she did not want to be too far from home, so she ruled out schools on the East Coast. Having family in Southern California, only 30 minutes from USC, was also helpful.
"For me, I felt like USC just had everything I would want," Miura said. "I felt like I didn't have to give anything up from academics, it's a great school, the coaching staff was awesome and I just thought that they were really trying to take the program in a good direction. I really liked all the girls and then the campus is just beautiful."
"I feel like just being in a new state, a new city [is] a little intimidating, but I'm also most excited for that too and then being in the sun," Miura said.
From a young age, Miura knew that she wanted to play basketball in college.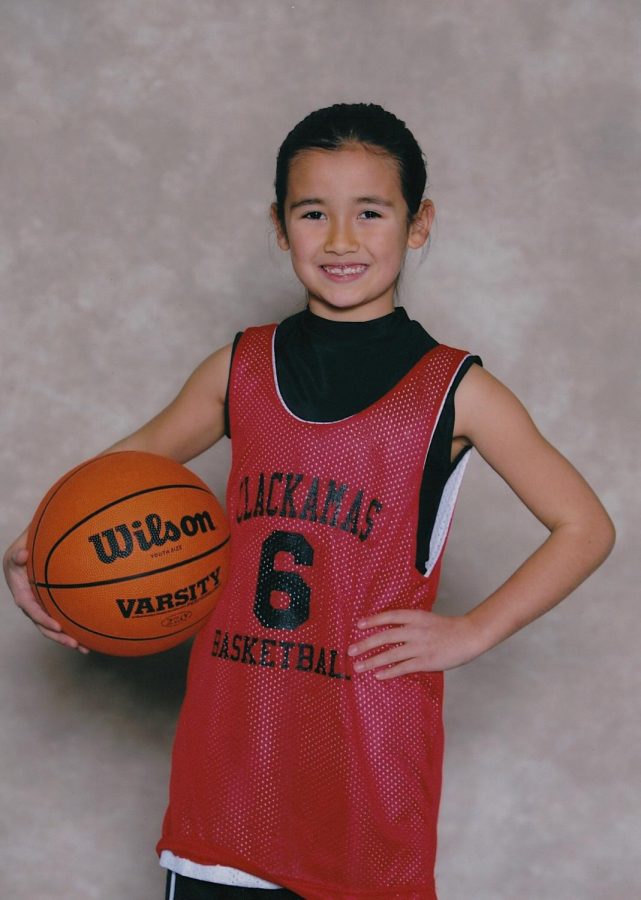 "I feel like I've always just kind of watched college players and just thought that I could do it, so I just worked hard," Miura said.
Although she has already signed to play in college, she said, "It feels really great, but my work's not over yet, and I'm already looking forward to starting college."
Previously, Miura attended Clackamas High School, but she transferred to La Salle at the beginning of this school year.
"I transferred to get a better education first off, which I definitely feel like I have at La Salle and it's been great," Miura said. "I think La Salle has been a good change and I also feel like coming to La Salle has prepared me to go to college because I had to do that whole thing where you meet new people and [go] outside your comfort zone."
She has been a varsity starter all four years of high school and was selected as a team captain for three of those years. Freshman, sophomore, and junior year she won first team all-league. She also won honorable mention all-state for three consecutive years.
This year, Miura was named a McDonald's All-American nominee. McDonald's reveals a list each year of over 800 high school basketball players across the country, which makes them eligible to play in the prestigious McDonald's All American Games. The top 24 girls and 24 boys are selected from the list by the games' selection committee. "It was an honor to be nominated," Miura said.
Miura also helped lead the varsity girls basketball team to a 5A state championship title this year, scoring 11 points in the final game against Springfield. She was the only unanimous selection for 5A first team all-tournament.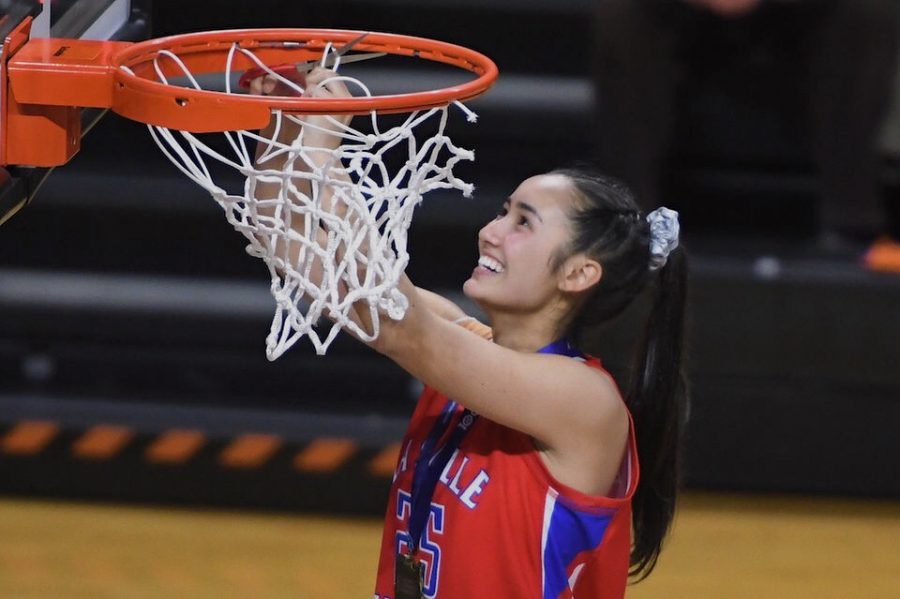 This year, Miura said that her field goal percentage was 53% and her three-point percentage was 56%. She also said that she reached over 1,000 career points.
She has learned how to balance academics and basketball, maintaining at least a 4.0 GPA each year of high school. Miura said that she has been balancing sports and school her whole life, so she is ready for the time commitment that comes along with being a student athlete in college.
Before she heads off to USC, she hopes to heal her injuries and get healthy again. She is suffering from an acromioclavicular joint sprain in her shoulder that she has been dealing with since winter. In addition to that, she hurt her knee in the recent state championship game and is suffering from a bone bruise.
She is currently cleared to walk with an incline on the treadmill and can shoot without jumping. When she is not injured, she typically does two to three days of weights and five to six basketball workouts a week during the off-season to stay in shape.
"I feel like I'll have big goals once I get [to USC]," Miura said. "But for now, I just want to prepare myself and then work as hard as I can and get playing time, [and] maybe get a starting spot and then just do the best I can."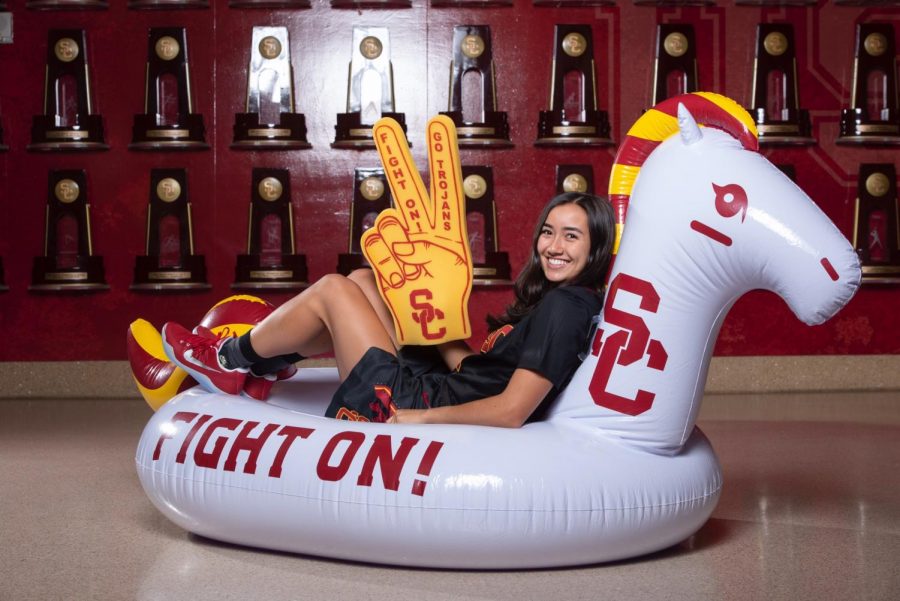 Her major is undeclared right now, but she is interested in pursuing a career in the medical field.
Looking into the future, Miura hopes to always have basketball or sports incorporated into her life. "I just can't imagine not playing," Miura said. "I feel like it would just be weird and that's kind of what I've thought about for my career and what I want to study. I don't know how I would go from playing basketball and sports, and this being a part of my life for this long, to just being a doctor."
Miura encourages underclassmen hoping to continue their athletic career in college to persevere each and every day.
"I would say for any girl that seriously wants to play college basketball, you have the opportunity to," Miura said. "I think no matter your size, if you just work hard every single day and if you outwork people, and you get the skills that you need, you can play college basketball."