Next Level Seniors: Allison Warta Commits to Regis University to Continue Her Soccer Career
Allison Warta has been playing soccer since she was three years old, and in the fall, she will be continuing her athletic career at Regis University in Denver, Colorado.
Warta verbally committed to play Division II soccer at Regis in January of her junior year, and then signed her National Letter of Intent on Nov. 14.
She is a part of a small group of seniors who have signed to play at the collegiate level, students we are profiling in our Next Level Seniors series.
Warta has been playing soccer for her whole life, playing the position of outside back, after being introduced to the sport by her dad, who played Division I soccer for Saint Mary's College in Moraga, California. Warta currently plays club soccer for U18/19 Portland Thorns Academy.
She wanted to continue her sport at the collegiate level because she "just really enjoy[s] playing it… and it's also a good way to get financial help for [college]."
Her recruiting process was "very long." For Warta, she started sending emails to coaches at colleges she was interested in freshman year, contacting, in total, 25 to 30 schools during her overall recruiting process.
"[People] tell us to… throw our net very wide… so you have a lot of options and opportunities," she said. "It was really stressful because due to NCAA rules… coaches aren't really allowed to contact you until your junior and senior year." The coaches that Warta contacted were often only able to send information about the school.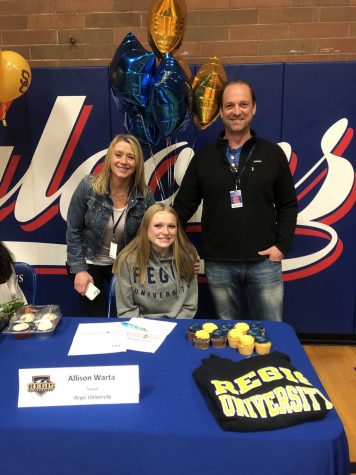 Although no offers were on the table yet, Warta was also talking to Seattle Pacific University and Seattle University. She visited Regis in the fall of her junior year, and "really liked the coaching staff," she said. "I wanted to be at a school that was near a big city, and Denver's pretty big; it's pretty similar to Portland." Warta was also able to listen to some classes during her visit, and experience the classroom dynamic with the professors.
One of the things that stood out about Regis for Warta was "the sense of community I got when [I was] incorporated with the soccer team; they're very welcoming." When looking for the right college, Warta wanted a school that wasn't considered small, and Regis' size, along with its location helped her make her decision.
Warta said that the weather in Denver was something that caught her attention, in addition to the coaches, professors, and future teammates. "It's just super fun and diverse there, even with regards to the student life, it's pretty diverse," she said.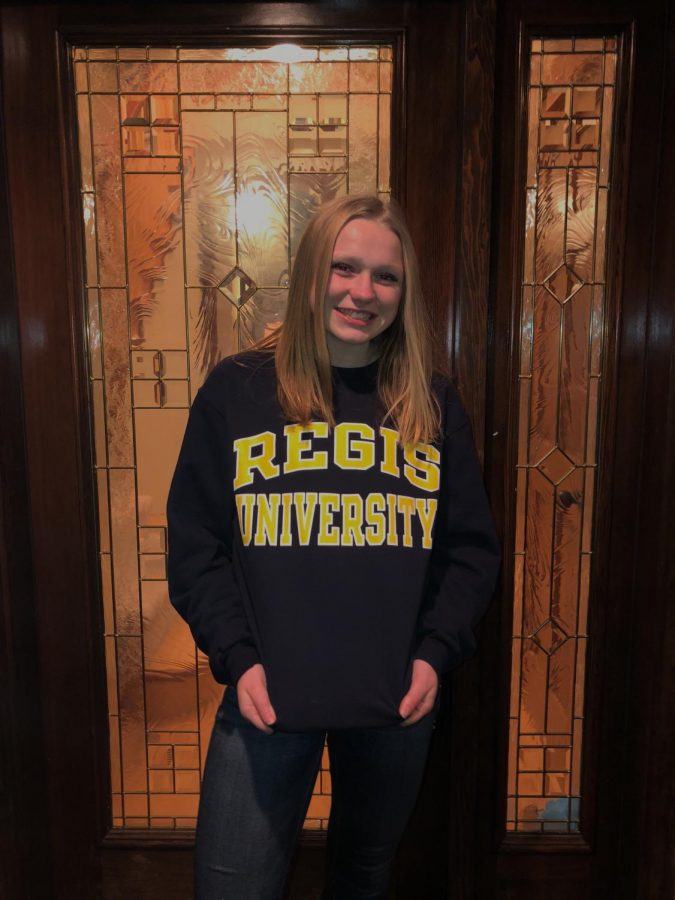 Warta will be pursuing a bachelor's degree in nursing, as a part of Regis' Pre-Nursing program.
Part of the stress that came with the recruiting process was because of the competition between athletes. "Looking back at where I was in my recruiting process at the time, [some] girls were committing [as eighth graders or freshmen, and that] was alarming, because [I thought] I was nowhere near close to committing," Warta said.
Warta communicated with the coach at Regis to help relieve any nerves that came with the recruiting process. "I was really nervous that I was going to commit and then regret my decision completely, and close a bunch of doors with other colleges," Warta said.
By talking to the coach, her parents, and friends who are already at Regis, Warta became more comfortable with committing, especially to a school that is far away from Portland. "I was worried that since I only saw it once, I wasn't actually super sure if I liked it… I definitely have not regretted my decision," Warta said.
During the school year, Warta's athletic schedule for club sports included hour and a half practices three to four times a week, and typically games on the weekends. At the collegiate level, the time commitment will include games two days a week and practices every day, in addition to "double days of training."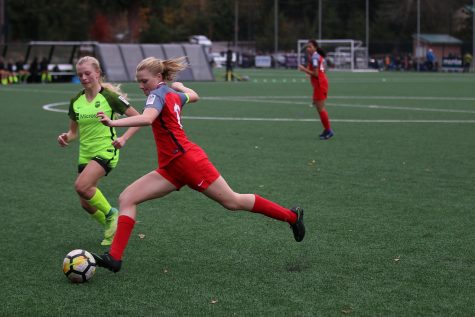 Even with commitments intensifying, Warta feels prepared for the shift. "I'm a little nervous, just because it's definitely going to be harder to make up schoolwork in college than it is in high school," she said. "[But] I think I can do it."
Throughout high school, Warta has earned various titles, including multiple honorable mentions, second team all-state, and first team all-league. She is the captain of her club team, after being given the role her junior year as well.
Warta also received the Multnomah Athletic Club scholar athlete award her sophomore year, "which is an award [given] out for kids who are both academically and athletically inclined."
Next year, Warta hopes to continue her successful career with the goal of being a starter on Regis' soccer team as a freshman. She also hopes to be named honorable mention, first team, or all-team, with the larger goal of winning a national title. "I know that's very broad," she said. "But shoot for the stars."
Warta's advice to others about the recruiting process is to not give up, and to not let other people threaten your process. She says that seeing some athletes commit very early in high school, or even in middle school was worrisome, but "remember that it's your own process, [and] it's okay to not commit super early… just know that you'll find a place."
Warta will be going to Regis late this summer, on Aug. 1, but the school's team will also be traveling to Barcelona for their preseason, where they will play against teams in Spain.
Playing soccer at Regis is one of the factors that Warta says will help her find her place at the school. "When I came to La Salle and I played for the girl's soccer team… I didn't know anybody, and being a part of a team helped me find my place in the school," Warta said. "I think that is also a reason why I want to play a college sport because it's really easy to find your people, and then feel like you belong somewhere."