Better Together Fundraiser Enters Its Final Week
Hang on for a minute...we're trying to find some more stories you might like.
With about a week to go in the Founder's Cup, students have seen many creative approaches to raising money. Some of these ways that are either planned or that have already taken place include a ping pong tournament, dog therapy day, gum sales, and an open mic night.
The Founder's Cup is a competition between all the second period classes as part of the yearly fundraiser, with this year's theme being "Better Together." Each second period class has the goal of getting each student to fundraise $150 and earning the most spirit points. Some of these funds go towards program and activity fees but ultimately, most of the money will be put into financial aid.
"It's a way of giving back to our community," Ms. Coleman said. "A lot of the students that are here now receive scholarships from past students who have donated." La Salle awarded $2.5 million in financial aid to 56% of the student body for the 2018-2019 school year.
For the last several years for the annual fundraiser, students participated in a walkathon. "I mean, you just walked," Ms. Coleman said. The goal for this year's Founder's Cup is to make the fundraising more interactive for the students and inspire more creativity and involvement. "It puts the 'fun' in fundraising," Ms. Coleman joked.
In order to raise money, classes came up with their own fundraisers.
Ms. Banta's and Mr. Hortsch's classes sold $1 wristbands that allowed students to pet teachers' dogs that had been brought in for the day, which ended up making over $150. I-study, honors pass, and free period students sold Otter Pops for $1 during breaks and lunches. Mr. Banks' class sold packs of gum for $2 and two packs for $3. A phonathon was hosted by the Advancement office where students called previous donors.
Another fundraiser was a coffee house/open mic night hosted last Friday by Ms. Coleman and Mr. Darmody. Each student who helped split the profits to go towards their individual goals. In today's second period class meeting, Mr. De Ieso hosted a schoolwide Bingo game over the intercom. 
The top three student fundraisers will be able to choose between four prizes: a laptop, personalized parking spot at La Salle, principal for a day, and a $500 Visa gift card.
The deadline for donations is next Thursday, May 30, and keep an eye out for a ping pong tournament next week from Mr. Owen's class!
About the Writer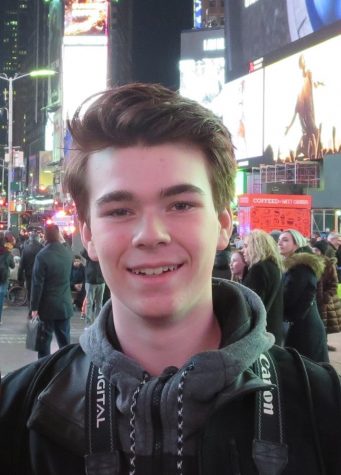 Ryan Cechini, Staff Reporter
Ryan is a sophomore at La Salle and participates on the varsity tennis team. Outside of school he loves to ski and is a photography enthusiast.