Student of the Week: Celina Massaad
Hang on for a minute...we're trying to find some more stories you might like.
Sophomore Celina Massaad has found the perfect way to balance her schoolwork, student council, extracurriculars, and social life while maintaining a 4.024 GPA so far this semester.
Massaad is currently taking Honors Biology, Honors Geometry, Honors English 2, and Advanced Art 2D. After school she finds time to play the piano, play tennis, and babysit.
Her favorite class this year has been Advanced Art 2D, taught by Ms. Cha. "I can explore the different types of art I love, and learn so much from Ms. Cha," Massaad said.
English used to be one of Massaad's least favorite subjects but English at La Salle, specifically with Mr. Dreisbach, has changed her whole perspective. "[My] freshman year I learned so much from [Mr.] Dreisbach," she said. "I am a better writer because of him, and I have been lucky enough to have him freshman and sophomore year."
Massaad's most challenging class this year is Honors Biology because of the many topics covered and "[there is] so much to comprehend." While this is a difficult class for her, Massaad has managed to earn no less than an A- in the class.
High school can cause high amounts of stress in students, especially those taking advanced classes. To manage her stress, Massaad makes sure to always stay on top of all her homework.
"I would just take it one subject at a time," she said. "If I have time, I do my homework a couple days before it's due so I don't have to worry about getting it done the day before."
Academics are very important to Massaad, but building friendships is just as crucial. "Having friends to support you and having a good time with them is also very important," Massaad said. She always remembers to make time to take a step back from her studies and spend time with her friends because "high school is hard, but balancing school and fun is important."
Next year, Massaad plans to take two AP and two honors courses. With more accelerated classes than this year, Massaad knows "how difficult this workload will be, [but] I know how much I can handle."
"I am already on student council but I want to do more," Massaad said. She wants to participate in more clubs and be more involved in everything going on around La Salle next school year.
Reflecting on her time at La Salle so far, Massaad said that she understands what it takes to succeed, and making time for both school and a social life is very important. "Make sure you learn how to prioritize accordingly," she said.
***
Do you know someone who deserves to be profiled on The Falconer? Let us know!
About the Writer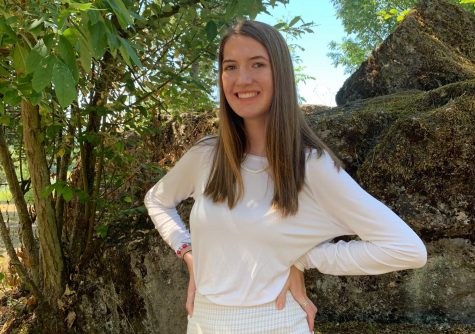 Mallory Middendorff, Assistant Editor
Mallory is a junior at La Salle. She enjoys participating in the spirit club and volunteer club. In her free time Mallory enjoys to hang with friends,...