Next Level Seniors: Lucas Van Wagner Takes His Football Talent to Pacific University
This fall, Lucas Van Wagner will continue his football career at Pacific University, a Division III school in Forest Grove, Oregon.
He is a part of a small group of seniors who have signed to play at the collegiate level, students we are profiling in our Next Level Seniors series.
Van Wagner signed a National Letter of Intent to play football at Pacific University on Wednesday, Feb. 6 and hopes to major in Psychology and minor in Art.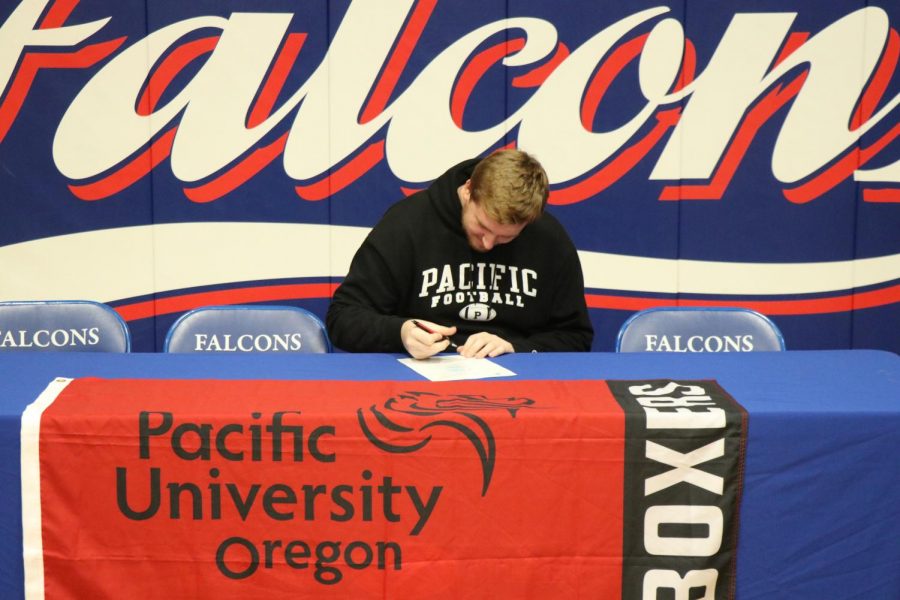 He began playing football in middle school as a way to lose weight and has never looked back since. He has found great success playing at La Salle, his proudest moments being when he went to the first round of playoffs each year that he's been on a varsity team. Van Wagner was also named Second Team All-League Offensive Lineman, another measure of his success here.
Van Wagner wasn't always at La Salle, making the transfer from Clackamas High School before his junior year.
He said he transferred because "my family and I felt I would do better, and feel more noticed than I would at Clackamas."
"I started to enjoy [football] as much as I am now, I knew that I had the potential to play in college and that [it] would be a good experience for me," Van Wagner said. "It's always been something that I've enjoyed." From then on he knew he wanted to continue to the next level.
Van Wagner also participates in track and field at La Salle, throwing both discus and shotput. He plans to continue with track and field while at Pacific University.
"Pacific has always been [one of] my top three schools… both of my parents went to Pacific University and they played basketball and that's where they met each other… so I've always had Pacific University in my top three for that reason," Van Wagner said.
While not receiving offers to play, Van Wagner's other top choices were University of Redlands and Portland State University.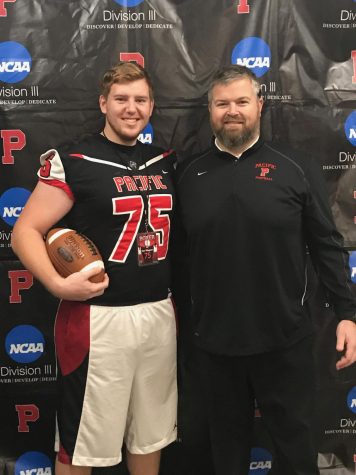 "The whole recruiting process kind of starts whenever the coaches make first contact with you, whether that's via email, or the email subscription which goes out to all football players, and then whoever is interested in those schools can continue with those subscriptions and get personal information of coaches in order to keep working with that specific school," Van Wagner said. This process began for him towards the end of his junior year.
"The recruiting process is very fun honestly," Van Wagner said. "You get to go to the school [and] there's certain overnight trips you get to do."
His biggest goal is to start in one or two games his freshman year and he also hopes to develop some skills that players there already have.
Van Wagner is looking forward to experiencing the unique Hawaiian culture present at Pacific, such as its connection to Hawaii Pacific University, a sister school to Pacific University, and to performing the Haka, a traditional dance done before football games. "The entire football team is going to have a huge Haka celebration in front of the student body at some point during the year and I'm very excited for that," Van Wagner said.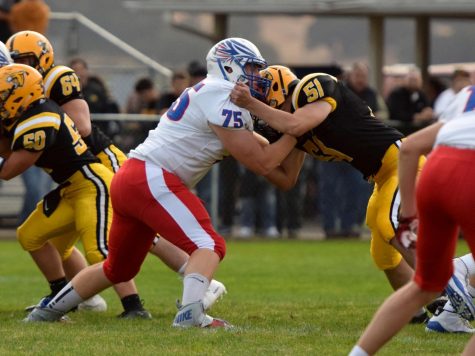 Van Wagner thinks he is up to the task of handling the increased workload that comes with balancing sports and academics in college. "I would say I am [ready]," he said. "I've had a lot of practice so far."
He hopes to finish his senior year strong and earn a GPA above 3.6, which would allow him to apply for certain academic scholarships at Pacific University.
Van Wagner's advice for anyone hoping to continue on in sports at the college level is that "there's going to be a lot of moments where you think people just have more natural talent at certain things, but I will guarantee that putting in the effort and showing that you're trying as hard as you can, will be more likely the reason you continue playing [in] college than somebody who's just naturally good at it," Van Wagner said.
Van Wagner has enjoyed his time at La Salle, saying that it "has been a true blessing, with all of its incredible teachers and aspects of faith to make me a truly happy and successful student."