Empathy, Magic, and True Love: "Beauty and the Beast" Comes to La Salle
"Beauty and the Beast," a magical recreation of a classic Disney movie, is coming soon to La Salle's theater. The opening night is Friday, April 26, and for the first time, there will be eight shows this year.
The play "Beauty and the Beast" is a story about Belle, a strong and loving character who isn't afraid to be unique, who, through an unfortunate series of events, gets trapped in the castle of a character known as the Beast. However, Belle is eventually able to help the Beast learn to love.
Belle is being played by senior Emma Foteff, who describes playing Belle as "interesting because she feels a lot [of emotion] and her compassion is so strong, and she has such a good connection with everyone."
The Beast is being played by senior Alex Ensroth, who describes the Beast as "one of the most tortured souls in existence."
The play is about true love, empathy, and not judging a book by its cover. The Beast has been cursed to look like a monster by a beautiful enchantress, and the look of a monster is an outward reflection of how he has always viewed himself. Affected by his perception of how others see him, the Beast only sees himself as a monster whenever he looks into a mirror. 
One of the major reasons that "Beauty and the Beast" was chosen this year was because of the connection that it has to the theme of empathy.
Mr. Shelton, the artistic director and drama teacher at La Salle, states that "It's really a story about the two of them learning to love another human being based on who they are on the inside and their work and their value, not necessarily what we see on the outside."
Despite much excitement for the show this year, the production team has noted some significant challenges of doing this play.
Senior Collin Olson, co-director of the play, stated that one of the unique parts of this play is that it is based on an animated Disney production. The stylistic aspect of Disney movies is hard to replicate on La Salle's stage.
"We're doing a lot of additional magic to make the show happen on such a small stage and still look good," said senior Izzy English, the stage manager of the production. "Pieces are rotating and flying across the stage so that we can create the picture that we have in our heads and the same one that Disney had when they first designed this musical."
Beyond the setting and props that are being used, there is also a lot of demanding performances required from actors in the play. Ensroth, who is finishing a long career on the La Salle stage, describes the Beast as the hardest character that he has had to play so far.
"I am forced to get deep within the story to figure out what exactly is going on, and why I am doing what I'm doing in a particular scene," he said. "[That is] something that quite honestly, I never really have done in the past."
But despite the challenges, the cast still has hope that the show will go well. "Everyone in this group is so talented," Foteff said. "No matter what, [we] will always bring our heart and soul into this and it'll turn out good in the end."
There are going to be shows on April 26 and 27 at 7 p.m., April 28 at 2:30 p.m., May 3 and 4 at 7 p.m., and May 5 at 2:30 p.m. Tickets are available here.
***
See the full cast list below!
BELLE – Emma Foteff
BEAST – Alex Ensroth
GASTON – Luke Wild
LUMIERE – Natalie Galbraith
COGSWORTH – Joe Koppy
MRS. POTTS – Rachel Jones
LEFOU – Byron Jones
MONSIEUR D'ARQUE – Andrew Harder
CHIP – Oliver Gaido
BABETTE – Olivia Galbraith
MADAME DE LA GRANDE BOUCHE – Anna McClow
SILLY GIRLS – Alison Paguio, Gabi Fontenette, Aislinn McCarthy, Grace Winningham, and Savannah Jameson
ENCHANTRESS – Ava Whalon
PRINCE – Luke Thompson
TOWNSPEOPLE/ENSEMBLE MEMBERS: Luke Thompson, James Kelley, Aaron Leonard-Graham, Brooklyn Chillemi, Emily Erving, Samantha Harrison, Paige Baines, Dakota Canzano, Sebastian Gang, Payton Jefferis, Alvina Hsiao, Mollie Kuffner, Elvan Ngo, Natalie Fuchs, Rebecca Brotzman, Jude Sablan, Cameron Thornburg, Olivia Cooley, Keira Olson, and Fiona Richards
About the Writer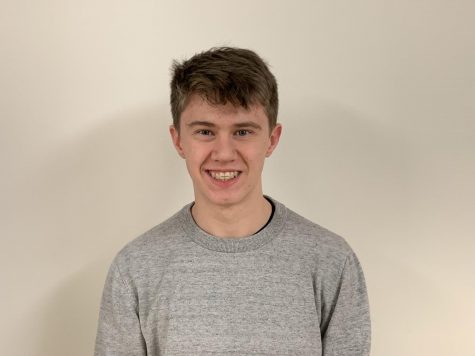 Nick Slugg, Staff Reporter
Nick is a sophomore at La Salle. He participates in La Salle's robotics team. In his free time, he enjoys playing guitar and working as a swim instructor.