Athlete of the Week: Gabby Warta
Hang on for a minute...we're trying to find some more stories you might like.
Ever since she was three years old, sophomore Gabby Warta has spent many hours on the soccer field.
Warta fell in love with the sport at a young age and has continued to play consistently since then, and she hopes to play for as long as she can.
"I started playing when my parents enrolled me in a [recreational] league at three years old," Warta said. "I loved it so much that I've been playing ever since."
She is the attacking center midfielder on the Portland Thorns Academy U16/U17 team, which is a year-round commitment, with only one month of the year off.
Along with playing soccer, Warta also runs for the varsity track and field team at La Salle. She participates in the 200 meter and 400 meter events, and plans to pole vault this season.
For the current track and field season, Warta hopes to improve her 400 meter time. Her personal record last season was 1:03.37 and her goal this year is to break one minute.
While Warta has only been running track at La Salle for one full season, she said that she cherishes all the memories and opportunities she has been able to have so far. "I have made new friends, who are all trying to get better [in] the same way I am," she said. "[I find] myself more motivated to focus on my goals for the future."
Soccer takes up a majority of Warta's free time. "Most of the time we are training, three to four times during the week and then we have one to two games on the weekend," Warta said. "We are practicing a lot, and playing eleven months out of the year. July is [our] only month off. I usually go to practice every day after school."
Her schedule is excruciating during the springtime because she has both track and field and soccer practice. "I wake up in the mornings and go to school [and] after that I have track starting at 3:30 p.m.," Warta said. "Most of the time I have to leave [track] early to make it to soccer practice on time. I normally get home somewhere between 8 and 10 p.m."
Warta said that "the most difficult part of playing soccer is the amount of traveling and the time it takes away from things. We travel for league games, so I often find myself missing a lot of school on Fridays and Mondays."
Even though Warta plays nonstop year-round soccer with only one month off, she said that she never gets tired of playing. "I love the competition and the fact I have a team full of people that support me," Warta said. "I like the adrenaline rushes of close games and the feelings [you get] when you accomplish one of your goals as a team. It is a team sport and that's one of the reasons that makes the game so fun and exciting."
She hopes to continue playing soccer in college. Warta said that she will not continue her track and field journey after high school, but will continue to run for fun and to stay in shape.
After playing soccer for twelve years and running for four years, motivation is not hard to find. "When I need motivation, I think about the reasons why I love the sport," Warta said. "I take a minute and step back from everything to regroup my thoughts."
***
Do you know someone who deserves to be profiled on The Falconer? Let us know!
About the Writer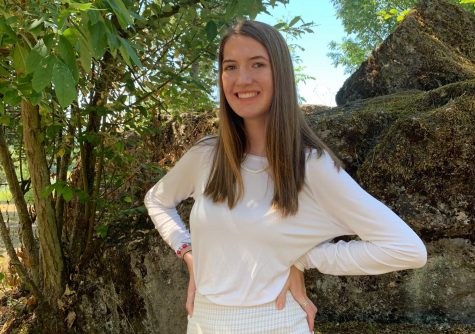 Mallory Middendorff, Assistant Editor
Mallory is a junior at La Salle. She enjoys participating in the spirit club and volunteer club. In her free time Mallory enjoys to hang with friends,...