Varsity Softball Sets Sights on Playoffs
As spring sports get into full swing, La Salle's varsity softball team feels optimistic and hopeful about the upcoming season. The team hopes to create an even stronger bond this year in order to improve their record and success in playoffs.
Coming off last year's overall record of 16-11, the team looks forward to winning more games and advancing further than the first round of playoffs, which is where they were eliminated last year by Ridgeview, losing 5-6.
The softball program has only one team this year, whereas last year there was both a varsity and a JV team. This year's team consists of 14 players: four seniors, two juniors, four sophomores, and four freshmen. They are led by head coach Kirsten Smith and assistant coaches Anna Therrell, Annie Royse, Troy Lyver, and Clark Anderson.
"I think that we have a good shot of winning our conference, as well as going a lot deeper into the playoffs than we have in quite a long time," Smith said.
Senior captains Tyka Dupuis, Kiriahna Edeline, and Abbi Maben also feel positive about the season and hope that the team can form a closer knit bond than last year's team, now that there is only one team in the program. "I'm optimistic that we'll do well," Dupuis said.
So far, the team holds an overall record of 1-3. They lost 0-2 in their first preseason game at West Albany last Wednesday, March 13. The team played Pendleton twice on Friday, Mar.15, winning one game 2-1 and losing the other one 4-8. On Tuesday, March 19 they lost 0-9 against Hood River Valley.
With four new freshmen, the captains feel confident that each of the new players can be positive additions to the team. "We do have a lot of new freshmen, and I think every single one of them has potential to show up and play the game," Edeline said.
The captains believe that one of the most important factors for the team's success is that the entire program bonds together and gets along well. They hope to cultivate a sense of camaraderie, trust, and connection within the team. "We have to trust each other on and off the field," Maben said.
Edeline hopes their team's chemistry can improve from last year's team. "Our main weakness was the [lack of] closeness [within] our team," Edeline said. "Without a close team, it's hard to work together on the field."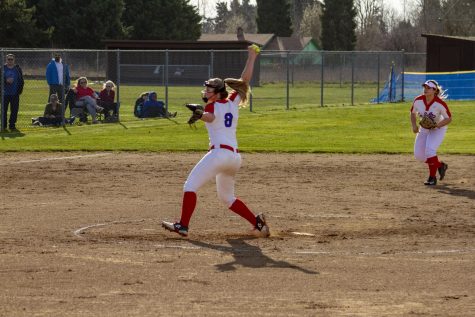 The group is excited for the upcoming tournament they will be playing in over spring break near Anaheim, California. They look forward to bonding during their trip to Disneyland, as well as facing some tough Californian competition and seeing how they can play together as a cohesive team. They hope to come out with some victories throughout the course of the tournament, springing them into the season where they will work towards winning league.
For Edeline, this season is about more than just the amount of games the team can win, or how far they can go in playoffs. "It's not always about winning and losing, but just being there for each other," Edeline said.
"[The team's chemistry] is going to be what really determines how far we're going to go together," Smith said. "We've been pushing the idea of family a lot within our program… the idea that no matter what, they're going to have each other's backs and to not doubt that [this] is going to make us much stronger as a team."
As for improving from last season, Smith feels the program as a whole has strengthened over the past year. "Having all those girls come back a little bit older, a little bit stronger, a little bit more mature, I think has definitely helped our program," Smith said. "We're stronger mentally, physically, and chemistry wise; we're just blending a lot better."
All three of the captains said that they are looking forward to their final high school softball season and leaving it all out on the field alongside some of their closest friends. Maben encourages the younger players on the team to give full effort and said, "They just gotta give it [their] all. Don't be afraid to mess it up. Just do it."
Smith is excited to see how far the team can take it this season. She feels confident in their abilities and hard work. "I think they're in for a surprise when they unleash everything that they've been working on and put it together in a game," Smith said. "I think that they have a lot of potential to do really well this season."
The group will face their rival team and biggest competitor, Putnam, twice over the course of the season on Wednesday, Apr. 17 at Putnam at 4:30 p.m. and Friday, May 3 at home at 5 p.m.
Next up, they will face Ridgeview tomorrow, Thursday, Mar. 21 at home at 4 p.m.