Athlete of the Week: Nico Hey
Hang on for a minute...we're trying to find some more stories you might like.
Senior Nico Hey's passion for tennis, which started when he was five years old, has led him to become one of La Salle's top varsity players.
Hey started to play because he used to watch his family playing tennis. His brothers, Max Hey '12 and Xander Hey '14, both graduated from La Salle, and were also successful tennis players who won the doubles state championship title in 2011.
Hey is the captain of the varsity tennis team at La Salle, and has been on the tennis team since his freshman year. Over the years that he has been playing, he has had many impressive accomplishments.
One of his most memorable moments was winning second place in the state doubles championship his freshman year, alongside Thomas Foy '16.
"That was a big part of my life because hard work does pay off and that showed," Hey said. "Even though I didn't get first, it was still [a] really fun experience to go to the state finals and participate in that."
He has also won a most valuable player award and first team all-league. He placed third in districts for singles in 2017 and first in districts in 2018.
Hey has two main aspirations for the tennis team this year: beating a top player from Churchill and getting everybody on the team to state. He says La Salle's team is the best team in 5A this year.
"This year our team is really strong," he said. "We have a lot of good players, so it should be an exciting year for us."
Because he has been playing for so long, he has faced many difficulties throughout his years of playing. He stated that his greatest challenges are "being lazy and not wanting to play."
Hey also states that he faces a lot of pressure when he plays because of the success that his older brothers had. "I feel like I need to one-up them in a way, and I want personally to be better than them, so that also gives pressure," Hey said.
However, he still feels intrinsic motivation to play tennis. He says that his self determination helps to keep him motivated. "The thought of wanting to win is something that always makes me want to play more because everyone likes to win, but it does take a lot of hard work and practice to get there," Hey said.
"I need to realize that I'm good at the sport that I play, and that's something I need to take advantage of," Hey said.
Although Hey has had a very successful time when it comes to playing in high school, he isn't planning on playing in college. Instead, he wants to focus more time on his career, pursuing either computer science or construction engineering at Oregon State University.
Hey practices tennis every day of the week for an hour and a half and on the weekends for two hours.
Next up, the boys tennis team has a match against Hood River at home tomorrow, March 21 at 4 p.m.
***
Do you know someone who deserves to be profiled on The Falconer? Let us know!
About the Writer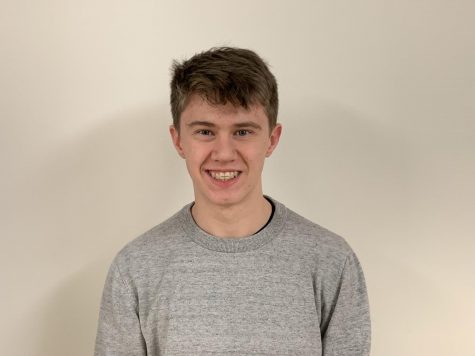 Nick Slugg, Staff Reporter
Nick is a sophomore at La Salle. He participates in La Salle's robotics team. In his free time, he enjoys playing guitar and working as a swim instructor.