Ten Decorations in Teacher's Classrooms and the Stories Behind Them
Hang on for a minute...we're trying to find some more stories you might like.
Whenever you walk into a teacher's classroom you probably notice all of the posters and pictures on the walls and all of the little knickknacks that seem to be carefully placed on their desks, but do you ever wonder what the story is behind these decorations?
Probably not.
Here are ten little things found in classrooms around La Salle and the stories behind them.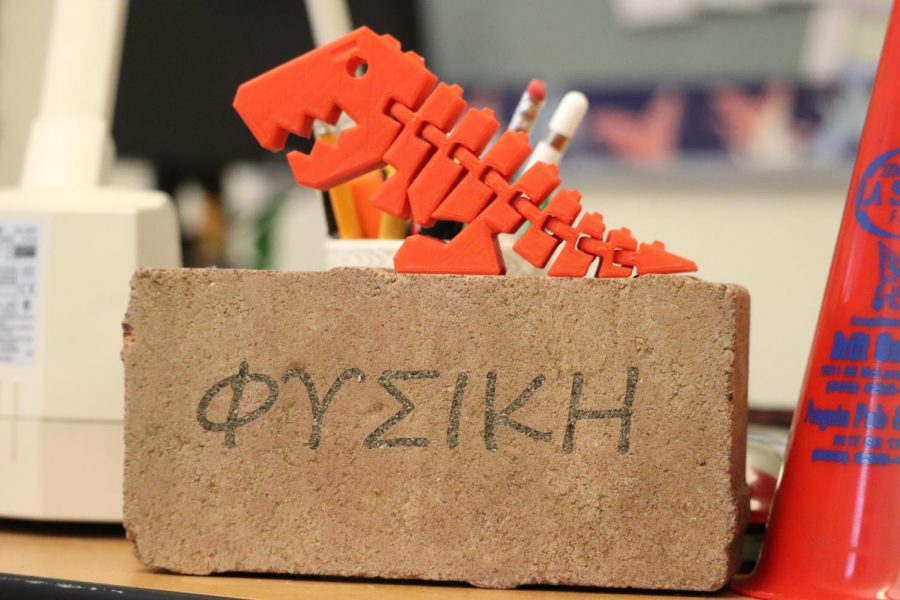 This photo of a little toy T-Rex sitting on top of an inscribed brick was taken in Mr. Voge's physics room. I asked Mr. Voge if there was anything extra cool in his room and he immediately began explaining the significance of both of these little gems by first introducing me to his friend, "Flexy-Rexy," who was 3D printed in La Salle's very own Maker Space. The brick that Rexy sits on top of has a similar story. Mr. Voge used the laser in the Maker Space to engrave the Greek word for "physics" into it, transforming it from a boring old brick into a lovely plaque.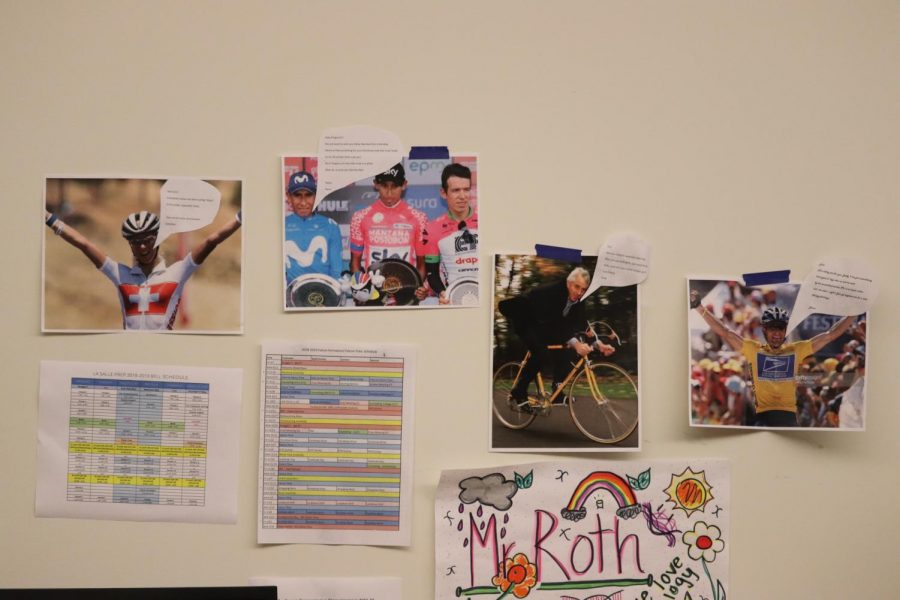 Continuing down the science wing, I decided to stop by Mr. Roth's biology room. I asked him the same question I asked Mr. Voge, and he responded by bringing me into his office and showing me this wall decorated with pictures of professional bike racers with funny little blurbs posted on each of them. Mr. Roth explained that he's not a diehard fan of bike racing; however, he does enjoy it, and this collection of funny little memes was an "awesome" series of secret Santa gifts that he received from Mr. Krantz this year.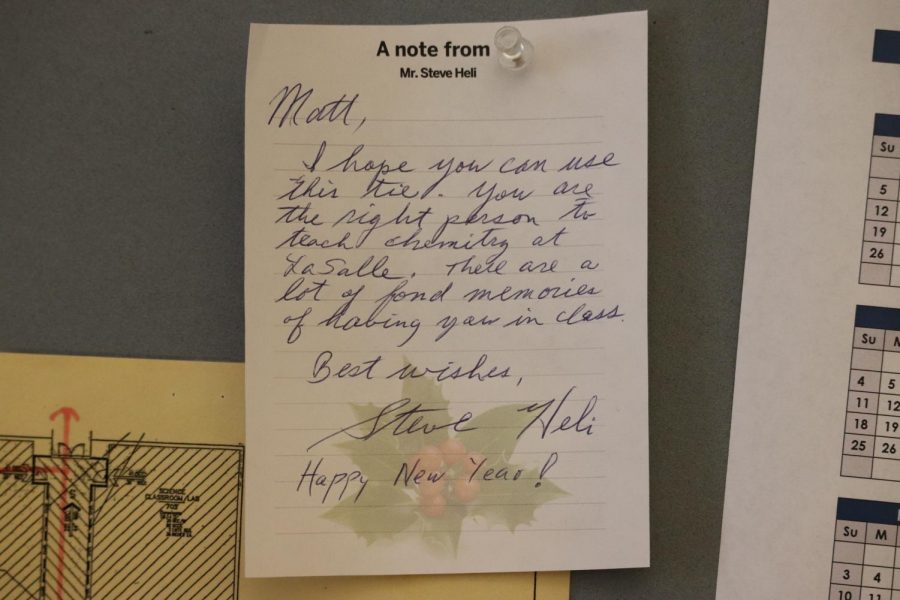 This picture of a note was taken just across the hall in Mr. Owen's chemistry room. Mr. Owen explained that the note, along with a chemistry themed tie, was given to him as a gift from his high school chemistry teacher.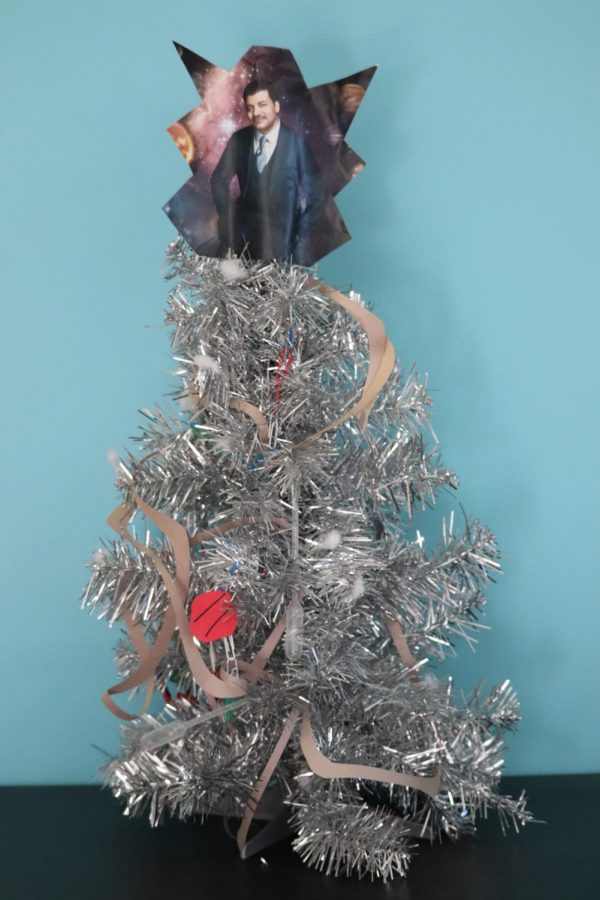 Walking down the hall towards the library, I stopped by the Maker Space to see if Ms. Coleman had any fun little decorations of her own. With an eager smile, Ms. Coleman drew my attention to this fake Christmas tree adorned with a handsome star shaped cutout of Neil Degrasse Tyson. She explained that Tyson is her "#3 biggest science crush" and he's an astrophysicist so it only made sense to cut his picture out into the shape of a star.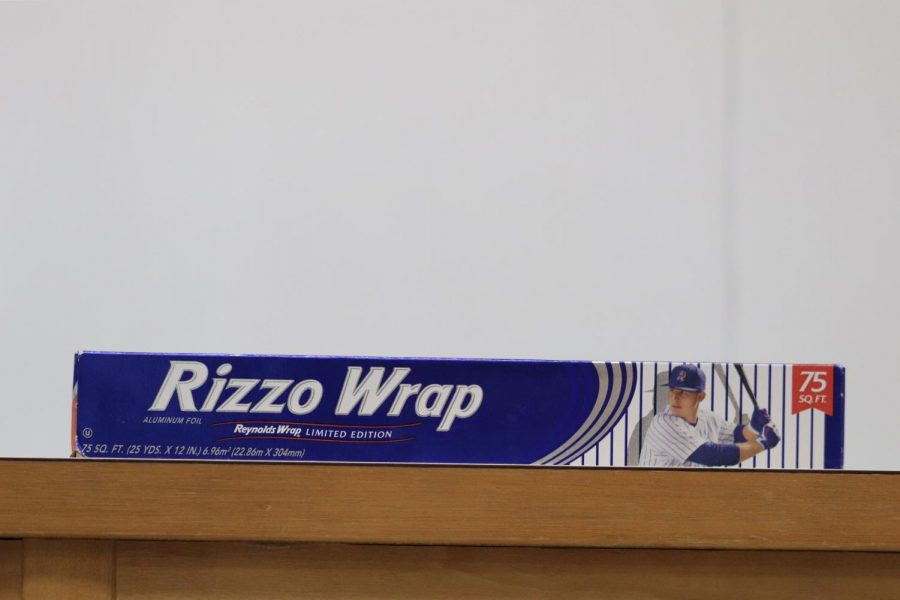 For those of you who don't know Mr. Lanaghan, he is a huge Chicago Cubs fan, so there are many Cubs themed items in his room; however, the story behind this box of Reynolds Wrap aluminum foil is extraordinary. Mr. Lanaghan explained to me that the unique name of this particular box of aluminum foil is called "Rizzo Wrap" because Cubs first baseman Anthony Rizzo's position is right next to the Reynolds brand tarp, which is used to keep the field dry during rainy games. According to Mr. Lanaghan, Anthony Rizzo made a deal with Reynolds Wrap that if the Cubs won the World Series they would have to change the name of their product to Rizzo Wrap. Sure enough, that year in 2016, the Cubs were the World Series champions.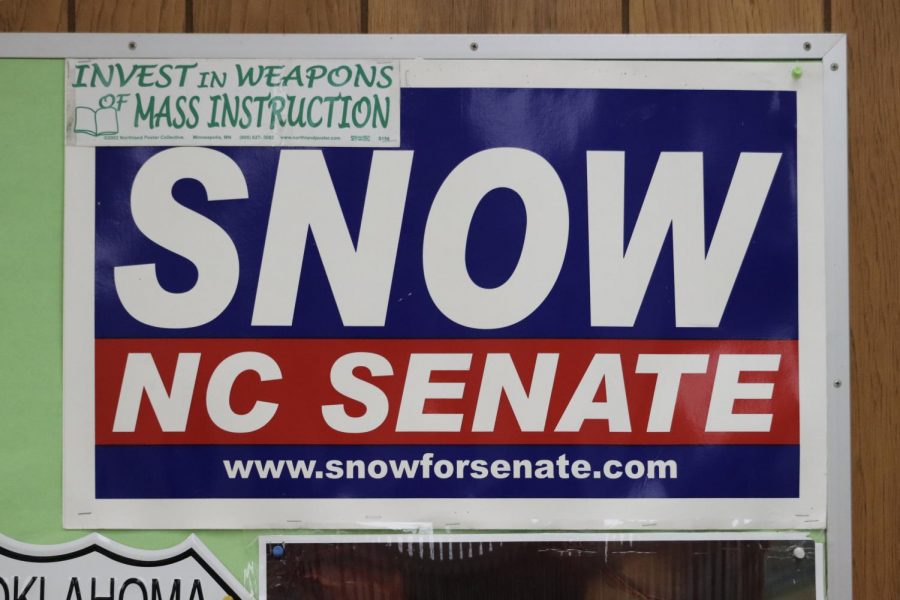 Just next door to Mr. Lanaghan, Mr. Snow told me the story behind this political yard sign mounted on his bulletin board. Mr. Snow explained that it's a politician's sign from North Carolina that one of his old coworkers gave him after she had asked the person who originally owned it if she could take it from their lawn. Now the sign sits snugly on this corner of Mr. Snow's classroom wall.

On the other side of the school in Mr. Krantz's English room, Mr. Krantz has this art piece by senior Emma Sheets sitting on top of a cabinet in the back of his classroom. This pen and ink portrait portrays a member of the Tohono O'odham tribe, whose lands are divided by the southern border between Mexico and America. Sheets explained what this piece meant to her by saying, "I wanted to give any sort of voice to the Tohono O'odham nation since they don't really have much of one."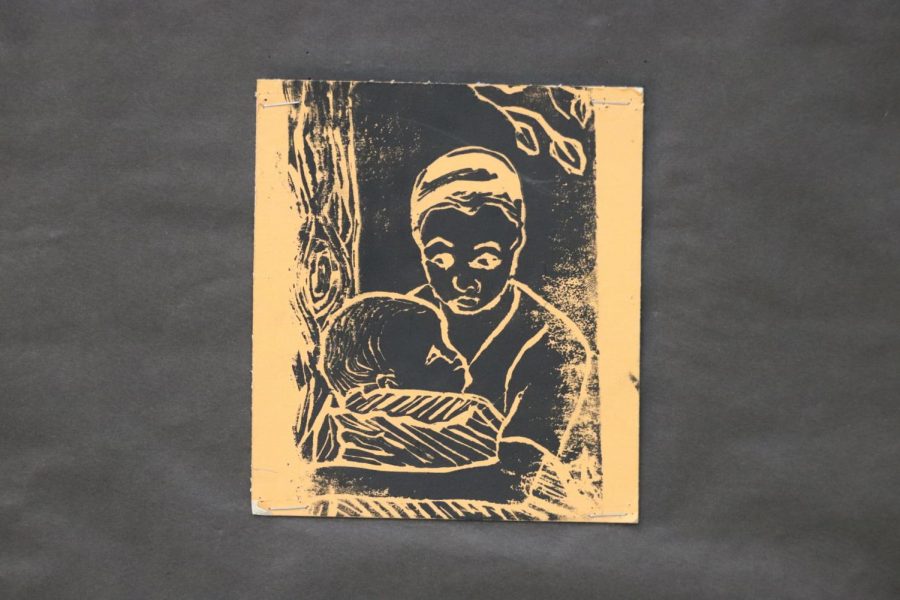 This is a picture of a print mounted on the wall to the left of the door in Mr. Dreisbach's room. According to Mr. Dreisbach, a student made him this while his wife was pregnant and it's been hung up here as a little memory since then.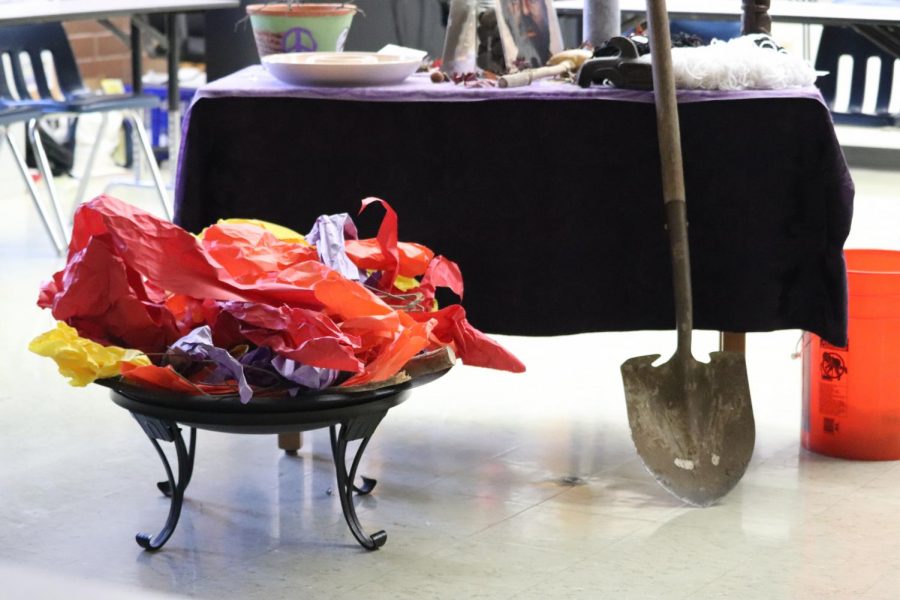 This is a photo of the alter and paper fire pit located in the center of Mr. Mac's classroom. When I asked Mr. Mac if he had any interesting or sentimental pieces in his room he pondered the question for some time before drawing my attention to a curious item, the shovel. When I asked Mr. Mac what it meant to him, he said, "It's a reminder for everyone to dig deep, not only in the curriculum, but in yourself."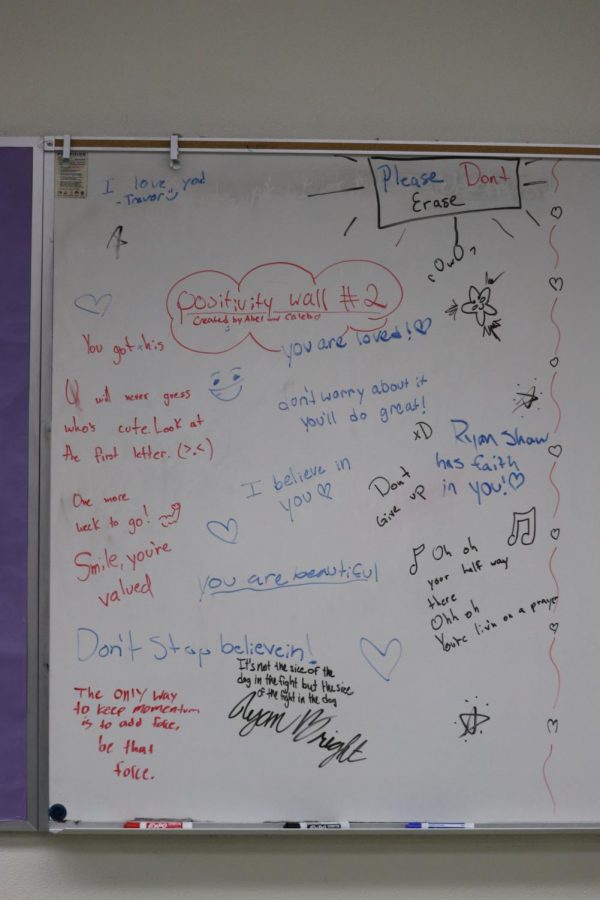 While this isn't the prettiest of pictures, the message is quite nice. This is a picture of the white board in the back of Mr. Redford's classroom. Mr. Redford calls it the wall of positivity. He explained that students come in and write positive notes on the left side of the board as a reminder to stay positive, especially during finals.
About the Writer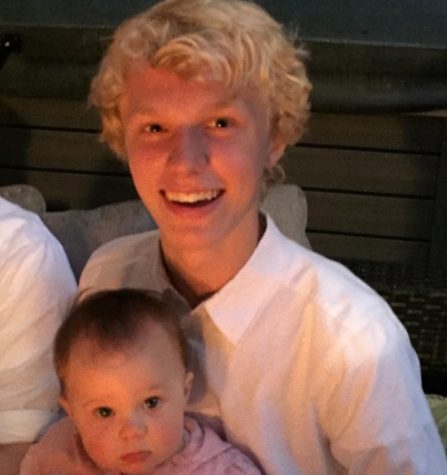 Sam Hull, Staff Photographer
Sam Hull is a senior at La Salle who enjoys playing soccer and skateboarding. On the weekends Sam spends most of his time working as a dishwasher at Papa...