La Salle Administration Sees Nose Piercing Decision Process As Model for the Future
Hang on for a minute...we're trying to find some more stories you might like.
A student committee of five La Salle students has worked with the La Salle administration to make a new change to the dress code that now permits a single, small stud nose piercing.
Mr. Brian Devine, the Vice Principal of Student Life, and principal Mr. Andrew Kuffner hope to repeat this process of incorporating student voice in the future. Mr. Devine said that he hopes to continue to consider student voice in implementing policies and procedures, and "open that opportunity and make it broader."
The student committee consisted of seniors Kiriahna Edeline, Dani Rinz, and Madison York, junior Rainy Longoria, and sophomore Stella Mack. They worked with Mr. Devine over a span of two meetings last month, and the approved change was announced by Mr. Devine on Friday, Feb. 8 on Schoology.
The formation of this committee came as a result of Mr. Devine inviting the girls via Schoology message, on Tues. Jan 8, to develop a proposal in a student-led process that would then be shared with the school administration. Conversations between some of the girls and Mr. Devine about their nose piercings, as well as dress code interactions, had previously taken place.
In Mr. Devine's invitation, he "didn't offer that group of students any guarantees, but I did say… if we collectively work together to create a proposal that I could share with Mr. Kuffner, he'd be open to considering that," he said.
Within the two meetings, the girls discussed why they got nose piercings and what changes they wanted to the handbook. Mr. Devine also instructed the student committee to research "some of the practices of other academic institutions and… some of the dress code criteria for some of the professional settings that are here in Portland," he said.
They found that nose piercings are "becoming more acceptable in workplaces," York said. "Like in the medical field, OHSU allows them."
"My mom works at OHSU and I was asking her what the policy on piercings was there," Edeline said. "OHSU has a policy where they cannot discriminate [against] anyone with piercings, tattoos, different hair colors, etc. It really took me by surprise and from this I wanted to try to make a change in the dress code."
In OHSU's Professional Appearance Policy, it states that "one facial surface piercing with stud jewelry" is permitted. "That was a big thing because you think of doctors and surgeons [being] allowed to have piercings, so why can't we have them in schools now?," York said.
Longoria added, "From the research we did, we couldn't find a working environment where [a nose piercing] wouldn't be allowed."
Here are the policies that some of the other Catholic schools in the area follow:
Before this change, La Salle's handbook stated that "facial piercing is not allowed except for the ears."
Mr. Devine said the dress code is focused on "the standards that we would expect in an academic setting or in a professional setting… and part of what we see the dress code is providing for students is a blueprint for navigating the dress codes of life."
Because of this focus, "there was a general agreement for a number of years that facial piercings weren't reflective of a more academic purpose, or more professional purpose," he said.
Mr. Kuffner does not necessarily think the dress code is locked in. "We try not to have [the dress code] tied towards trends," he said. "So it's not 'we don't like that kind of clothing'… it's not a trend thing, but it's more towards a professional environment, and the professional environment continues to change."
Although Rinz knew having a facial piercing was against the policy, she "saw other students have nose studs who didn't get in trouble."
Rinz explained that she didn't get her nose pierced just for how it looked, but instead "for a boost in my overall self-confidence," she said. "I hate my nose a lot. [Getting] it was pivotal in my self-confidence, even though it's just a tiny piece of jewelry. It helped me decorate a part of my body I disliked so I could like it."
Mack "grew up just kind of wanting one" because "my mom has had one for 30 years, and she got hers pierced when she was my age," she said. "Last summer my mom let me get one as long as I paid for it. So, I saved up the money, and got it pierced."
For some, the reason behind a nose piercing taps into their culture. "In my family, once a woman turns a certain age, they get their nose pierced," Longoria said. "It's a tradition."
Coming back to school, Longoria knew about the past nose piercing policy, but "I did it anyways because I thought that La Salle would be understanding about my culture and my background," she said.
Mack "didn't realize nose piercings weren't allowed," she said. "I knew they were allowed at Central Catholic and St. Mary's so I just assumed they would be allowed at La Salle too. I couldn't think of a reason why they would not be. I had also seen people wearing nose piercings the year before."
When students would be caught at school with a nose piercing, Mr. Devine would "ask them to remove the nose piercing," he said. "But some information that was new to me this year was that nose piercings take a lot longer to heal than I ever anticipated." In fact, they usually take around 3-6 months to heal.
"Even if the day we get out for summer break a student got their nose pierced, it still wouldn't be healed by the time school started," Mr. Devine said. "It kind of just precluded students from being able to wear any kind of nose piercing throughout their entire high school career, and we felt like that felt unrealistic."
Two years ago, the administration worked with the student senate to hear student perspectives on the dress code. What emerged from that was the ability to wear athletic pants on Falcon Fridays, and female students could wear leggings with a tunic-length top during the week.
"The only recommendation the student senators had that didn't get embraced was the nose piercing," Mr. Devine said. "That got turned down by the administration at that time, and so it stuck in the back of my mind as something I wanted to revisit… And I think we were in a different place after two years of consideration, and also a little bit of seeing what other schools were doing."
Mr. Devine highlighted the importance of students sharing their opinions and ideas.
"I really try to invite student voice, hear student voice, and allow that to be in consideration when we think about policies and procedures," Mr. Devine said. "This was a pretty rare circumstance and… it sort of laid the groundwork for the possibility of doing something like this again.
Mr. Devine is hopeful that this could be the start of something new. "I think in most schools there's a notion that policies and procedures are determined by the administration and just handed down to the students," he said. "I'd like to continue to shift and maybe even accelerate the shift of providing student voice in that decision-making, because what I found is that students are number one, they're invested, and number two, they've got great insights."
Mr. Kuffner echoed these sentiments when he said that besides "personnel or student discipline decisions… ideally you always have student voice as part of any decision making process."
Both Mr. Devine and Mr. Kuffner encourage students to approach the administration with their thoughts and ideas because "our focus as a school is that students should be at the center of our focus," Mr. Devine said. "We want the student experience to be at the center of what we do. We want student learning to be at the center of what we do."
The school "[has] to include those moments and opportunities" when students come forward with ideas," Mr. Kuffner said. "[And] always pay attention to just how open and accessible we are to listening."
As an example of this, Mr. Kuffner has been talking to a group of students from Ms. Carie Coleman's Intro to Design Thinking & Tools class who presented an off-campus lunch proposal. Because this possibility would require a bell schedule change, Mr. Kuffner said it won't happen this year, but "would be something we would look at for future years."
Mr. Kuffner cautioned that "the challenge is that if you get kids' hopes up, they're like oh, not everything can be changed mid-year." But with the nose piercing proposal, they "decided they could [go through with that]."
When working to make a change, York advises students to "stand your ground in a nice way."
"Honestly, I did not think anything was going to come out of this nose piercing thing," Rinz said. "You should fight for what you believe in, because you might surprise yourself with the outcome… It's really empowering to be the voice, and I encourage everyone who wants to make a change to try."
Reflecting on the outcome, Mr. Kuffner praised the determination of the group of students who participated in this process.
"In this case, the students didn't just come forward saying, 'Hey, we want to change this,'" Mr. Kuffner said. "It was, 'We want to change this and we're willing to do the research required and we're willing to make a compelling argument.' [They] presented a very thoughtful proposal based on evidence, and isn't that what we teach? Make an argument based on evidence. That's critical thinking, so if we can… adhere to that, then I think we'll always be in good shape."
About the Writer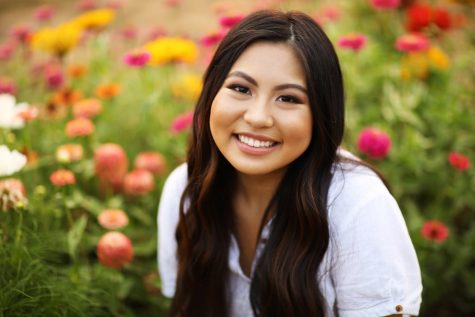 Samantha Kar, Editor in Chief
Samantha is a senior at La Salle. She is a varsity swimmer on the swim team. In her free time, she enjoys playing the piano, photography, and hanging out...