Ariana Grande's "thank u, next" Celebrates Self Growth While Topping Charts
Hang on for a minute...we're trying to find some more stories you might like.
Dropping an album earlier this month on Friday, Feb. 8, just six months after her last, Ariana Grande's album "thank u, next" may be her best one yet.
Grande has taken the time to find herself after the past 18 months where she experienced a terrorist bombing at her concert in Manchester, an engagement, a wedding called off, and her ex-boyfriend, Mac Miller's, death. She used all of her hardships and life lessons to compose a musical masterpiece.
For the first time since the Beatles in 1964, Grande holds the top three spots on the Billboard Top 100's list with "7 rings," "breakup with your girlfriend, i'm bored," and "thank u, next."
Grande's hit single "thank you, next" took the world by storm when released last year on Saturday, Nov. 3. No one was prepared for this bubbly pop-anthem with meaningful lyrics. It celebrated Grande's emotional growth instead of tearing down all her exes.
Along with the song, the music video was one to remember. It fused together four iconic movies from the early 2000's: "Legally Blonde," "Mean Girls," "13 Going on 30," and "Bring It On." The music video also included multiple celebrities: Kris Jenner, Jennifer Coolidge, Jonathan Bennett, Elizabeth Gillies, and many more.
Number 1 on Billboard's Top 100, "7 rings" is played over a modified version of "My Favorite Things" from "The Sound of Music," but still has the unique Grande flare. This song may be soaring off the charts, but her constant repetition and attempt of rapping makes the song less appealing to listen to.
"bloodline" may be one of the best songs on "thank u, next." The upbeat and cheerful melody makes you want to stand up and dance.
On the other hand, "imagine" has a much slower beat. It starts off the album by illustrating what the perfect relationship is. Grande's lyrics touch something real and pure.
It only took Grande and her team two weeks to record this remarkable album. "thank u, next" is already breaking records and doesn't look like it's going to stop anytime soon. "thank u, next" tells the story of Grande overcoming all the obstacles in her life and finding her real self. From very intimate songs like "ghostin" to her pop hit "break up with your girlfriend, i'm bored," Grande showed the world that nothing can stop her from shining with this album.
My overall rating: 9/10
About the Writer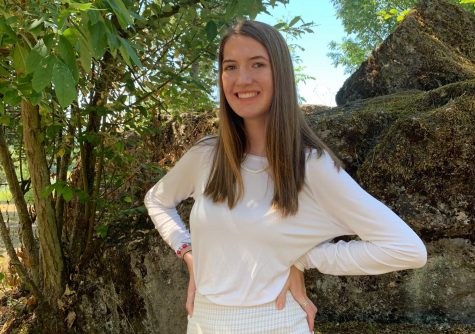 Mallory Middendorff, Assistant Editor
Mallory is a junior at La Salle. She enjoys participating in the spirit club and volunteer club. In her free time Mallory enjoys to hang with friends,...