Tarn's 10 Songs to Get You Through the Rest of Winter
Hang on for a minute...we're trying to find some more stories you might like.
The following article includes music and videos containing explicit content.
With more than two full months of winter remaining, it can be hard for students and teachers alike to stay focused as the days continue to seem gray and gloomy. Winter can be filled with snow, smiles, and cozy memories, but it can also feel slow and dragged out as the weather keeps us inside constantly.
Music can allow an escape from these cold and rainy days, allowing for some time to just sit back and wait for the sun. Whether you're reminiscing over past relationships with Cousin Stizz, or falling in love with Lady Gaga and Bradley Cooper, here are ten songs to get you through the rest of winter.  
Summer's Gone – NoMBe ft. Thutmose
With the smooth and relaxed sounds of NoMBe, "Summer's Gone" reminds listeners that you can still find love in the winter. If you're looking for a chill and upbeat song to bring back a little taste of summer love, this may be it.
Push Off – The Palms
With a unique and stylish sound, The Palms do not disappoint. The band's blend of multiple genres of music is what makes listening to them refreshing and unforgettable. "Push Off" is the perfect song for when it's twelve AM and you are vibing in your room alone, or when you're just trying to escape the rain.
Everytime – boy pablo
From the band's extended play record Roy Pablo, "Everytime" provides a kicked back summer night like vibe that is perfect for watching the rainfall or for star gazing anytime of year. Just like the band's Spotify bio, the song can easily be described with one word, "yeah".
Screwed Up – Cousin Stizz
If chill rap with a bit of flavor is what you want, look no further. With the flow and rhyme scheme of some 90's rap, and the wavy beats of modern trap music, "Screwed Up" is a great song to listen to when it's just too cold to go outside. The slow and stylish beat of "Screwed Up" creates a trance like effect that is perfect for when it is raining.
Shaky in the Knees – Grizfolk
By combining genres like folk and electronic music, Grizfolk creates a sound like no other. With relaxing vocals and an uncommonly upbeat sound, "Shaky in the Knees" is great for those winter days that are low-key and still somehow spontaneous.
Feeling Whitney – Post Malone
A song that is perfect for those slow and rainy days, "Feeling Whitney" not only depicts Austin Post's struggle to reach sobriety, but also showcases the rapper's true musical talent outside of rap. With a gentle acoustic sound, the song still manages to address drug abuse in a way that is hopeful and truthful.
Beige – Yoke Lore
With by far the strangest music video on this list, "Beige" by Yoke Lore combines pop, electronic music, and banjo for a different but satisfying sound that is perfect for a rainy walk or drive. The song itself focuses on learning about who others truly are, regardless of the faults in their character. "Beige" is a great song for those looking for a positive and cheerful sound that reminds listeners spring is soon to come.
Hallucinogenics – Matt Maeson
Listening to "Hallucinogenics" will leave you wondering why you have never heard of Matt Maeson before. This song is great for any time you want to jam out to the sounds of acoustic, or if you are just relaxing at home and need something with a little more kick.
Empty – Kevin Abstract
From the popular band Brockhampton, Kevin Abstract creates a laid-back beat with vibrant vocals as he conveys a deep message about a prior relationship in his life. "Empty" combines pop, alternative rock, and R&B to create an optimistic sound that is unique to Abstract's work.
Shallow – Lady Gaga, Bradley Cooper
From the Golden Globe winning film A Star Is Born, "Shallow" tells an amazing love story. With breathtaking vocals and crisp acoustic guitar, the song manages to tell a real and important story while perfectly blending both pop and rock. This is a song you will find yourself rocking out to at any time of day.
About the Writer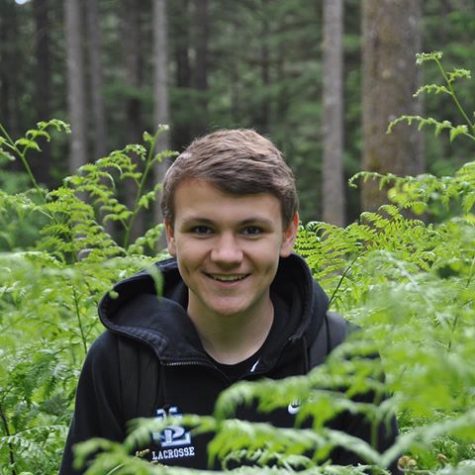 Tarn Bregman, Assistant Editor
Tarn is a senior at La Salle. He is a varsity lacrosse player and actor in La Salle's theater program. In his free time he enjoys photography, spending...