Behind the Scenes With La Salle's Cafeteria Staff
Hang on for a minute...we're trying to find some more stories you might like.
The La Salle cafeteria staff are hard at work behind the scenes and sometimes without much recognition, as many students are not familiar with those who work to keep the cafeteria running.
They prepare the food we eat every day and clean up our mess.
Not only do they work together to provide food for our school, but they also have busy lives outside of their jobs.
Meet the cafeteria staff:
Ms. Kim McCarthy, who has been at La Salle for fifteen years, is the kitchen manager and supervisor, making sure everything runs smoothly. She is responsible for all the products coming in and handles the money, invoices, and the different departments. "It's not only the lunch; it's all the events and any kind of food need," Ms. McCarthy said. Outside of work, she enjoys watercolor painting.
Ms. Pam Matteson has been at La Salle for eleven years. In the morning, she makes all of the sandwiches. She often works with the volunteers that come in and assigns them tasks. When Ms. Matteson has down time, she enjoys watching reality TV, specifically "The Real Housewives."
Ms. Becky Tetherow, going on twelve years at La Salle, works the salad bar. She prepares the fresh produce in the morning and packages the fruits and vegetables to be sold. "I am in charge of all the grab and go things you see," Ms. Tetherow said. She makes jewelry and pottery in her free time.
Ms. Megan Gabel, the head chef, has been at La Salle for three years now. She and Ms. McNassar work together to prepare the main entrée of the day. Ms. Gabel also handles the menu for each week. She enjoys spending time with her kids, kayaking, and doing karaoke outside of school.
Ms. TaGone McNassar, the sous chef, has been at La Salle for four years. She works inside the kitchen with Ms. Gabel, keeping the food coming out at a constant flow. When Ms. McNassar isn't working, she's playing solitaire or is the team mom for her daughter's soccer team.
Ms. McCarthy, Ms. Matteson, and Ms. Tetherow have known each other for years because their children went to grade school together. Ms. McCarthy started a lunch program at the grade school and even helped put together a new kitchen at that campus. After four years of that, Ms. McCarthy moved to La Salle and "snuck [Ms. Matteson and Ms. Tetherow] in with me."
Ms. McNassar used to be a volunteer. "She would just come in to help, but we loved her so much [that] we had to bring her in," Ms. McCarthy said.
The cafeteria staff's strong relationships created in the past carry over into their time now at La Salle, where they get together outside of work as well. They often see each other at mutual events, Super Bowl parties, and other gatherings.  
Even after some of their kids left La Salle, all of the cafeteria staff stayed "because we like it," Ms. Tetherow said.  "My girls go here, they love it," Ms. McCarthy said.
When asked what their favorite part is about being a part of the La Salle community, Ms. McCarthy said "being around young people," to which they all agreed. "The hours are good, coworkers are fun. Great, great atmosphere with the teachers and staff," Ms. Tetherow added.
When it comes to planning, the cafeteria staff have "group sessions in advance in a three week rotation," Ms. Gabel said. In those meetings, they decide on what they are going to put on the menu for the next three weeks, so then they have time to gather all the ingredients.
When preparing the food, the cafeteria staff go through five hour stages, getting each part of the meal made. Once they arrive at school between 6 and 6:30 in the morning, they begin the preparation right away. They cook part of a meal, and while that is cooking, they may work on a different part of the dish or do other things to get ready for the day.
The cafeteria staff usually leave around 2 p.m.
"We do everything that day," Ms. McCarthy said. What they sell is what they have prepared that morning.
During different times of the year, they have seasonal dishes and introduce new dishes to switch things up. For example, in the winter, lasagna is introduced.
Every year, the cafeteria staff acclimate to the new students. They have to figure out what sells and what they are not going to sell. "This year a lot more of the freshman girls [are] buying salad," Ms. Tetherow said.
After the A and B lunches have ended, the cafeteria staff clean up the aftermath. They wipe down and restock. Ms. Gabel places orders for items they need for the upcoming week.
One of the most difficult parts of their job is figuring out what students and staff are going to eat and how many are going to want what they are making. "We have numbers that we go off of and just go with that," Ms. McCarthy said.
"We love feedback and we are always open to suggestions," Ms. Matteson said.
They want to know if a certain dish is disliked or should be prepared more often.
"Don't be afraid to talk to us. Tell us, 'that was gross!,' 'too much cheese!,' or 'hey, have you ever thought about making this?" Ms. Tetherow said.
Not only do they love feedback, but they would also love to have kitchen assistants. Ms. McCarthy said, "[It] looks good on college applications." If you are interested, talk to your counselor for more information.
About the Writer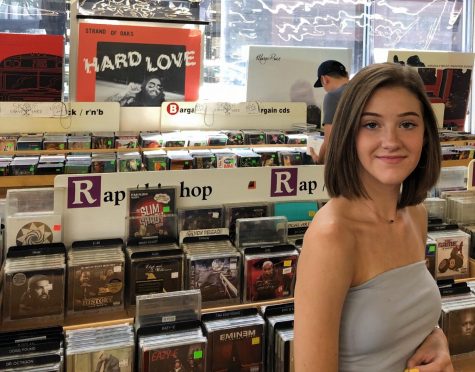 Cassie Hauck, Staff Reporter
Cassie is a junior at La Salle. She enjoys spending time with her friends and family. She enjoys going out with her friends and exploring and taking pictures...