Student of the Week: Nicole Khoury
Hang on for a minute...we're trying to find some more stories you might like.
Senior Nicole Khoury is an exceptionally hard-working student. She balances her schoolwork with serving as the Officer of Community, and also being a member of the West Linn dance team. Currently she is taking four honors and AP classes: AP Calculus AB, AP Biology, AP English IV, and Honors Spanish IV, all while maintaining a GPA of 3.88 so far this semester.
She believes that time management is extremely important when balancing her schoolwork and extracurricular activities. "Time management is key," Nicole said. "I try to plan out my week with my practices, meetings, and homework or tests from each class to see what I need to do before, during, or after the school day."
Nicole's motivation is mainly rooted in her goal of self-improvement. "I want to prove to myself that I can accomplish anything once I believe in myself, and I've had a lot of backlash from people who are close to me that always say that I'm too packed this year, so it's also another way for me to prove them wrong," Nicole said.
Out of all of her classes, the subjects that she most enjoys are math and science, so it is no surprise that she plans to major in and pursue a career that has to do with science. "I recently have been accepted to the University of Portland and Pacific University but UP, OSU, and PSU are definitely my top choices," she said. "I plan to major in biology and chemistry and hopefully pursue dentistry as my career."
Nicole's teachers have made an impact on her time here at La Salle. "Mr. Swanson has always been there for me to either talk or help me with math, and I appreciate him so much for [that]," Nicole said. She also appreciates her Honors Spanish 4 teacher, Mrs. Moran. "She truly is an amazing teacher because she never stops putting a smile on your face or blessing the day with playing board games in Spanish [class]," she said. "I [can] always come to her to rant about anything and she [will] always give me great advice."
Not only have her teachers made an impact on her, but so has the rest of the La Salle community, which she said is her favorite part of La Salle. "We have great teachers, very insightful counselors, and an amazing staff that I think students here take for granted, because I know I did," Nicole said. "Our teachers are always there to help us before, during, or after school, and they want to see us succeed… our counselors help throughout college admissions, are always checking in on us, and their offices are definitely the place to take time off from your schedule to chill or take a nap."
When she isn't doing schoolwork or participating in extracurricular activities, she enjoys spending time with her sister. "I love watching Netflix or having movie nights with my sister," she said. "Because of how busy I am, I rarely have time to watch a ton of TV."
Looking ahead to the rest of the year, Nicole wants La Salle students to know that "as officer of community, I'm very excited to execute more fun events for the school alongside President Isabella Griffiths and all of student council; we have a ton of great ideas, so stay tuned Falcons."
About the Writer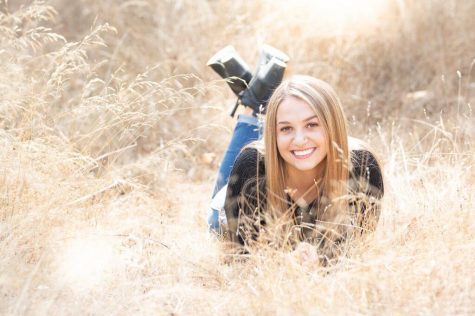 Nicole Finley, Staff Reporter
Nicole Finley is a senior at La Salle. She enjoys coaching swim team and teaching swim lessons during the summer. In her free time she likes to spend time...