O'Sushi Restaurant Review: Fast, Affordable, Close to La Salle
Have you ever ended the school day starving and looking for a cheap and quick place to grab food with your friends?
O'Sushi, located at 11424 SE 82nd Ave., is an affordable restaurant with high quality sushi that is the perfect place to satisfy your after school hunger.
O'Sushi has multiple chefs working in the center of the restaurant, as well as waiters walking around to take your order if you don't see any items going around that interest you. O'Sushi has many different assortments of sushi going around a conveyor belt with all the tables and booths distributed around them. With 317 reviews, the average rating on Google for O'Sushi is 4.4 stars, which I think is fitting.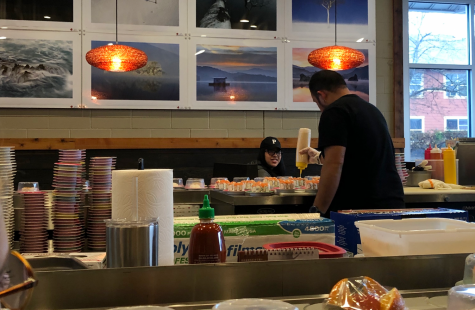 When I go to O'Sushi I typically get their salmon, which is just salmon on rice. It is full of flavor and has the perfect ratio of rice and fish. They have soy sauce, wasabi, and ginger available with your food. The restaurant offers many different types of sushi that all have had a crisp clean taste every time I have gone to the restaurant.
The Oregon roll, which is crab salad, cucumber, and avocado wrapped in rice and seaweed, with fresh salmon placed on top of the roll, is another one of my personal favorites. The crab is a part of the roll you can taste very prominently and it has a good, fresh flavor. The cucumber has a good crunch as well as fresh taste. Their avocado is a healthy green and the perfect texture.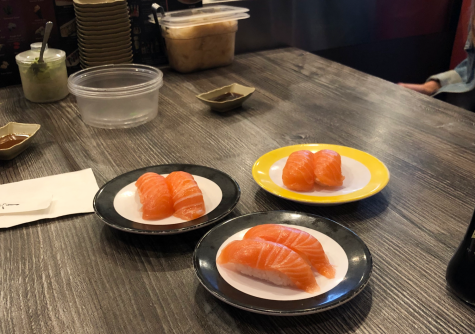 Despite the excellent quality of their food, O'Sushi does not always have the best service. Once I order my drinks I often will want the waiter or waitress to come back and take my order if there is nothing that interests me on the conveyor belt. They often take awhile to return to check in, and they sometimes take awhile to give you your bill when you are finished with your meal.
Although the service is not always the best, it is still worth it to try O'Sushi because not only do their products taste good but they are also very inexpensive, with most of their plates ranging from $2.00-$3.00.
O'Sushi is overall a great place to stop with some friends or even alone, and is located right by La Salle, making it a convenient spot for an after school snack.