Sophomore Mackenzie Greenslade Dreams of a Big Future On The Slopes and On The Field
While maintaining a 3.8 GPA so far this semester, playing soccer with the Eastside Timbers club, and starting for the girls varsity soccer team here at La Salle, sophomore Mackenzie Greenslade also competitively skis for five months during the school year.
With the help of her grandfather, Mackenzie picked up her first pair of skis when she was hardly walking at the age of two. She instantly became fond of the sport and began skiing competitively just three years later at age five. Now she is dreaming about the next few stages of her life with hopes of one day becoming an Olympic skier. "[I could see myself competing in the Olympic Winter Games] possibly by 2022," Mackenzie said.
This ski season, Mackenzie will live in a house with eleven of her teammates and two of her coaches between the months of November and April. Her training will officially begin in Canada starting the first week of November. She will practice skiing slalom, giant slalom, super-G and downhill for over 21 hours a week in order to prepare for the Russ Read, her first race in December.
The hard work Mackenzie puts into skiing allows her to push to the limits of her abilities. Due to her dedication, she has been able to travel to California, Canada, Idaho, Utah and Washington. Last year, her goal was to place top five at the Western Regional Championship; however, she was not able to reach this goal because she crashed, which resulted in a disappointing finish. This year, she hopes to redeem herself and has even bigger expectations. "This year I want to go to nationals," Mackenzie said.
Whether Mackenzie is on the slopes or the soccer field, she is always managing a busy schedule. During the winter, half of her day is occupied by ski practice and the other half is devoted to schoolwork. "I just make sure that I get my homework done before I play," Mackenzie said. "[Then] when I get home late I don't have to stay up late doing homework."
For Mackenzie, school in the mountains is similar to a Digital Learning Day (DLD) every day, although the courses are not run by La Salle. "We have tutors, [not teachers]," Mackenzie said. She has had to learn to teach herself with a minuscule amount of assistance along the way. Mackenzie emphasized that doing her schoolwork through a digital system is a lot more challenging than physically sitting at a desk.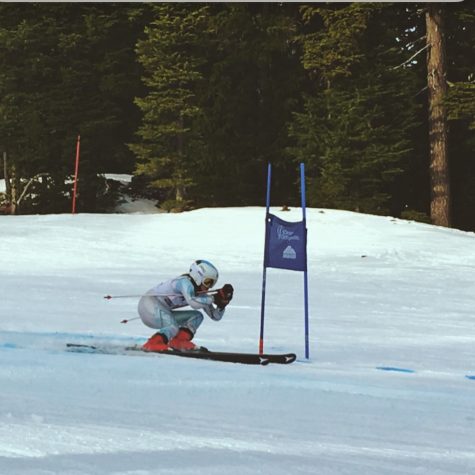 Jerry Brown
The one exception to the digital schoolwork system is her La Salle Spanish class, which she continues to participate in remotely. For Mackenzie, this is the most difficult subject to stay on top of. Last school year she and Mrs. Gantt messaged each other around four or five times a week in order to keep updated on the in-class lessons, Mackenzie said. This year she plans to regularly Skype with her new Spanish teacher, Mrs. Kessler, to maintain her conversational skills. Every two to three weeks, when she visits home, she will be obligated to complete any missed tests.
Besides having hopes to become an Olympic skier, Mackenzie can also see herself playing soccer in college. She currently starts in either the forward or midfielder position and has scored one goal so far this soccer season. With league games just beginning, she is hoping to go to the playoffs with La Salle's varsity girls soccer team. She also hopes to win the State Cup with her Eastside club team.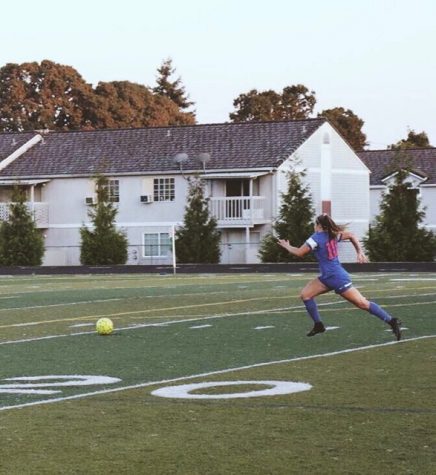 Sam Hull
Mackenzie doesn't prefer soccer over skiing, or skiing over soccer; she adores each sport equally because, she said, each sport she plays is remarkably important in defining who she is. "Without soccer and skiing in my life I wouldn't be where I am now," Mackenzie said.
"Everything has been a roller coaster of ups and downs," Mackenzie said. "[But] in the end it'll be worth it."
About the Writer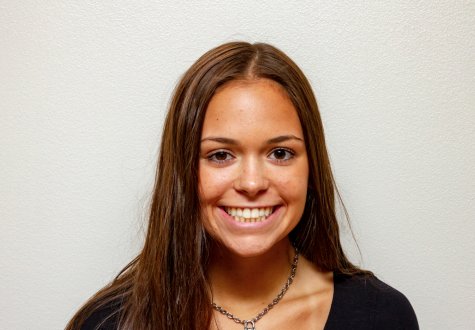 Carlie Weigel, Editor in Chief
Carlie is a junior at La Salle. She is a member of La Salle student council and spirit club. Outside of school, she loves to spend time with her friends,...