Queens of the Court: #12 Girls Varsity Volleyball Team Heads Towards the Playoffs
As the volleyball team prepares to head into their final two league games, the #2 in league and #12 in state Lady Falcons have achieved an overall record of 11-6 and a league record of 10-2 in the 5A Northwest Oregon Conference.
This year the team consists of eight seniors, two juniors, and three sophomores, and the captains are seniors Madison York and Maddie Hansen, with Hansen and senior Trinity Pisarsky having been on the varsity team since their freshman year.
"With new players on varsity, we've been able to go back to the basics while also expanding our offense and becoming a more aggressive team," said Pisarsky.
The team has played in some tough matches this season, especially against their rival, the #5 Wilsonville Wildcats. Though they fell short to the Wildcats the two times they met, the team still managed to keep both games competitive. On September 6, the girls lost 3-0, but in all three sets, the scores were close, including in the second set with a score of 27-25. The next time the teams met, on October 1, the girls lost 1-3.
York said, "In our game against Wilsonville, we lost, but we also didn't do our best so I think we have potential to beat teams if we are on our game."
Senior Olivia Keepes said, "[When it comes to Wilsonville] we don't have [that] much competition in our league, so all of that competitiveness comes out whenever we play each other."
Not counting these two losses, the team is otherwise perfect in league.
According to many of the players, their team chemistry is what is making them do so well this season.
One event that helped contribute to this was a team sleepover at the beginning of the season, which included the JV2 and JV teams. The players said that this sleepover united the teams together, especially when during the actual season, the girls don't see each other as much.
"We are really good at developing relationships between all [the] teams," said Young.
Keepes said, "I have friends on JV and JV2 that feel like they can come to me when they have a problem and I'm always there to support them."
The Lady Falcons are most likely heading into the playoffs, based on the team's current position as second in league, and given the OSAA playoff qualifications. 
Coming up, they have a non-league tournament this Saturday, October 11 at West Linn High School. Their next game is Tuesday, October 16 on the road at #20 Scappoose at 6:45pm, and their final league game is at home versus #32 Milwaukie at 6:45pm.
About the Writer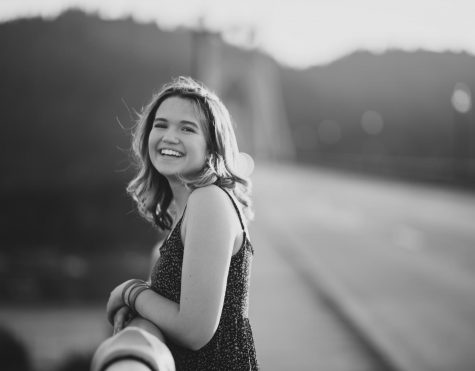 Anna McClow, Assistant Editor
Anna McClow is a senior at La Salle. In her free time, she is very involved in the theater department, and enjoys performing. She has two dog, four cats,...