La Salle Seniors Launch T-Shirt Business Out of Their Garage
Similar to garage-based entrepreneurs Steve Jobs, Bill Gates, and Jeff Bezos—the masterminds behind the world-famous companies Apple, Microsoft, and Amazon—are two members of La Salle's senior class: Max Andrews and Jake Bunker. Working out of Jake's garage, these two like-minded and creative entrepreneurs are the founders of the growing T-shirt business Anker, their original brand of shirts all designed and printed by themselves.
Anker was born in July, and the idea for this project came from their mutual interest in clothes and the clothing design process. Jake said they thought, "You can only collect [clothes] for so long, and what's the point in having one-hundred different T-shirts; no one cares after a certain amount of time."
The discussion between the two of them on potentially creating their own line of T-shirts lasted over half a year, and ultimately boredom was the spark that started it all. "[Max] was in Europe and I just thought, 'I want to do something today, so I'm going to start Anker,'" Jake said.
Their clever brand name—a combination of their last names Andrews and Bunker—was inspired by a bottle Jake saw while dining at ¿Por Qué No?. "I saw a bottle with an anchor on it, and thought it was pretty cool," Jake said. "Then I figured out we could combine our last names to say 'Anker.'"
Inspiration for their designs and logos so far has come from things they have seen around them and online. Their first logo design—a drawing of a ship anchor, with their brand name "Anker," through the middle—was inspired by an image of an anchor that Jake found online. He then created their own design using Notability, which is what the two have used to produce most of their designs so far. "It took like three hours and I got very frustrated trying to [make it]," Jake said.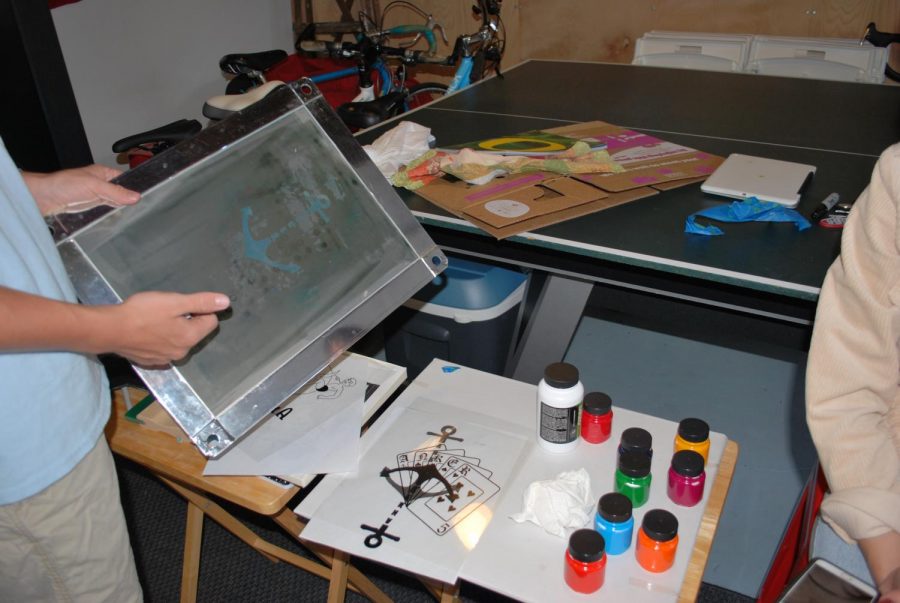 Reilly Nesen
When they first started, Jake and Max were newbies to the T-shirt printing process and learned everything they know from YouTube. "YouTube kind of gave [us] the fundamentals and then we just went from there," Jake said. Before they started any printing they spent hours on YouTube trying to learn the basics, and since then have faced both successes and failures in the production of their shirts.
"We still haven't figured out the perfect way to do it," Max said. "It's going to be a lot of trial and error before we perfect our process."
Coming up with new ideas and finding production time has proven to be a time consuming task. They said that they meet up more often to brainstorm than they do to print, but they have to dedicate an entire day to printing new shirts. "It really only takes one day to pound out a whole batch but we have to dedicate a whole day to it," Jake said. They said that they are shooting to put out a new shirt about once every month.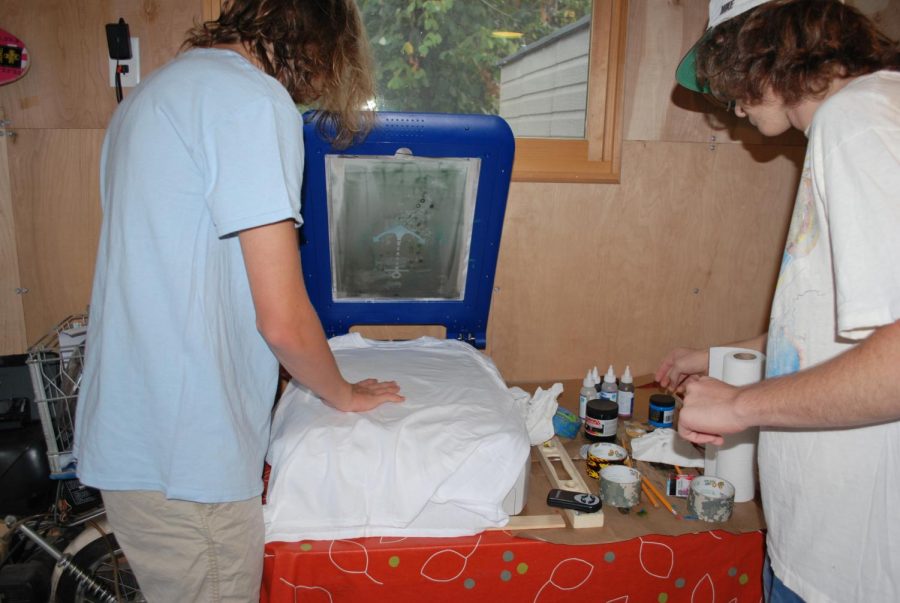 Reilly Nesen
Although Anker has only been around for a few months, their business has already seen growth and success. "It was really good the day it came out, and we had a lot of people buying them," Jake said. "We've already [received] business offers and have had people wanting us to print for them."
Max and Jake aren't putting too much pressure on the future success of their business. "We definitely want it to grow and [get] bigger," Max said. "We mostly want to try and expose people to the same interest we have, and to let people be more creative with what they wear and how they wear it."
The debut Anker logo is still the only one that has been released, but they currently have seven more designs, some of which will be coming out within the next couple of weeks. Anker T-shirts are sold for $15 each, and purchases can be arranged through direct message to their Instagram account @anker.portland, or by talking to either Jake or Max.
"It's not like I'm thinking that I want Anker to be the next Supreme one day," Jake said. "I kind of just want it to evolve into its own thing… but I'm excited for where it will go."