Wouldn't It Be Great If School Didn't Start at Eight?
Hang on for a minute...we're trying to find some more stories you might like.
Students all across the country are not getting enough sleep, and struggling in school as a result.
Students in Oregon are no different.
As all students and parents should know by now, La Salle classes typically begin at 8:00.
This is too early!
In a poll taken by 282 visitors to The Falconer's website, 67 percent of respondents said that they only get five to seven hours of sleep each night during the week.
Five to seven hours is not nearly enough sleep for a growing teenager. In fact, research shows that while the idea of 8 hours being a good night's rest is common, it isn't enough. According to the Nationwide Children's Hospital, teenagers need at least nine hours of sleep, nine and a quarter hours to be precise.
Because school starts at 8:00 most days of the week, La Salle students don't have enough time to balance schoolwork with extracurricular activities such as sports or other non school related tasks, like having a job.
On average, most students at La Salle probably have two to three hours of homework every night. If school typically gets out at 3:00, and the average student plays at least one sport during the fall, winter, or spring with a two hour long practice 15 to 30 minutes after school gets out, four or five days a week, that means on an average day, students don't head home until around 5:30.
If we estimate the time it takes to get home, eat dinner, and get ready for bed, that takes away about another hour and a half of the day. That leaves students with around two to three hours to get homework done if they want to get to bed by 10:00.
If students are actually lucky enough to fall asleep by 10:00, that gives them about eight to nine hours of sleep, depending on the time they wake up for school the next morning.
In a perfect world, students could repeat this agenda every day, for five days a week, for nine months out of the year with no problems.
Unfortunately, we aren't robots, and eventually running on such low energy catches up to us.
That is why school needs to start later than 8:00.
"I feel like school should start later so that we can get better rest and be more prepared for school the next day," sophomore and student athlete Wade Nichols said.
Nichols plays club soccer year-round for the Eastside Timbers. On top of that, he balances playing soccer for La Salle in the fall, and tennis in the spring.
"I leave for soccer at around 7:00 and I get back around 10:00. Then I start my homework. Sometimes I try to eat dinner, [but] usually I have too much homework, [and] then I go to bed around 12:00 or 12:30," Nichols said.
Like the majority of people who answered the poll, Wade says that he gets an average of six and a half hours of sleep every night during the school week.
As a result of not getting enough sleep, teenagers are prone to having negative shifts in their mood and behavior, and it's not just the average rowdy rebellious attitude that teens are known for.
Tired teens are more likely to be moody, irritable, and are more likely to experience symptoms of depression.
Exhausted teens are also more likely to lose focus in school, and in some instances even fall asleep in class. This results in students missing valuable instruction, which can lead to a decline in motivation to do well in school.
Being sleep deprived can even be life threatening; when you wake up in the morning after a poor night's rest, you are more likely to fall victim to subconscious, drowsy driving. Sleep deprivation can even result in falling asleep at the wheel, putting your life and the lives of countless others at risk.
La Salle students aren't the only ones who feel sleep deprived.
Students who go to high school in the Beaverton School District have to be in class before the first bell, at an agonizing 7:45.
The fifteen minute difference between when La Salle starts school versus when Beaverton schools start may not seem like much; however, that's potentially fifteen more minutes of sleep that a La Salle student can get that a Beaverton School District kid doesn't get.
Fifteen more minutes means two extra opportunities to hit the snooze button, which on a school day can be a luxury.
Here's a short health lesson; once you start puberty, your body's natural clock goes through a two hour shift, meaning that teens fall asleep and wake up about two hours later than they did when they were in adolescence.
Sleep is essential during your teenage years because this is the period where your body does the most growing, which requires a lot of energy. While you're asleep, your body is able to recharge. If you don't get enough sleep, you won't feel as energized as you otherwise would.
It's like only charging your phone to 75 percent. It'll last throughout the day, but you'll be lucky if you can make it home before it dies, even if it's in low power mode.
That's how teens are when we don't get enough sleep; we're in low power mode, ready to shut off the second you take your thumb away from the screen.
So why do high schoolers almost always start earlier than middle schoolers?
Simply put, the reason public schools don't switch high school start times with middle school start times is because of bus schedules.
Schools in Bend ran into this problem. The school district wanted to switch the time that school started for high schoolers with the time school started for middle schoolers. The problem was that you couldn't, in good conscience, leave young kids alone at the bus stop early in the morning; it simply wasn't safe.
Not to mention parents who have to worry about work and their own busy schedules. Parents would have to change everything around just to ensure that their kid got to school on time.
However, having conflicting bus schedules doesn't mean that our hopes for having school start later are crushed.
At a Portland Public School board meeting in March of 2017, Steve Novick, the former city commissioner, argued that according to the RAND Corporation, "It's estimated that if you give teenagers an extra hour of sleep, you can expect to see high school graduation rates improve by 13 percent, and college attendance improve by nine percent."  
The data agrees with Mr. Novick.  In 2016, after Seattle made the change for school to start at 8:45, high school attendance and behavior have improved.
Considering that in 2017, Oregon had one of the lowest high school graduations rates in the United States at 75 percent, it would definitely be beneficial to at least try starting school later.
All things considered, I believe that La Salle should begin at 8:45, just like Seattle, and end at 3:15.
By beginning at 8:45, students would get an additional 45 minutes added to their morning routine, allowing for more time to sleep and more time for morning prep. If students take advantage of the proposed time change, I firmly believe that students and teachers would notice a positive shift in motivation and productivity in school.
As a student, I wouldn't be too excited to get out 15 minutes later than normal. Even ending school five minutes later than we're used to is hard enough. And it's true that these 15 minutes are imperative to the athletic system that our program follows and has followed for years.
I propose that La Salle also pushes back our sports schedule by fifteen minutes. For instance, rather than having games begin at 4:00 they would now begin at 4:15.
Overall, I believe the time change would have a positive effect on student life and athletics. But what does it mean for the actual school day?
By following an 8:45 to 3:15 schedule, the normal school day would only be six and a half hours long, shaving 30 minutes off our current schedule.
To the administration, this probably doesn't sound like a good thing. However, there is a compromise.
No more late starts.
Don't freak out, students, we would get a late start every day, versus our current schedule of one or two times a week. Wouldn't that be better?
In the meantime, all we can do is move on with our current schedule. We can hope for a good change in start times, but most likely no change will happen at all.
While we struggle with getting enough sleep and waking up early, there are a few things that we can do to make life easier:
Push your schedule back. Nine hours of sleep is definitely a challenge to get, but even a change from seven hours of sleep to eight is doing yourself a huge favor.

Don't procrastinate. Something that all students struggle with in this day and age is not getting distracted by our phones or other devices. Take an hour out of your day to unplug from social media, turn on your favorite playlist and grind out that work: you won't regret it.

And finally, remember that life goes on and the weekend is only a few days away. Sleep might be hard to come by, but if you can make it through the school week, you can always sleep the weekend away.
What do you think? Let us know your thoughts in the comments below.
Photo by Stas Knop from Pexels. Used with permission.

About the Writer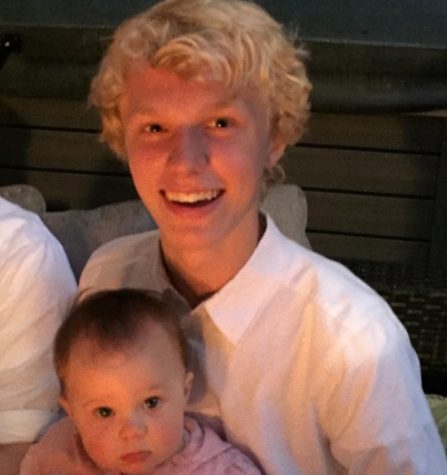 Sam Hull, Staff Photographer
Sam Hull is a senior at La Salle who enjoys playing soccer and skateboarding. On the weekends Sam spends most of his time working as a dishwasher at Papa...