Next Level Seniors: Kendal Shride Joins Azusa Pacific University's Acro & Tumbling Team
Kendal Shride has spent countless hours in the gym training as a gymnast since she was three years old. She is now preparing to head off to Azusa Pacific University in Azusa, California to fulfill her childhood dream of becoming a collegiate athlete.
Shride is in a small group of La Salle seniors who have committed to play college sports, students we are profiling in our Next Level Seniors series.
At Azusa Pacific University, Shride, who is an editor for the Falconer, plans to study journalism and might also double major in photography
Joining the acrobatics and tumbling team at Azusa, Shride said it is "like a mixture between gymnastics and all-star cheerleading."
Shride started competing as a gymnast at the age of six. She said, "It's been a part of my life for as long as I can remember. I basically grew up in the gym, [and] it became my second home."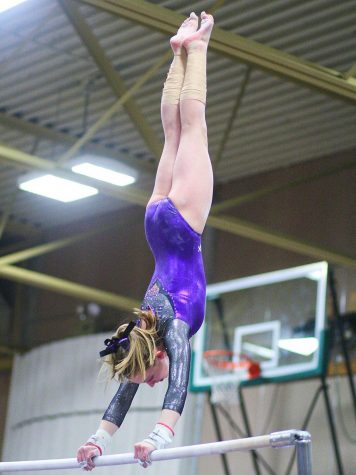 Spending over twenty hours a week at the gym took a toll on Shride physically and mentally. She began to feel burnt out at the age of thirteen when she was a level eight gymnast.
"After doing that for 10 years, and dealing with injuries, my body and mind were ready to move on to something else," she said.
Shride switched her focus from gymnastics to all-star cheerleading. She liked that, despite the switch, she was able to continue her favorite thing, which is tumbling. 
Shride competed at the highest level of all-star cheerleading, level five, for three consecutive seasons. She switched back to gymnastics her junior year of high school, enabling her to perfect her tumbling technique in order to be fully prepared for acro. She completed level nine of gymnastics her junior and senior year.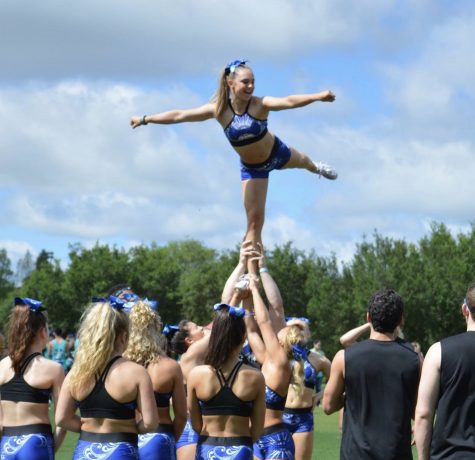 Witnessing many of her teammates receive scholarships for acrobatics and tumbling significantly influenced Shride. Originally, she wanted to compete as a gymnast, but her focus changed after discovering acro. "I felt like the combination of tumbling, stunting, and pure strength was something I would excel at," she said.
Shride wants to continue doing what she loves in college. She said, "I couldn't imagine letting go of the sport so soon." She loves being a part of a team and "something bigger than yourself."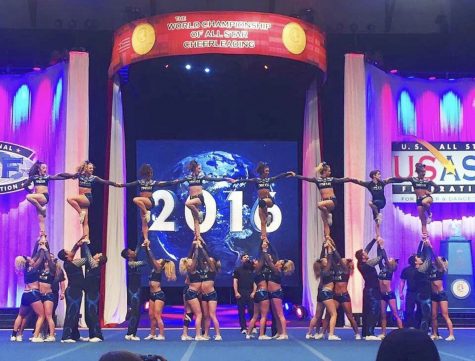 When she was a sophomore, Shride began going to acro camps at the University of Oregon. The summer before junior year, she attended camps at U of O and Baylor, where "I had the opportunity to grow in the sport and get my name out there with college coaches and show them my skills," she said. The most stressful part of her recruiting process was the summer before her senior year, as she was "working hard getting new skills and making videos to send to coaches."
Shride reached her goal of getting Azusa, Gannon University in Erie, Pennsylvania, and U of O to offer her official visits. For each of these colleges,"I was able to get a feel for the school and their team," she said.
With offers from Azusa and Gannon, Shride said the decision was "pretty easy." During her official visit at Azusa, "I knew there was no question that that was where I wanted to spend the next four years of my life. I really liked the coaches, and the team was very welcoming and I felt like I fit in with them well."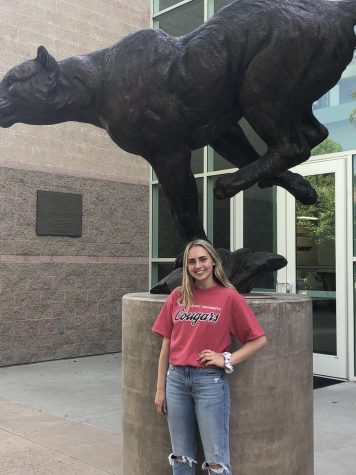 Shride's commitment process happened quickly, as she verbally committed on November 6 and then signed her letter on November 10.

Shride's favorite aspect of Azusa is the community. "I have visited the school multiple times now, and every time I go I fall more in love with it," she said. Shride likes the size of the Division 2 school, "as it's not so large where I feel overwhelmed, but not too small that I feel trapped either." She said that the Southern California location and weather is also a bonus.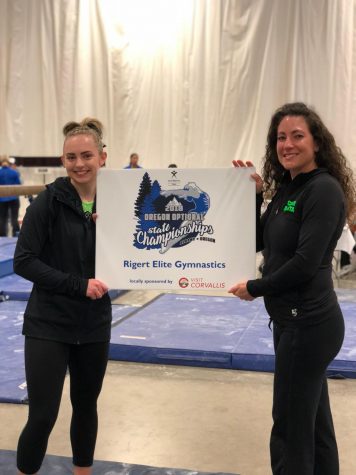 Before she reached her goal of becoming a collegiate athlete, Shride's hard work and dedication led her to many accomplishments. She has been a state qualifier for gymnastics every year she competed at levels 7, 8, and 9. She has qualified for regionals every year that she has competed at levels 8 and 9. As a level 9 gymnast, Shride placed sixth in state on the floor exercise both her junior and senior years. "As for cheer," she said, "every year my team received a bid to attend the World Championships, which is a big accomplishment."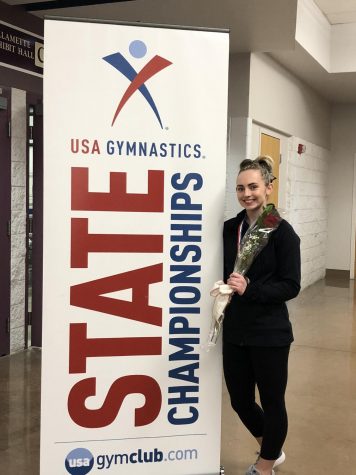 To get ready for collegiate athletics, Shride will be training intensely throughout the summer. She has a list of tumbling skills she will be working on and will also be doing lots of cardio and muscle-building workouts. Her main goal "is just to get in shape and build up my tumbling skill so I feel as confident as possible before I leave."
As Shride becomes a Cougar this fall, she hopes to "become an asset to the team in whatever way that may be. My goal is to improve everyday and just prove myself as a freshman."
Shride knows that adjusting to life as a collegiate athlete will be difficult, but she is fairly confident in her time management skills. "Because I have already been juggling competitive sports and school at the same time my whole life, I think I will be able to manage it," she said.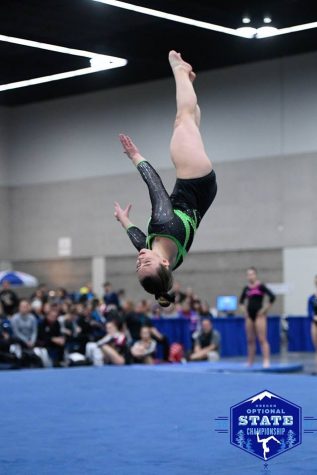 On advice for anyone looking to play college sports, Shride emphasized the need to keep options open and not judge a school before visiting it.
"You need to be able to enjoy the school academically even if you weren't playing your sport, because academics always comes first," she said. "Lastly, if you don't get an offer from what you think is your top choice, don't get discouraged, it doesn't make you any less of an athlete or person, it just means that another school gets the opportunity to have your talent in their program. Everything will work out the way it should in the end."
***
Congratulations to Kendal on committing to Azusa Pacific University, and good luck to her as she begins her first acro & tumbling season as a Cougar in the fall!