Student of the Week: Summer Tran
Hang on for a minute...we're trying to find some more stories you might like.
Earning an A- in AP World History last semester was a hard blow for sophomore Summer Tran, who has pushed herself for straight A's her entire life, but she learned to accept it because "at the end of the day, there are better things to worry about than one or two bad grades."
Determined and driven, Summer has maintained a 4.0 GPA this semester while taking four advanced classes: Honors English II, Honors Biology, Honors Algebra II, and AP World History. Honors English II is her favorite class because "it really pushes me to think creatively. There is no wrong answer in English class and there are so many different ways to interpret the subject matter at hand," she says.
At La Salle, Summer has also been involved in athletics with volleyball and tennis. For the past two years, she has been the libero on the JV volleyball team. This past season, Summer, along with Abby Parra and Isabel Van Vleet, was a co-captain of the JV team. She was known as the "Captain of Mindfulness."
Summer says the most challenging aspect of high school is "having to balance school with extracurricular activities, sports, and my social life, and trying to get enough sleep doing this. La Salle is very demanding, [but] in a good way."
An academic goal Summer has to finish off sophomore year is to "maintain an above 4.0 GPA and to ace all my finals."
Aiming for good grades and excelling in academics has always been a goal for Summer. "I've always strived for straight A's my whole life partly because my parents always pushed me to do my best and to give 110% in everything that I do, but mostly because I hold high expectations for myself," she says.
Summer plans to keep herself busy this summer. Her family is opening a Vietnamese restaurant and bar called Anchoi on June 1 in downtown Portland, on College St. and Broadway. Translated into English, Anchoi means "to eat for fun," she says. When she is not working at the restaurant, Summer plans to work at Matt Dishman Community Center as a lifeguard, a position for which she recently became certified.
Looking ahead, Summer wants to study biology at the University of Oregon, then attend the Marshall B. Ketchum University in Fullerton, CA to pursue a career in optometry.
Giving advice to students who want to take AP/Honors classes, Summer emphasizes the importance of time management. "I'm really bad at time management because I procrastinate so much, and it affects not only my grades, but my health," she says. She suggests prioritizing tasks by making a list of what's most important to least important.
Summer has also accepted not having A's in every class, and hopes other students will be able to as well. "I've always had the expectation that I would graduate all four years of high school with straight A's, but last semester I ended up with an A- in my only AP class," she says.
"It's perfectly okay to settle for a less than perfect grade as long as you are trying your best and continuing to work hard."

About the Writer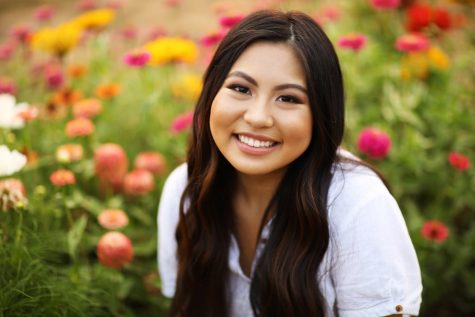 Samantha Kar, Editor in Chief
Samantha is a senior at La Salle. She is a varsity swimmer on the swim team. In her free time, she enjoys playing the piano, photography, and hanging out...